Welcome to Reception
Hello. I am Miss Parker, the reception class teacher- welcome to our class page.
Myself, Miss Williams and Mrs Lester work in Reception, alongside students and volunteers. In Reception, we learn through play- focusing on all aspects of the children's development. During a typical day, we have fun learning phonics, literacy and maths whilst encouraging and considering the children's physical and social development.
Term One

We have spent the first few weeks of school settling into our school routine. We have made lots of new friends and have enjoyed exploring the Reception setting. The children and staff feel so lucky to teach and learn in such a fantastic classroom and outdoor garden. Miss Williams takes the children to Forest School each Friday which helps to develop confidence and self-esteem.
Show and Tell
This term we have started show and tell. Remember to bring in your interesting toys and books from home. Show and tell helps to increase children's ability in speaking clearly in front of the class and develop their self confidence. We can't wait to see children bring in items from home.
Our first story of the term
We have started this term off with learning the story ' Monkey Puzzle' by Julia Donaldson. The children have been retelling the story using masks and story stones, as well as sequencing and writing captions and labels.
We retell the story every day, using a story map to help us. We use talk for writing actions to help us remember the story language. Click here to read our script to help you practice at home!
We are so impressed with how the children have settled into Reception and are so ready and willing to learn in Term 2! Our topic this term is Celebrations and Festivals. We have enjoyed learning about Diwali by making Diya lamps, we've been drawing fireworks outside with chalk to celebrate Bonfire night, and we are starting to learn about the Christmas story!
Our two stories this term have been The Gingerbread Man and The Elves and the shoemaker. Here is the secret elf who made an appearance in our classroom to introduce the story and bring the children a pair of her favourite shoes that she has made! The children enjoyed learning about how shoes are made, and which materials are used.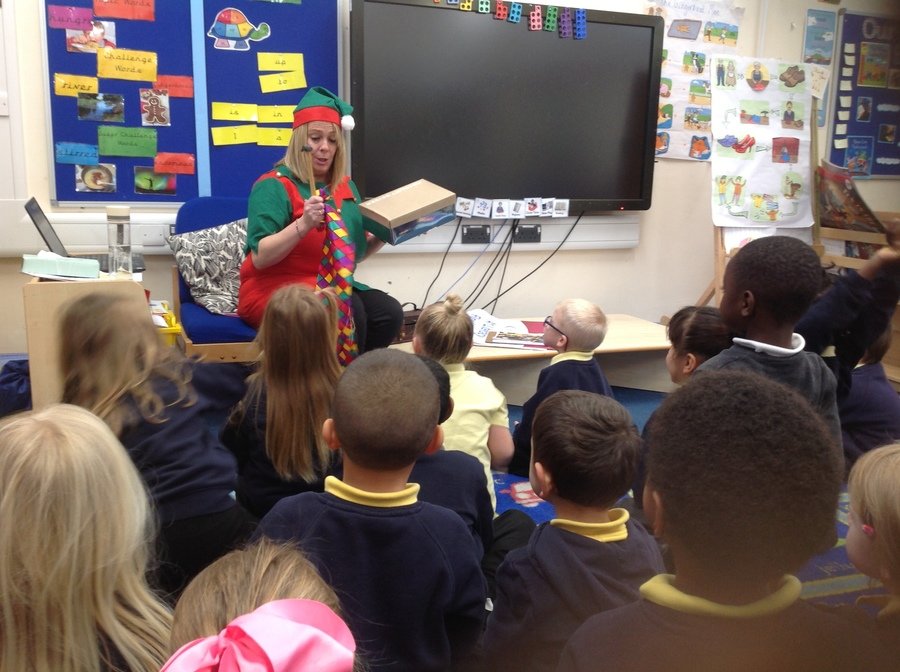 The children have produced some fantastic and focused writing surrounding our two stories of the term. We are using props such as masks and story stones to help us retell the story. Here is Julia's speech bubbles, showing her understanding of the character's narrative in the story.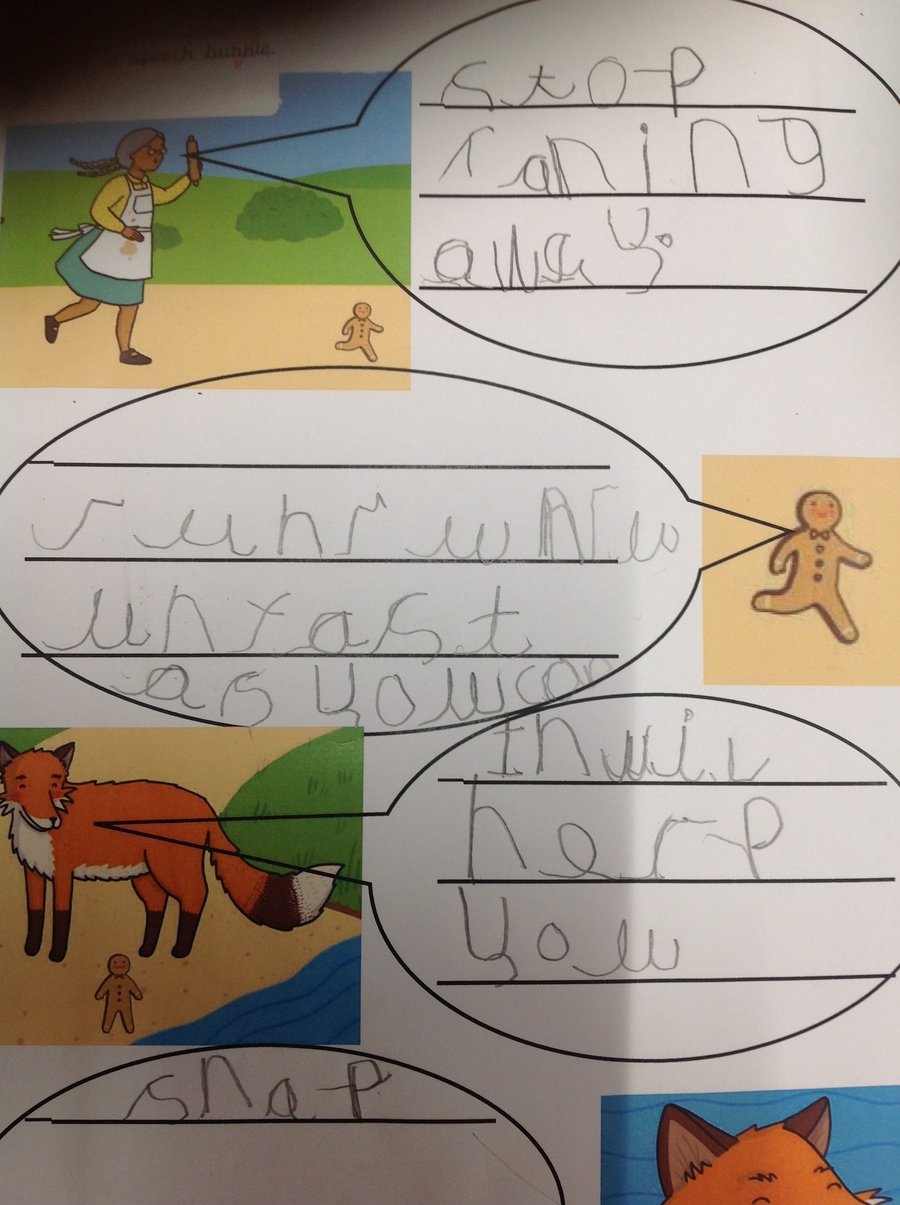 Our learning of the texts have linked to our mathematical learning too. Here are the children putting the correct amount of buttons onto their gingerbread men. Some children were interested in counting on from their number to see how many more buttons they would need to make 10! Lucy enjoyed representing her buttons in the same shape as the Numicon form.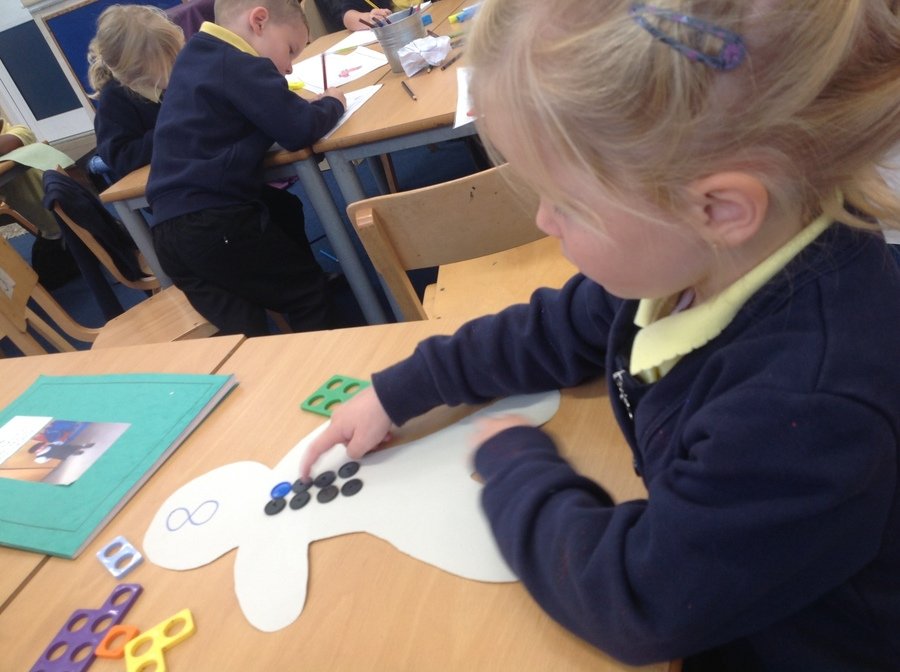 The children have enjoyed playing and exploring in our classroom and the outside environment. Our class was given a large box of brand new cars, so we decided to use long tubing to test which one ran down the furthest! The children were so excited by this, they recorded their scores on their clipboards, and the following day we used tape measures to see exactly how far the cars rolled.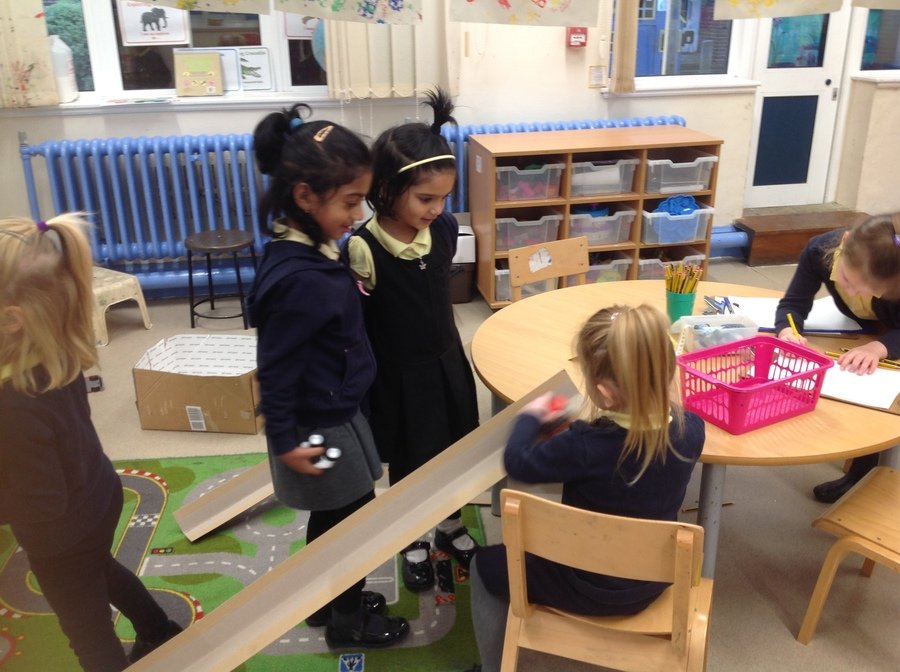 Here are the children exploring the outdoor area! They have enjoyed making obstacle courses with the hoops, piping and tyres! We love solving problems and thinking critically when learning outdoors.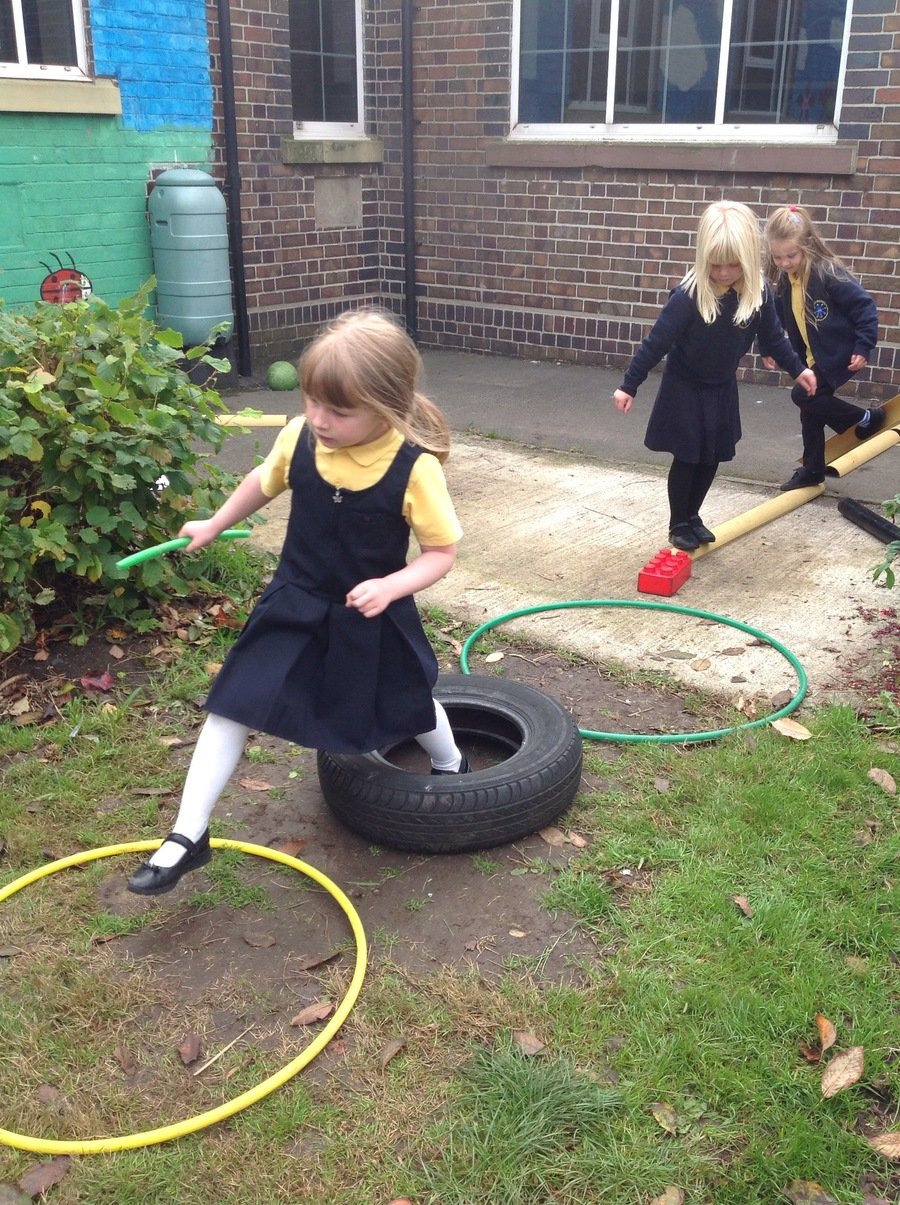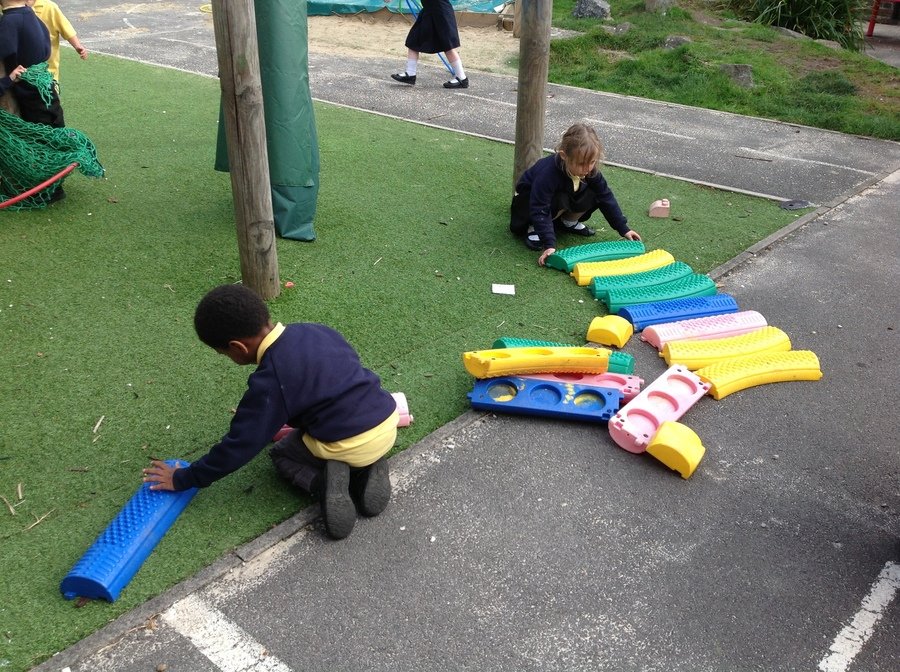 Our topic has been all our Space! The children were so enthusiastic about this topic, using their scientific enquiry skills to ask questions and find out the answers! We looked at lots of non-fiction books to find out facts about our favourite planet.
The children enjoyed playing in our fantastic space centre role play! We wrote spaceship tickets, fact files and much more during our play.
Children have really enjoyed bringing in show and tell, some of which has related to our Space topic. We have been so proud of all of the home learning that Reception has done alongside their parents and families.
Our literacy books have reflected out topic of Space. We have learnt about Aliens love Underpants, Whatever Next and How to Catch a Star. Here are some pictures of the children reading clues to find where Baby Bear had landed on his spaceship!
We enjoyed starting off our topic 'people who help us' with a visit from Rob, a local firefighter. He gave us lots of tips on how to stay safe when faced with a fire.
The children were so eager to ask questions and try on their own firefighter uniforms- what a fantastic experience!
The children have enjoyed cooking on Friday's. This term we have made pancakes, homemade pizzas, mothers day cakes and biscuits! Reception have learnt how to safely use the cooking equipment, as well as being careful near the hot oven. Here we are flipping pancakes on shrove Tuesday!
We have been enjoying a new story 'The Koala Who Could". This story was all about Kevin's friends helping him conquer his fears.
Here are some children using masks to retell the story and act out their favourite scenes!
We used the crocodile's teeth to use the language of more and less to compare amounts.