Welcome to Reception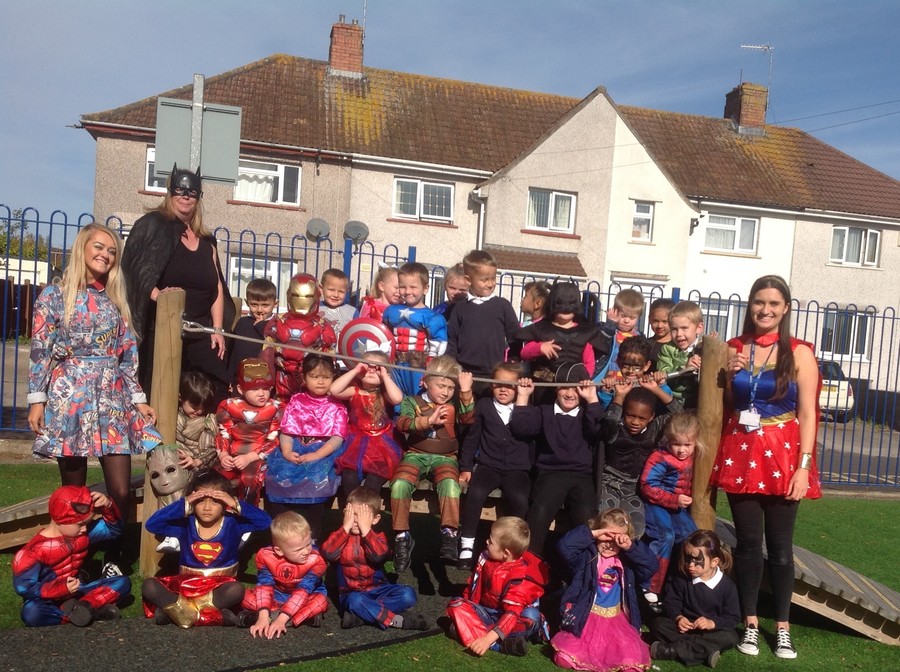 Hello. I am Miss Parker, the reception class teacher- welcome to our class page.
Myself, Miss Williams and Miss Loveridge work in Reception, alongside students and volunteers. In Reception, we learn through play- focusing on all aspects of the children's development. During a typical day, we have fun learning phonics, literacy and maths whilst encouraging and considering the children's physical and social development.
Term One

We have spent the first few weeks of school settling into our school routine. We have made lots of new friends and have enjoyed exploring the Reception setting. The children and staff feel so lucky to teach and learn in such a fantastic classroom and outdoor garden. Miss Williams takes the children to Forest School each Friday which helps to develop confidence and self-esteem.
Our first topic is Homes and Families and links to all of our literacy lessons. We started off by learning about the Jolly Postman and all the different families he delivers letters to! We used our Post Office role play area to write letters to different people and posted them in our postbox to be sent to somebody's home! We even wrote a letter to our school postman and got a reply!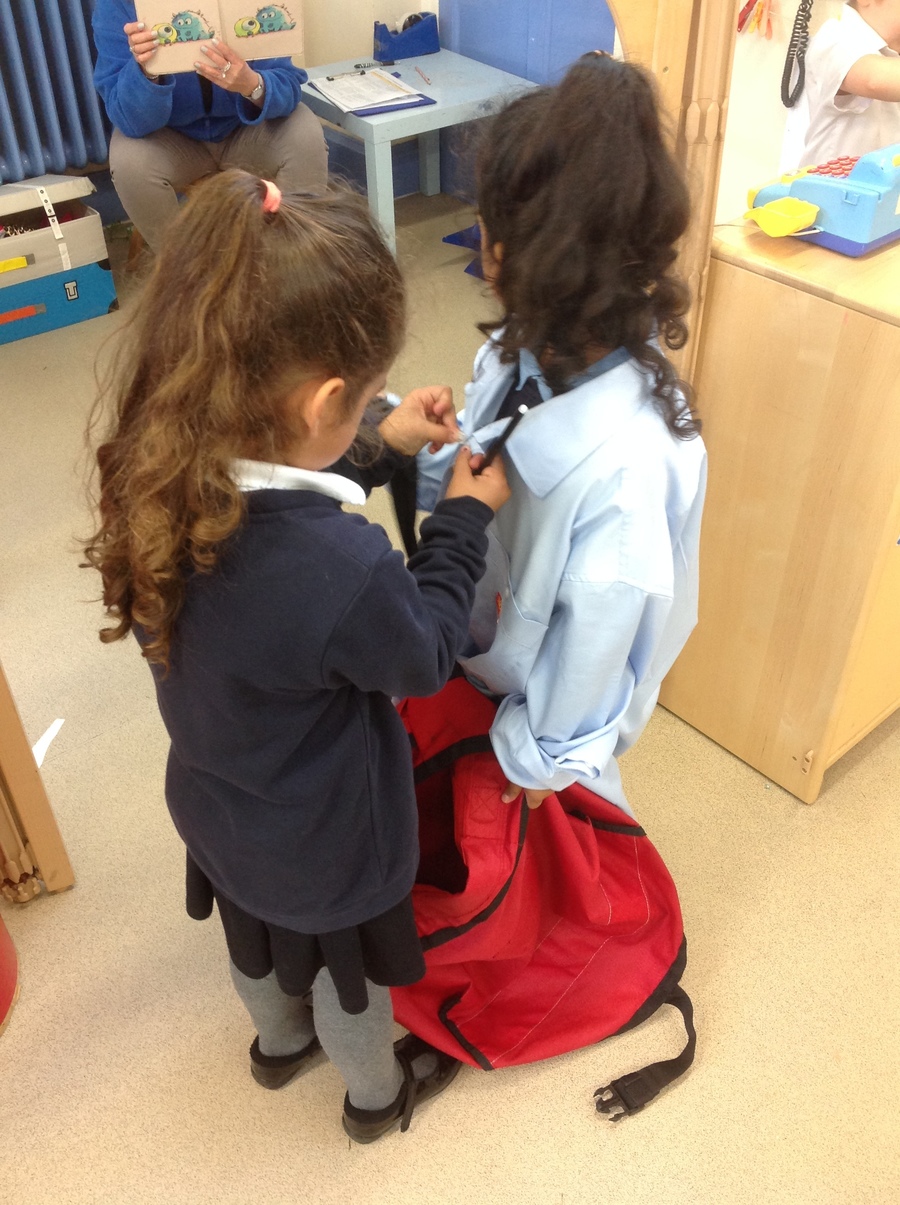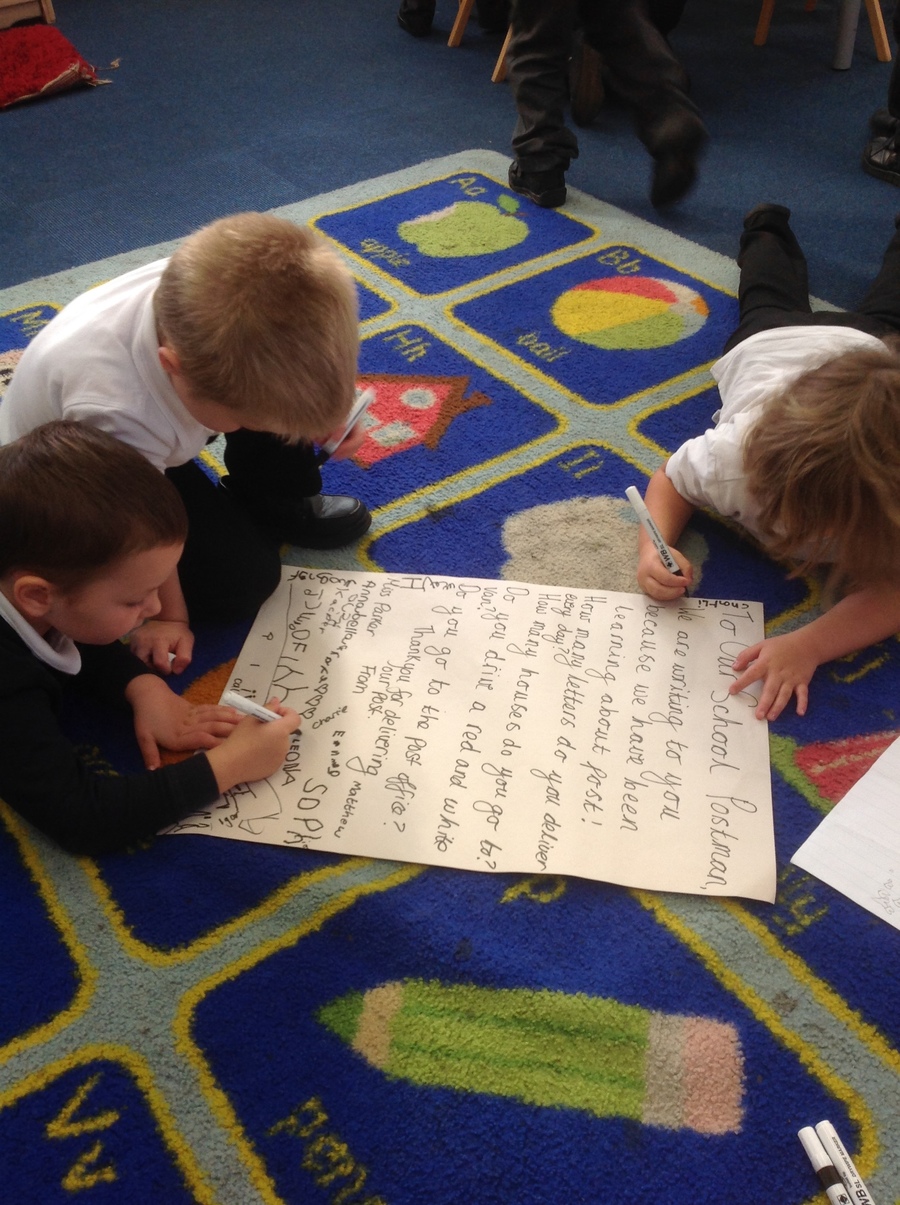 We have been showing each other pictures of ourselves outside our homes! This is helping with our confidence and communication and language skills. We have looked at families in books such as Goldilocks and the Three Bears, Owl Babies and Five Minutes Peace. The children have been enthusiastic about making story maps, using masks and sequencing pictures to help understand the story. We even made porridge that we knew Goldilocks loved, and wrote a recipe instructing people how to make it.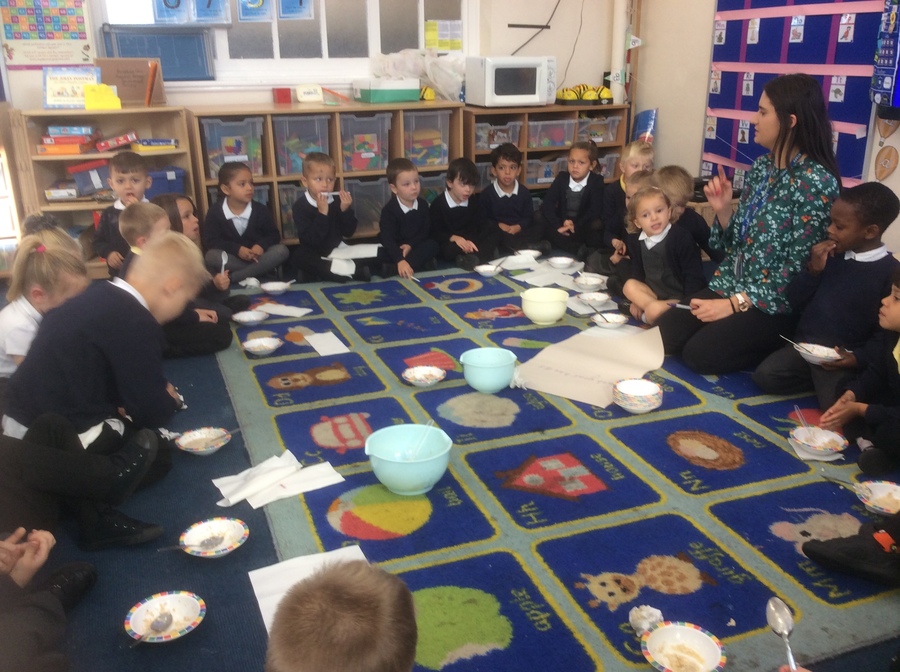 As well as learning about our topic this term, we have been getting used to using Numicon to help our maths. We have been playing lots of counting games and we also enjoy problem solving games! The children have been expressing themselves through arts and crafts, making clay autumnal animals and having fun doing dance during P.E. The children have also been creating their own family trees and are keen to take these home to show to their families.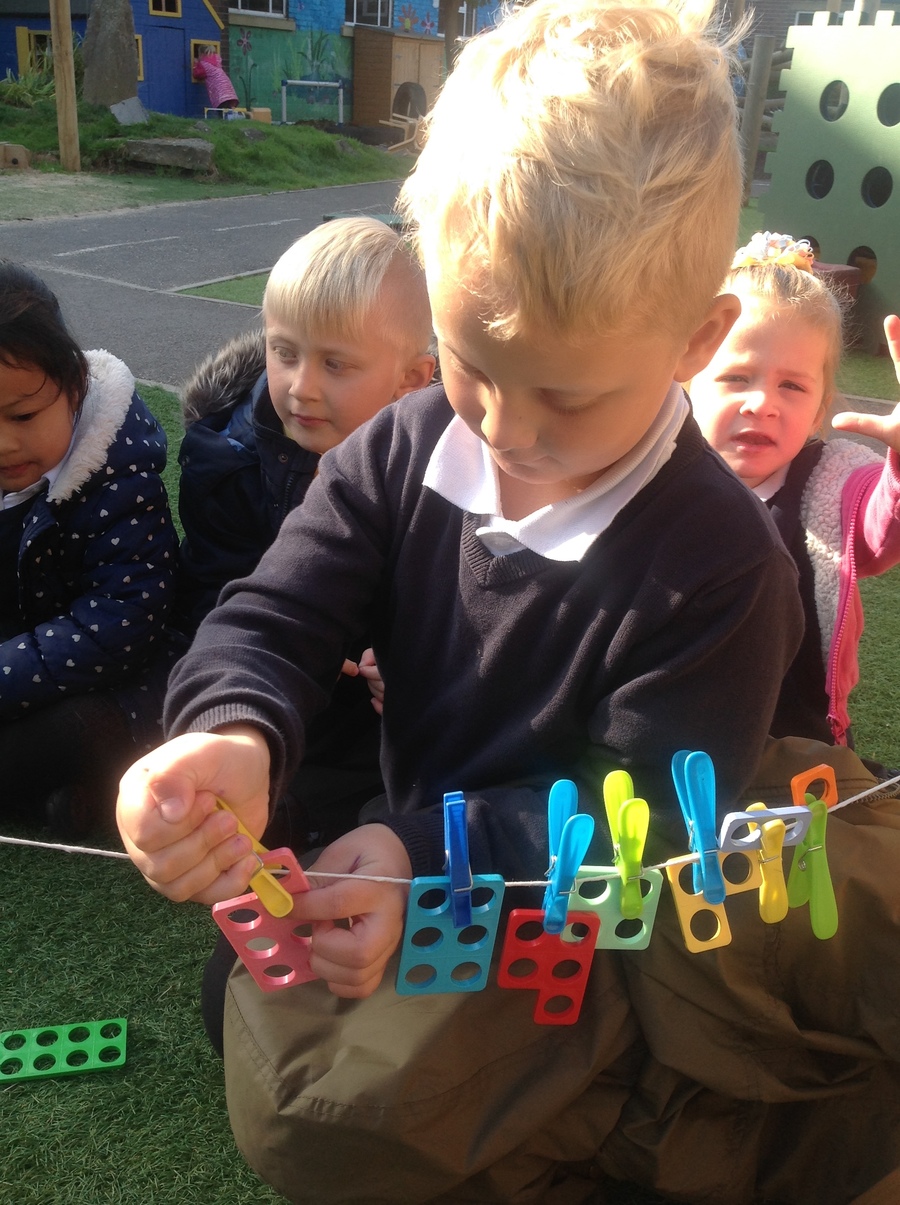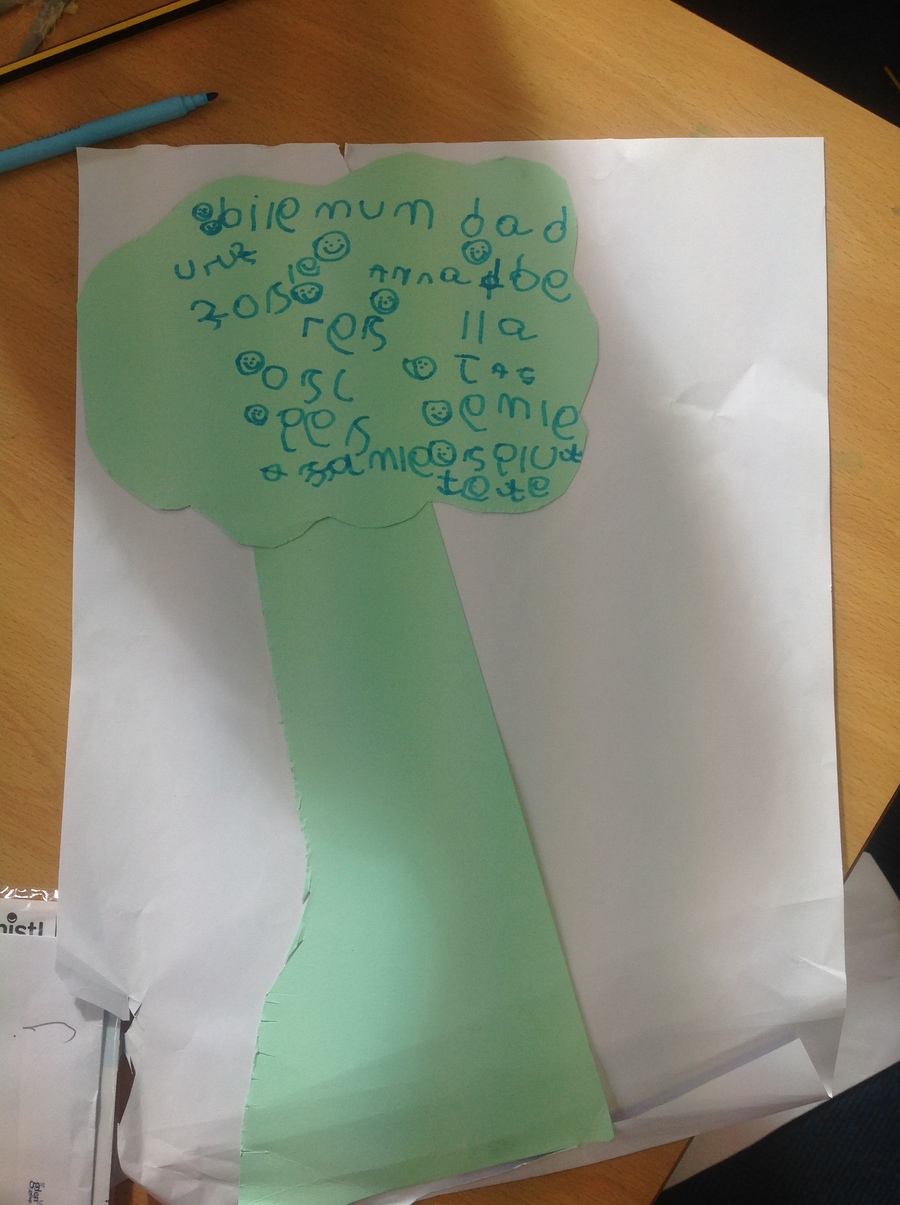 The children and staff were so excited to come back to school after half term. In term 2 we are learning about Celebrations. We have learnt about different celebrations including bonfire night, birthdays and weddings. We will also be learning about Christmas and other religious festivals.
Why not read our firework senses poem that we wrote as a class...
I can see colourful fireworks
I can hear the fireworks boom
I can smell delicious hotdogs
I can taste spicy burgers
I can feel the warm fire on my cheeks.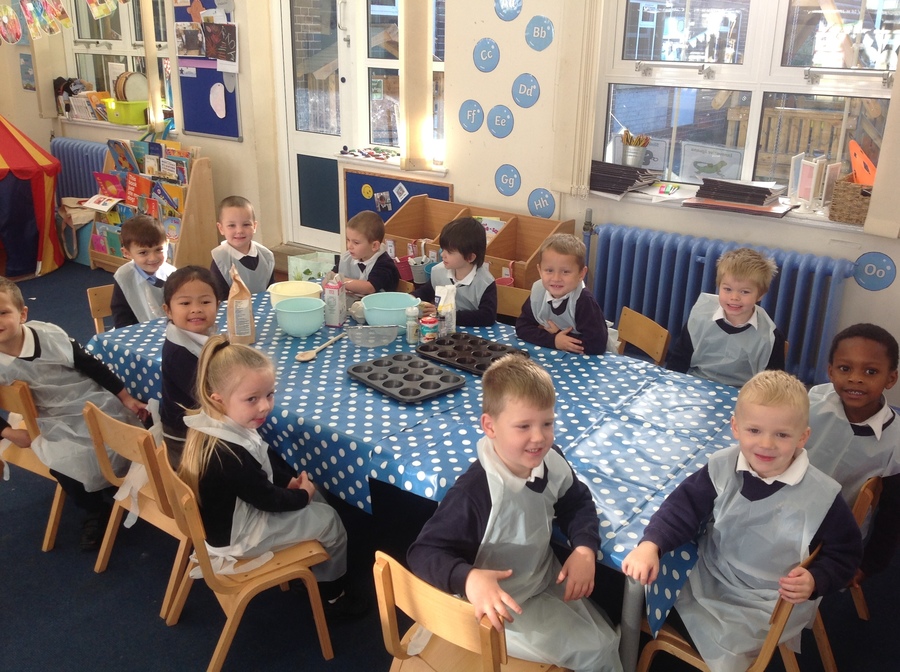 Here we are making cakes when learning all about birthdays! We read It's My Birthday by Helen Oxenbury and remembered the ingredients we needed to add to bake a cake. All of the children were very keen to share their experiences of what happens on their birthday. We remembered to wash our hands and wear aprons whilst cooking.
Show and tell!
This term we have started show and tell. Remember to bring in your interesting toys and books from home. Show and tell helps to increase children's ability in speaking clearly in front of the class and develop their self confidence. Reception have enjoyed show and tell so much already and we can't wait to see more children bring in items from home.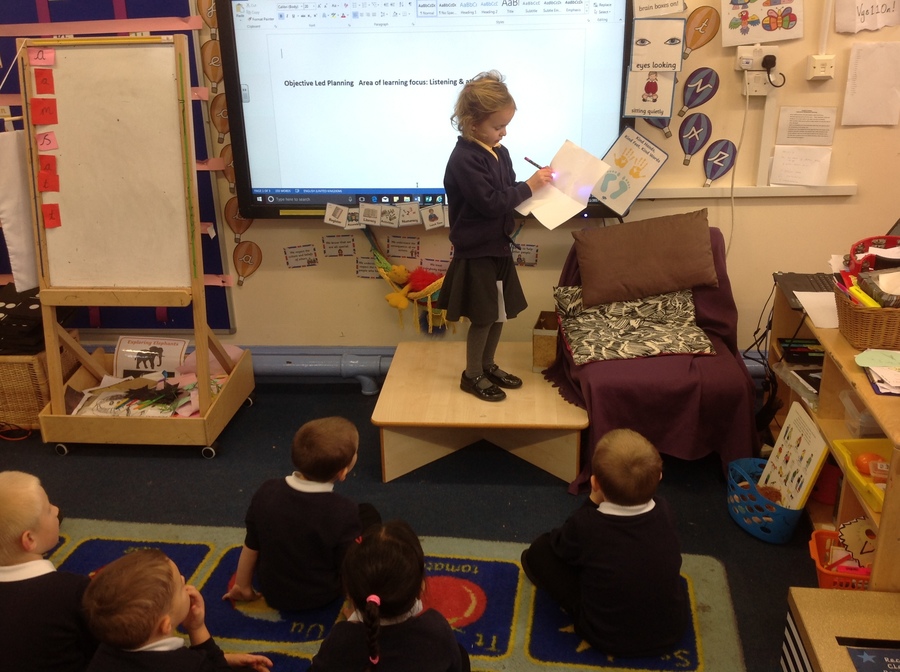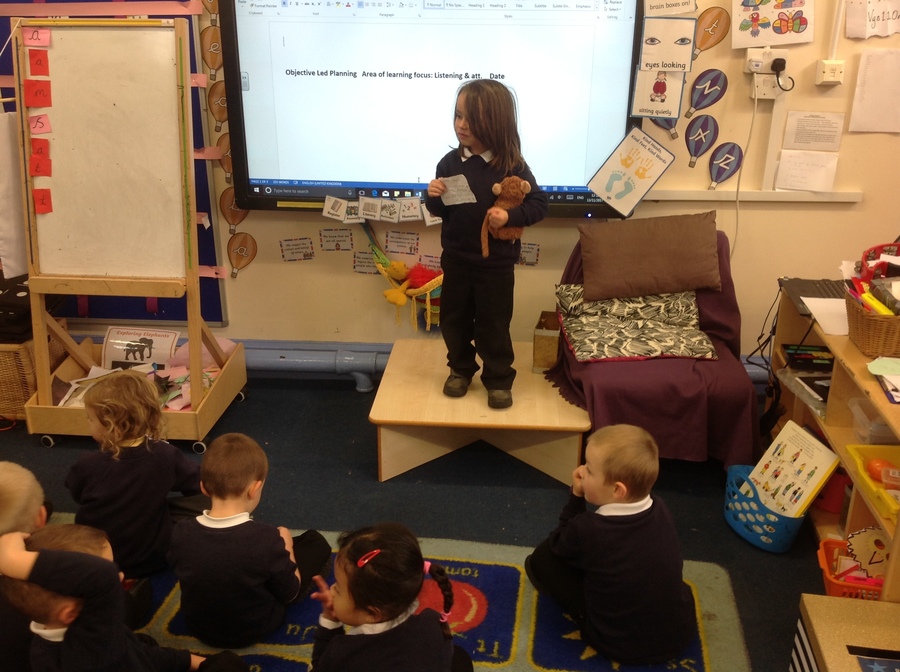 In maths this term we are learning to recognise and write numbers. We've played lots of number recognition games and the children love to use their number fans to answer questions now! Here we are writing our numbers.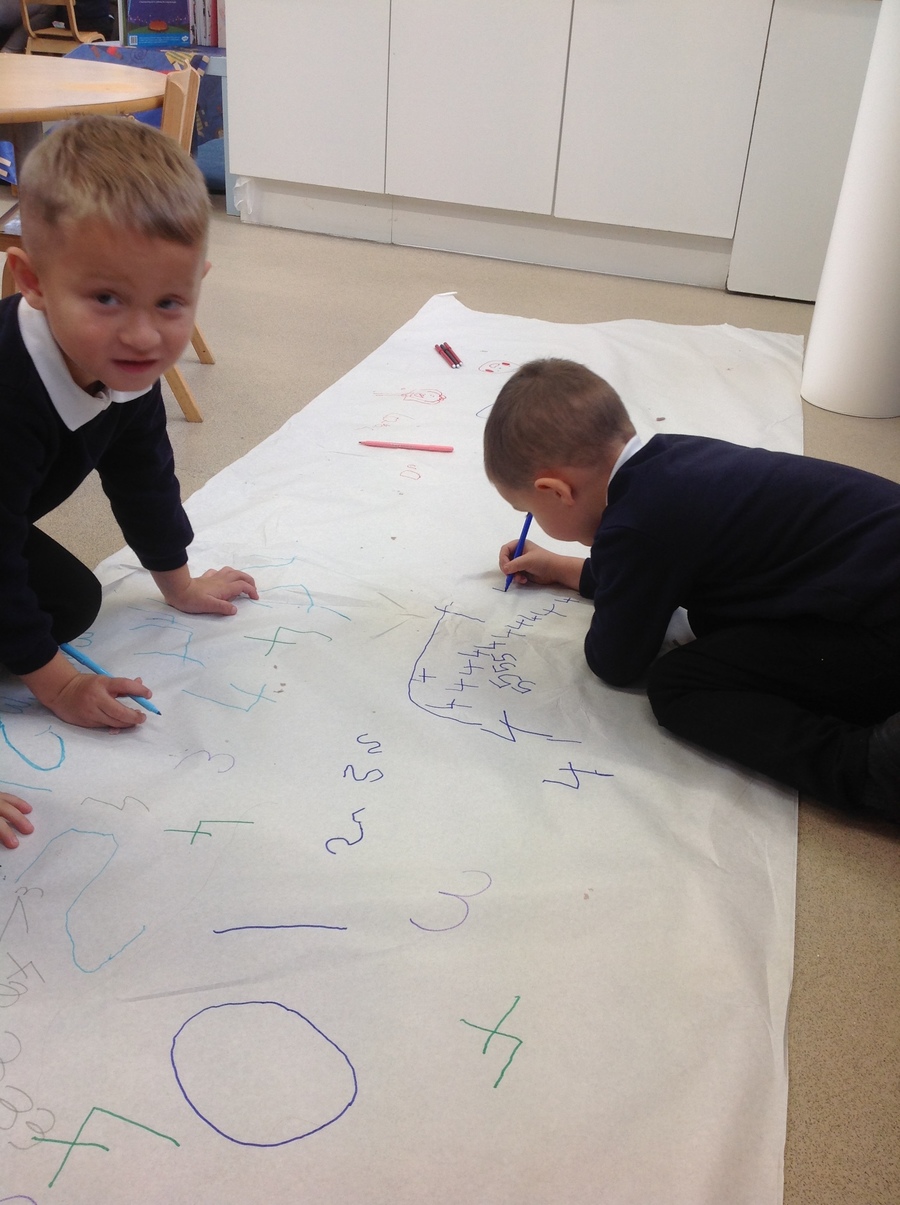 Some children have even been challenging themselves to make numbers more than 10 with Numicon and write them out in numerals.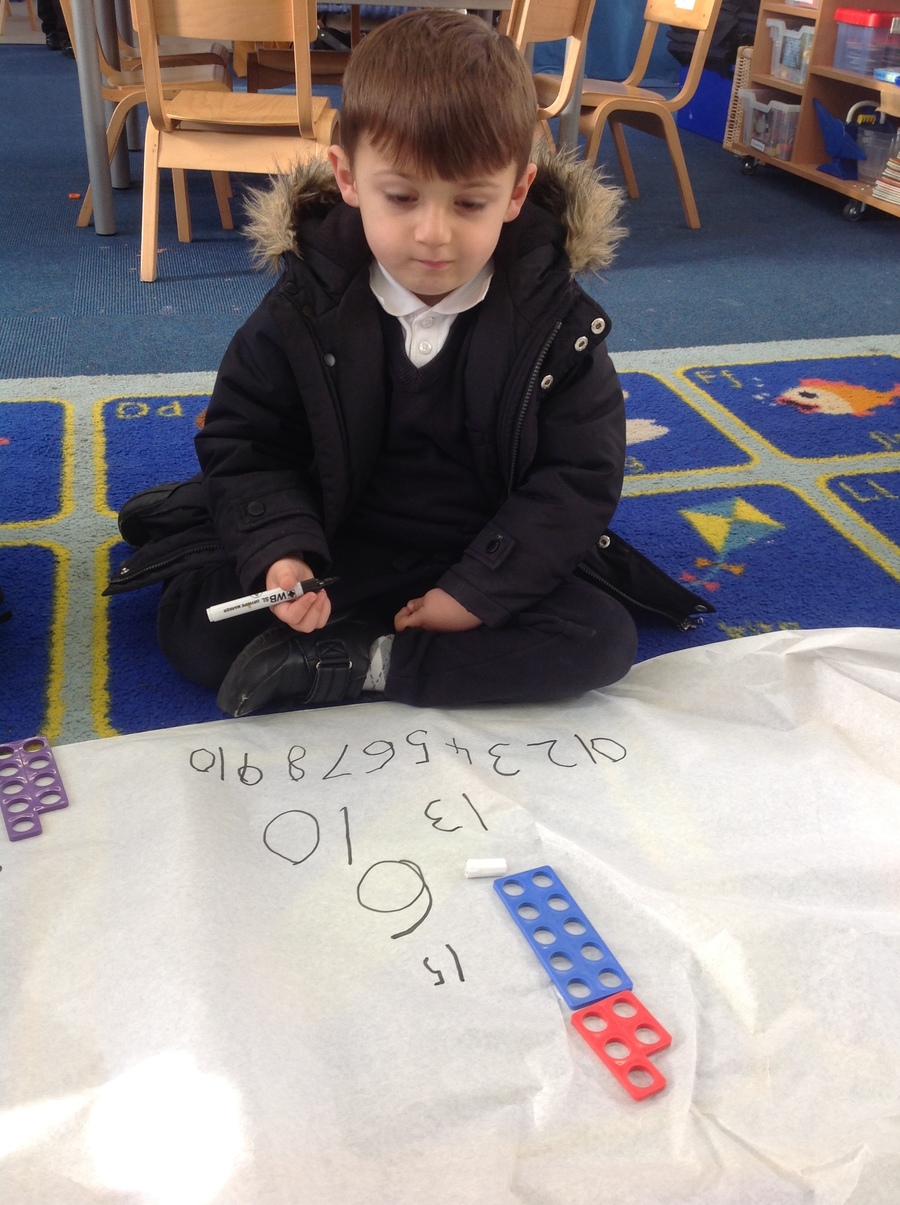 Term 3
This term our topic is Communities. We have looked at two stories 'The Three Little Pigs' and 'The Tiger who came to Tea'. We have learnt these stories off by heart using the Talk for Writing actions to help us remember the story language. Look at our wonderful videos we have made using an app called Puppet Pals! Listen to Annabella and Oscar using the puppets from The Tiger Who Came to Tea.
We had a tea party with lots of delicious cakes. Unfortunately a tiger came to swallow them all up! We then wrote some letters asking for the cakes back.
This term we have enjoyed reading a variety of books. We have spent time in our school library and we walked to Southmead library, too! The children love reading a range of fiction and non-fiction books.
Here is Kacper enjoying learning about sharks!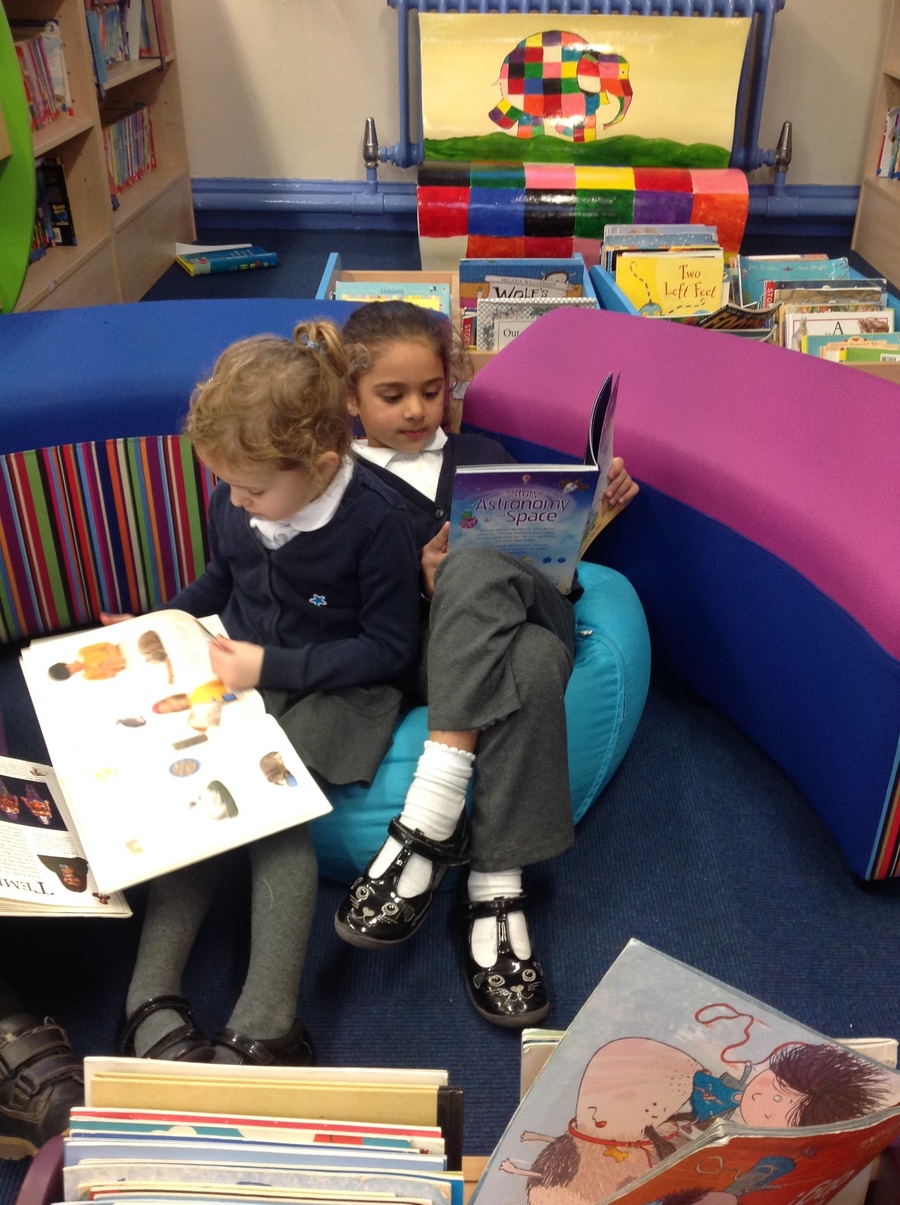 As the weather has got warmer, we have been enjoying learning and challenging ourselves outside. From forest school, to problem solving, to thinking and building critically, we have learnt so much in our garden.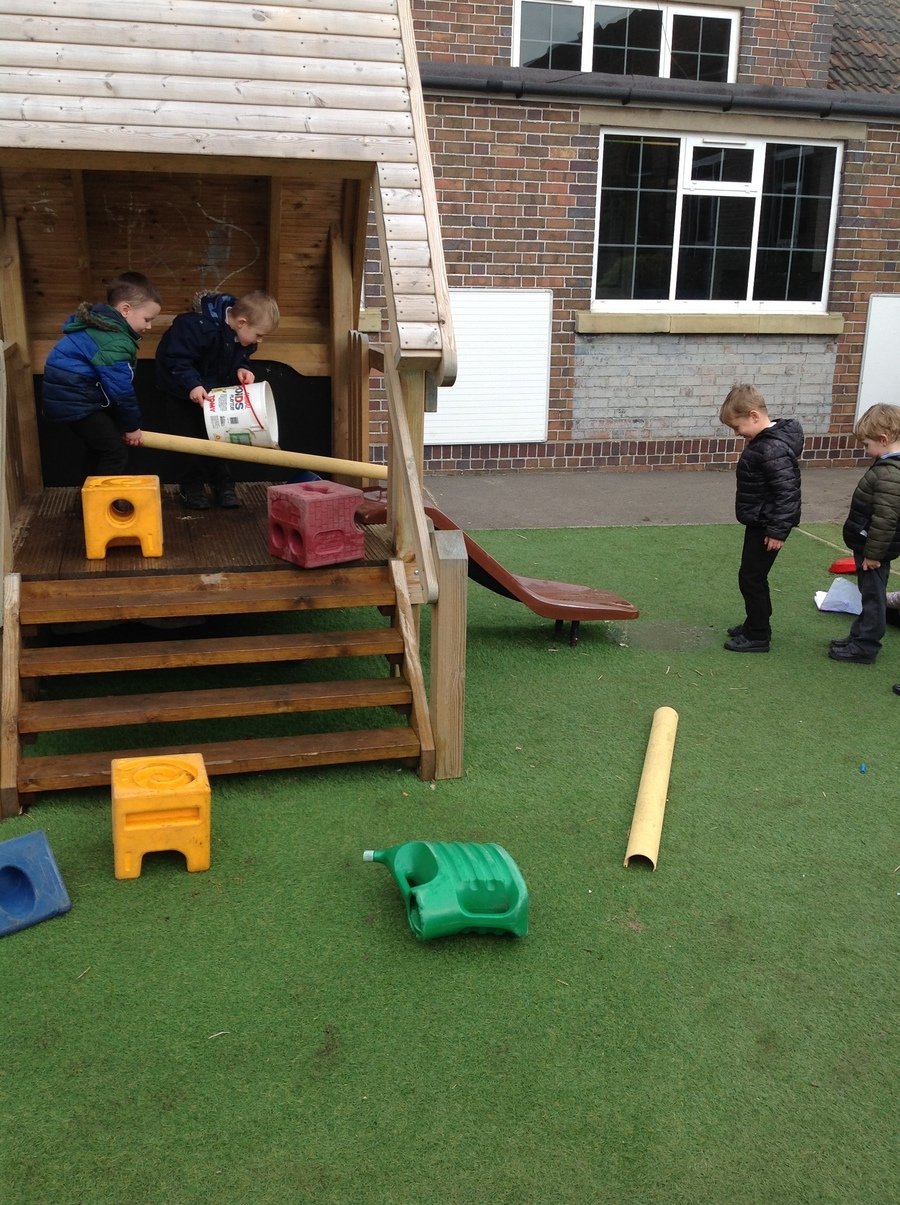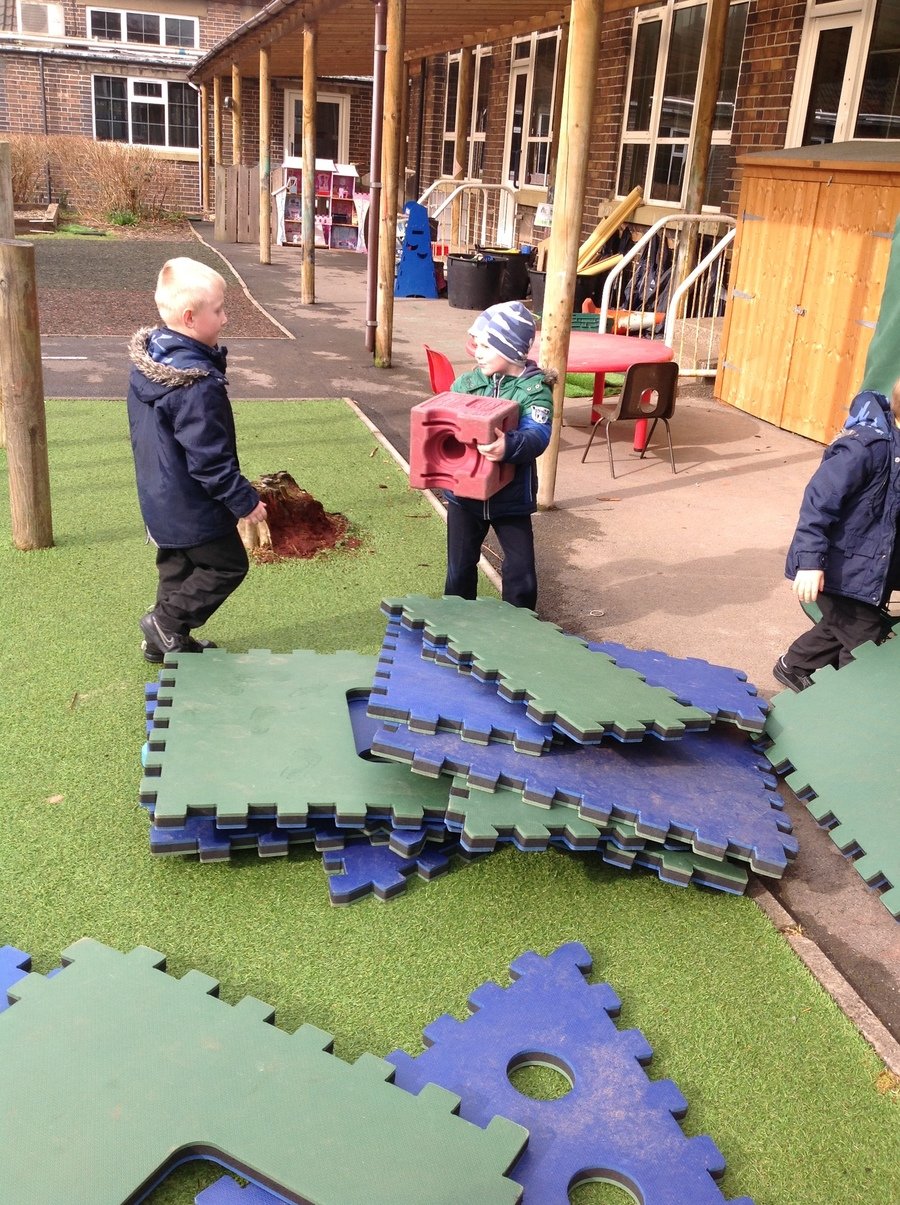 The children have enjoyed making structures out of the Podley play equipment. Here are some children working out how to make a water system down our slide, putting their critical thinking skills to the test! The children communicated clearly to work together as a team.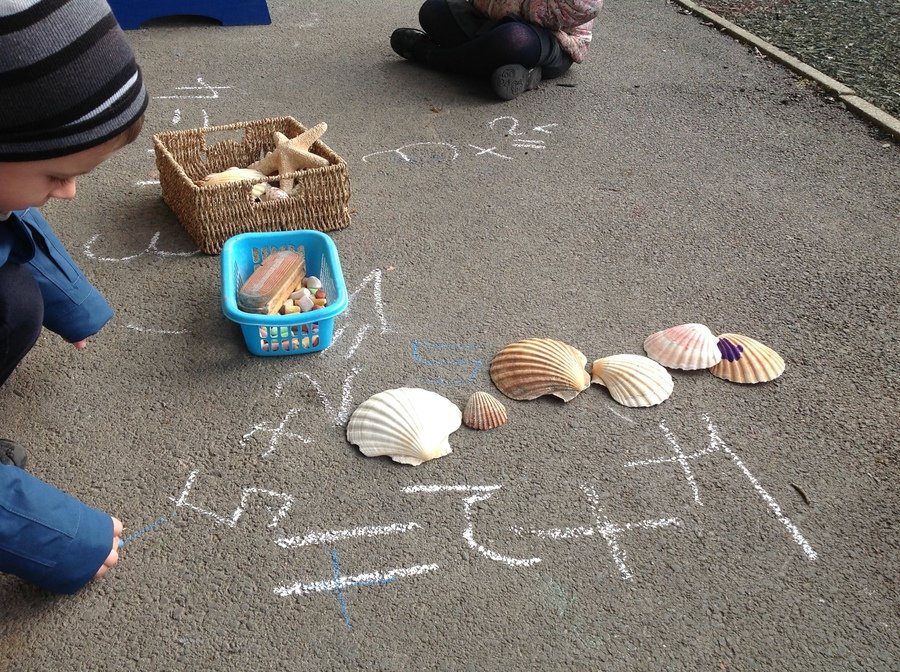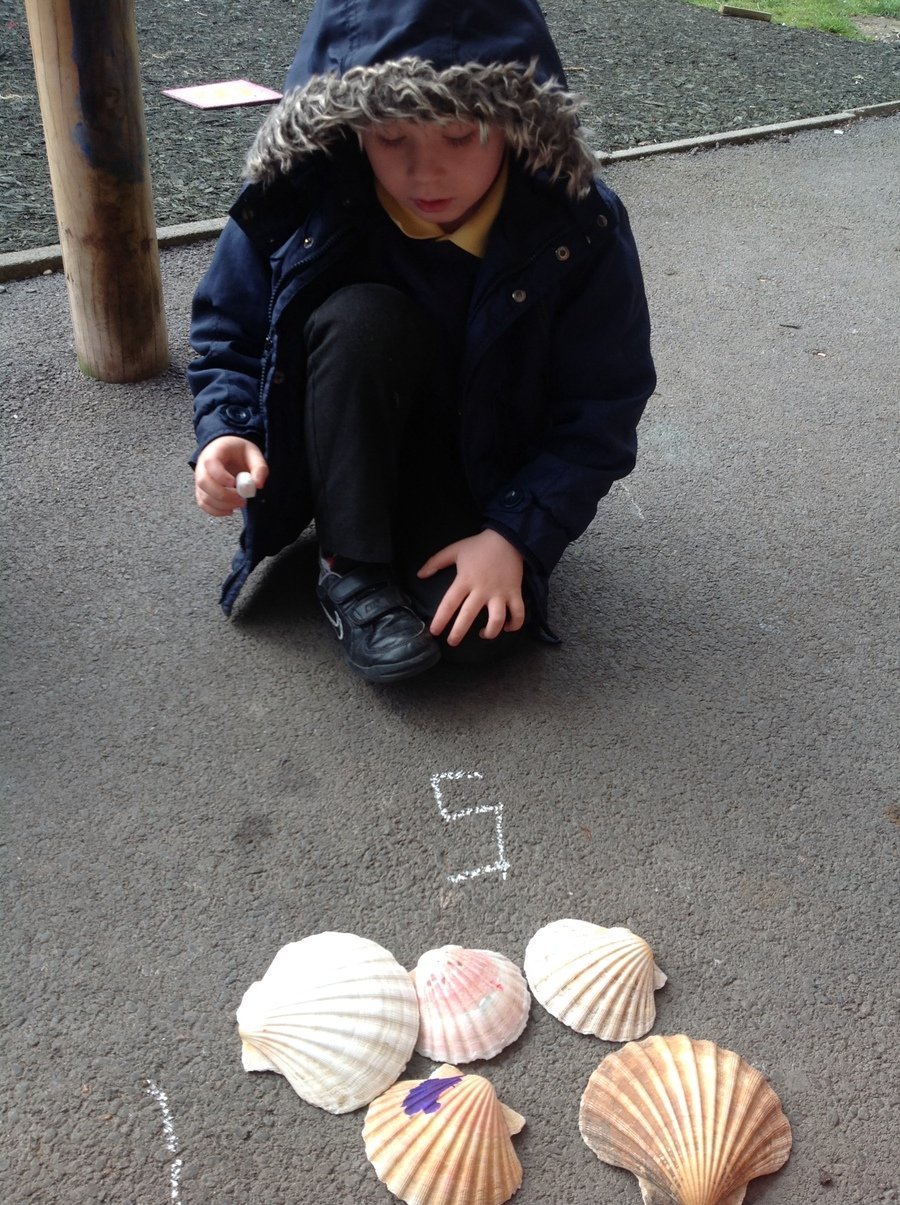 Here are some children using their knowledge of addition to write some number sentences, using natural resources to help them find the total.
We enjoy going to forest school with Miss Williams, Miss Loveridge and all the volunteers that help out in Reception. The child learn all about understanding the world and gain confidence outside by taking risks safely. We are so proud of how confident the children are at forest school and the wonderful language that they use during team building exercises.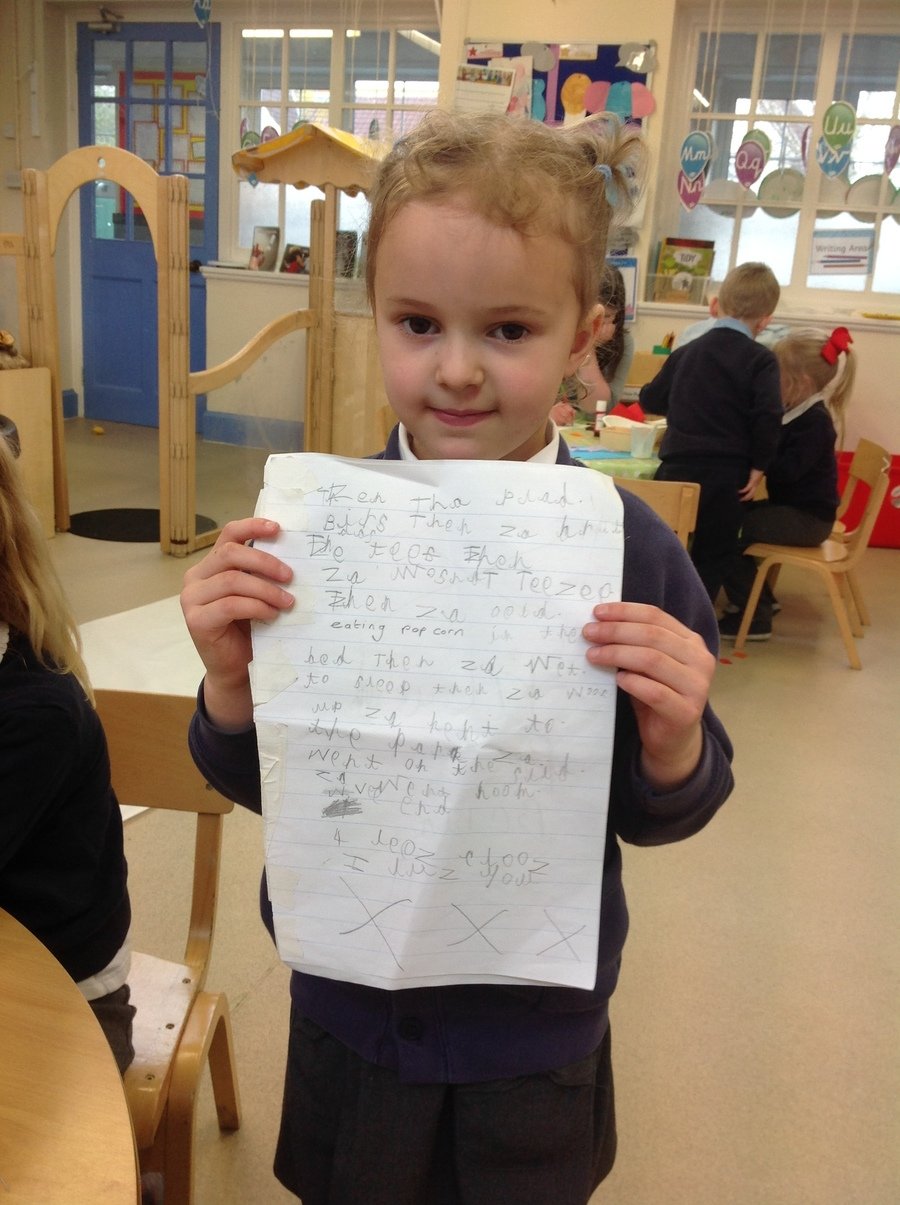 This term, Reception have become so confident to use Talk For Writing story language. They have even started writing their own stories using story language. We use actions for: Once Upon a Time, Next, Later on, Suddenly, Unfortunately, But, After that and The End. Can you think any more examples of story language?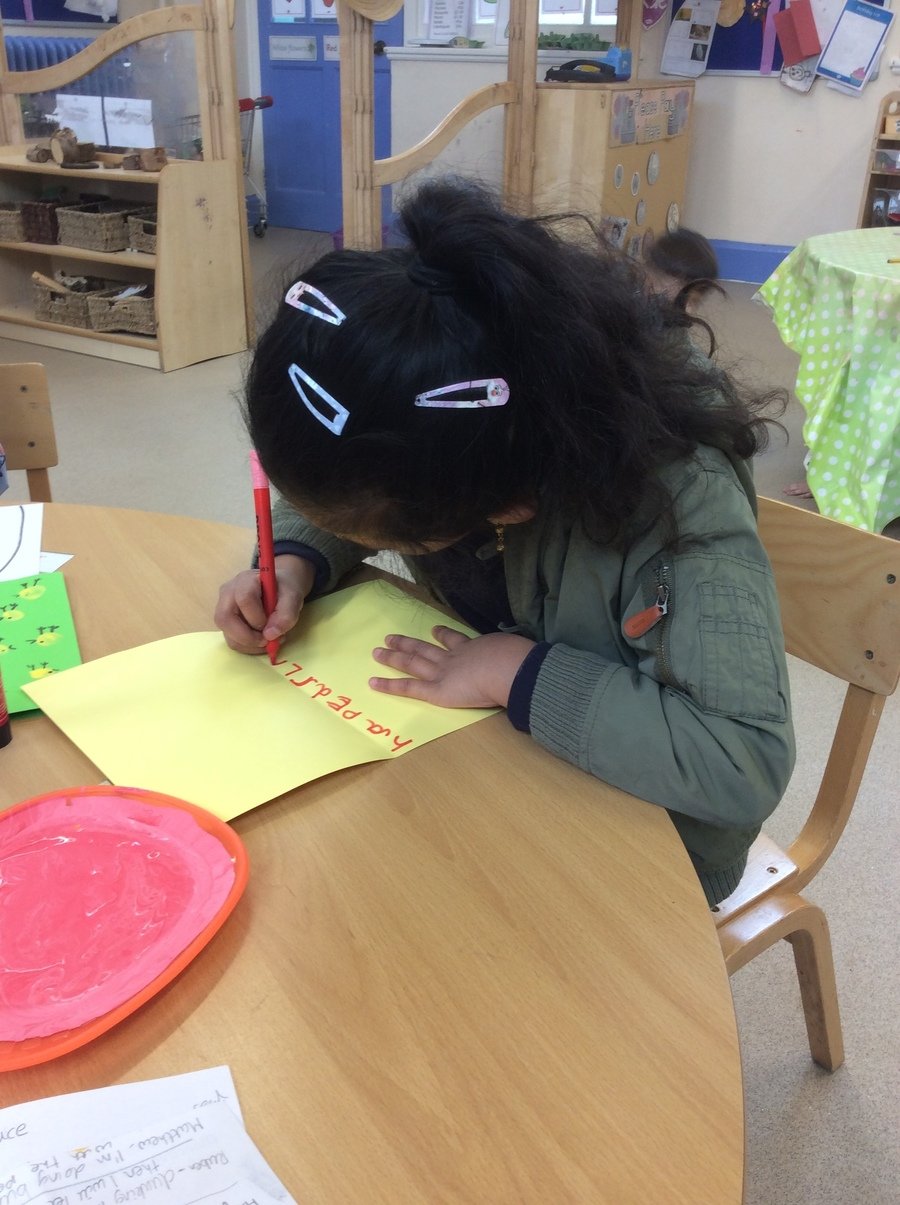 We have been learning about growth this term. We have grown our own cress, making it a competition to grow the tallest plant, just like in Jack and the Beanstalk! We have even had class caterpillars, which we watched grow into butterflies. We let them fly off in our garden after taking care of them for so long!