welcome to fonthill Nursery
Hello, my name is Mrs Welti and I am the Nursery class teacher. In our Nursery we also have Mrs Thompson, our nursery nurse and Miss Metcalfe our apprentice TA. Between us all we aim to support our children in their play, learning and wellbeing.
Please enjoy looking at our information page and all of the high quality experiences we have here at Fonthill Nursery.
We are a Local Authority Nursery School in Bristol which takes children from the term of their 3rd birthday. We are staffed by qualified Nursery Teachers, Nursery Nurses and support staff, all of whom have extensive experience of working with young children.
The Nursery is open between 8.45am and 11.45am Monday to Friday
Fonthill is an inclusive school which welcomes all children from all communities.
All children over the age of 3 are entitled to 15 hours free early years education.
Drop in sessions: If you would like to come and have a look around our Nursery please call the office and let us know. We run sessions from 9.30am - 10.30am every Friday.
Prospectus: We are in the process of revising our prospectus if you would like to receive a copy please call the office.
We still have a few places available. If you would like to register your child for a place, ring the School on 0117 3772550
Take a look at what our children have been doing in Fonthill nursery...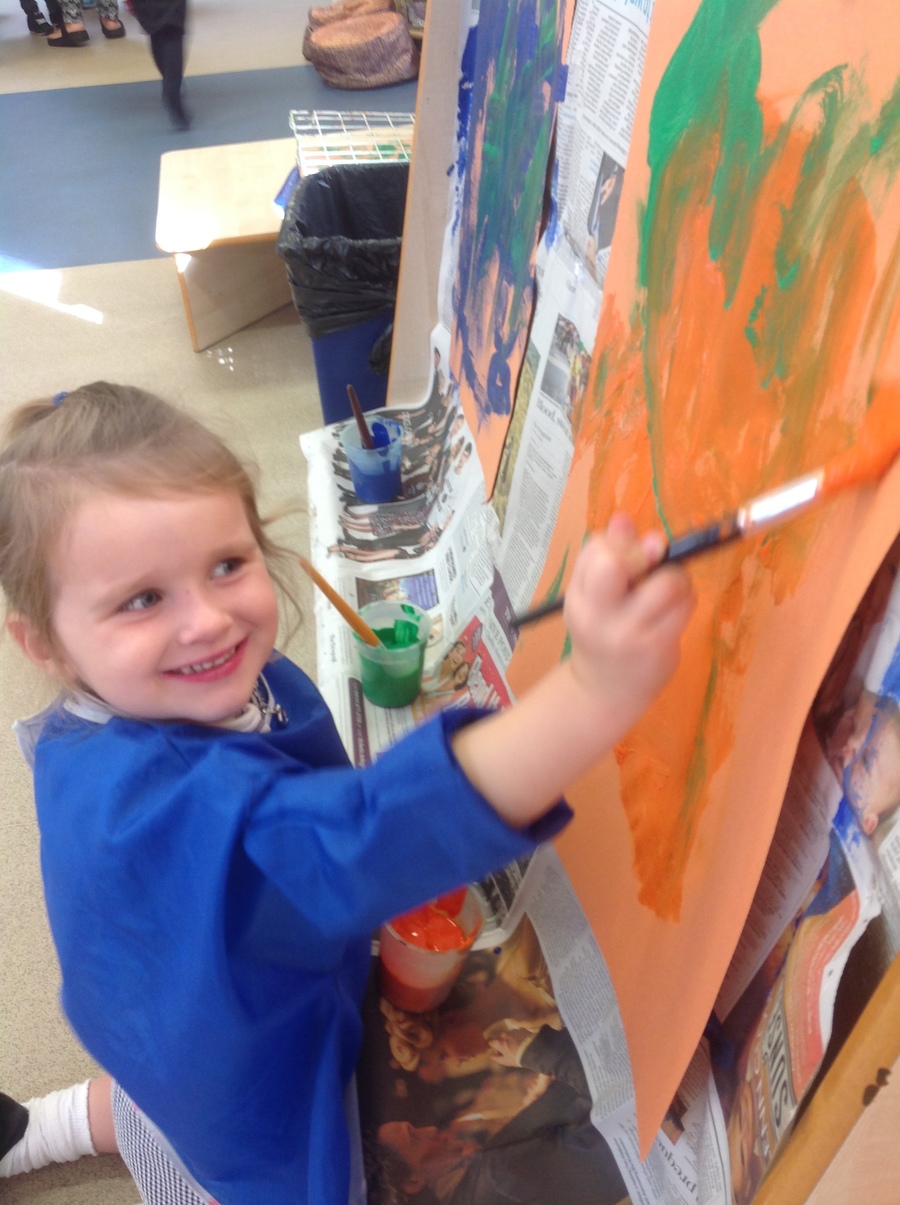 Molly chooses to paint a picture of her 'Mummy' using a range of colours from the pots.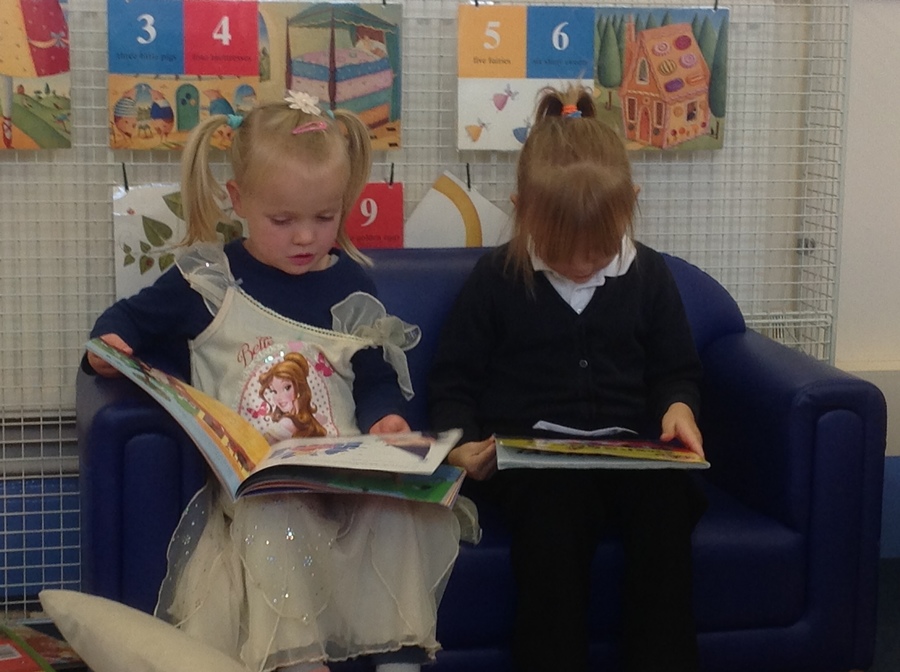 The children take a break from all of their busy play to have a quiet read in the cosy book corner.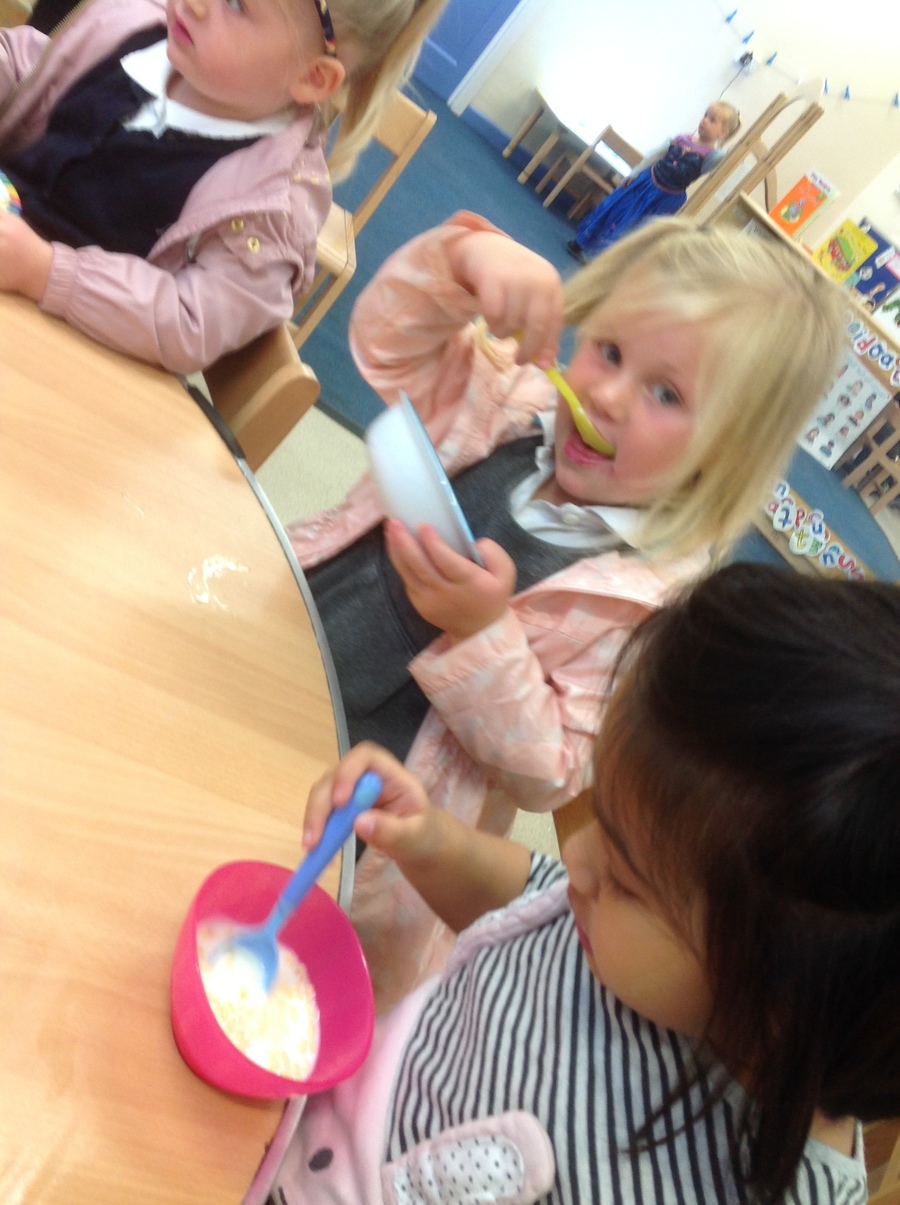 Every morning the children sit together to have cereal and chat!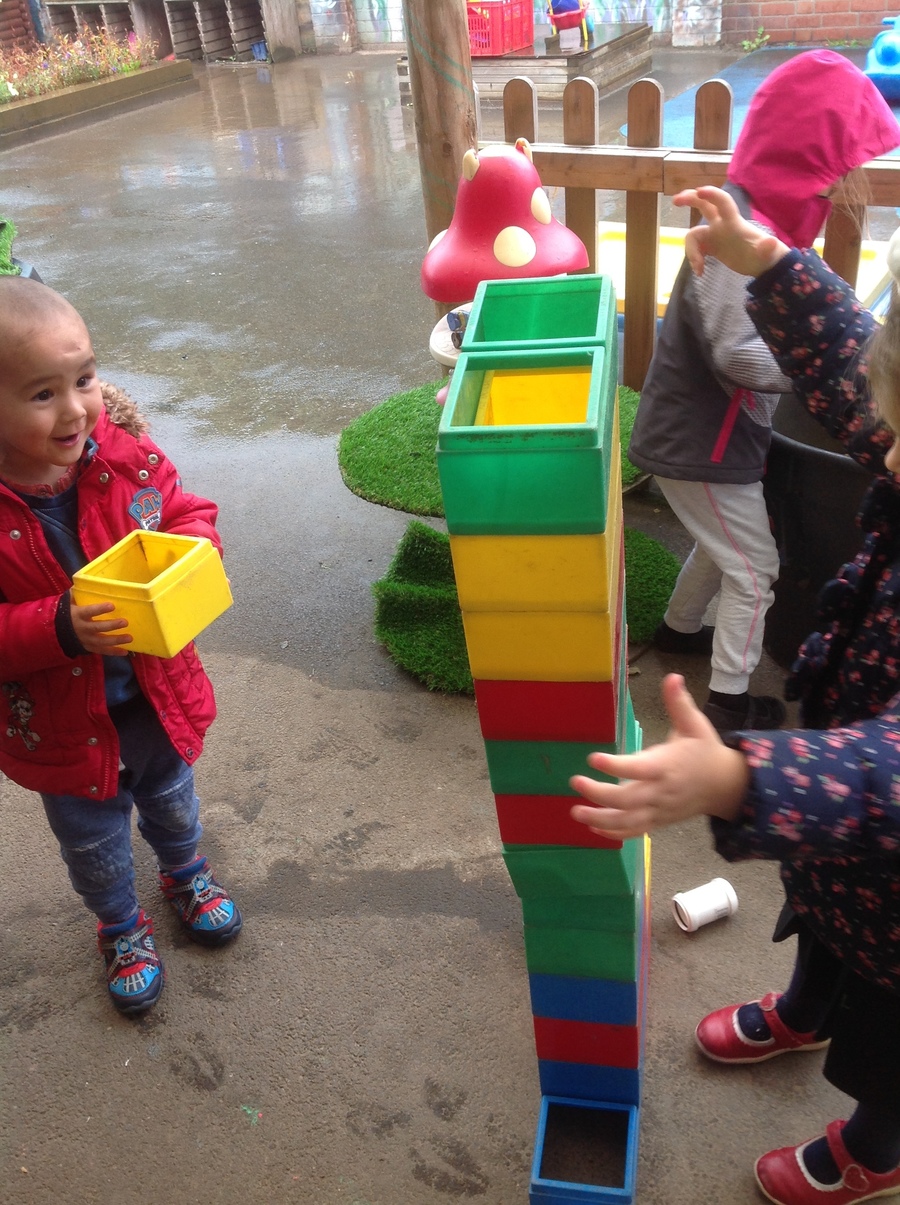 Watch out, its going to fall!
Alixander counts how many bricks he can build on top of each other to make a 'tall tower'.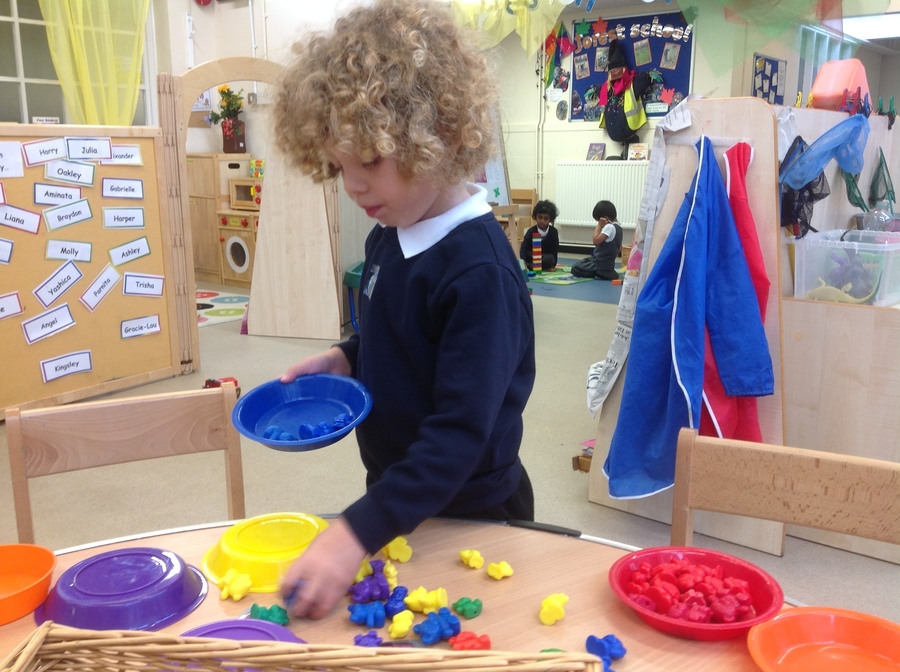 Ashley is great at sorting!
Here, he sorts the colours of teddies into their corresponding pots.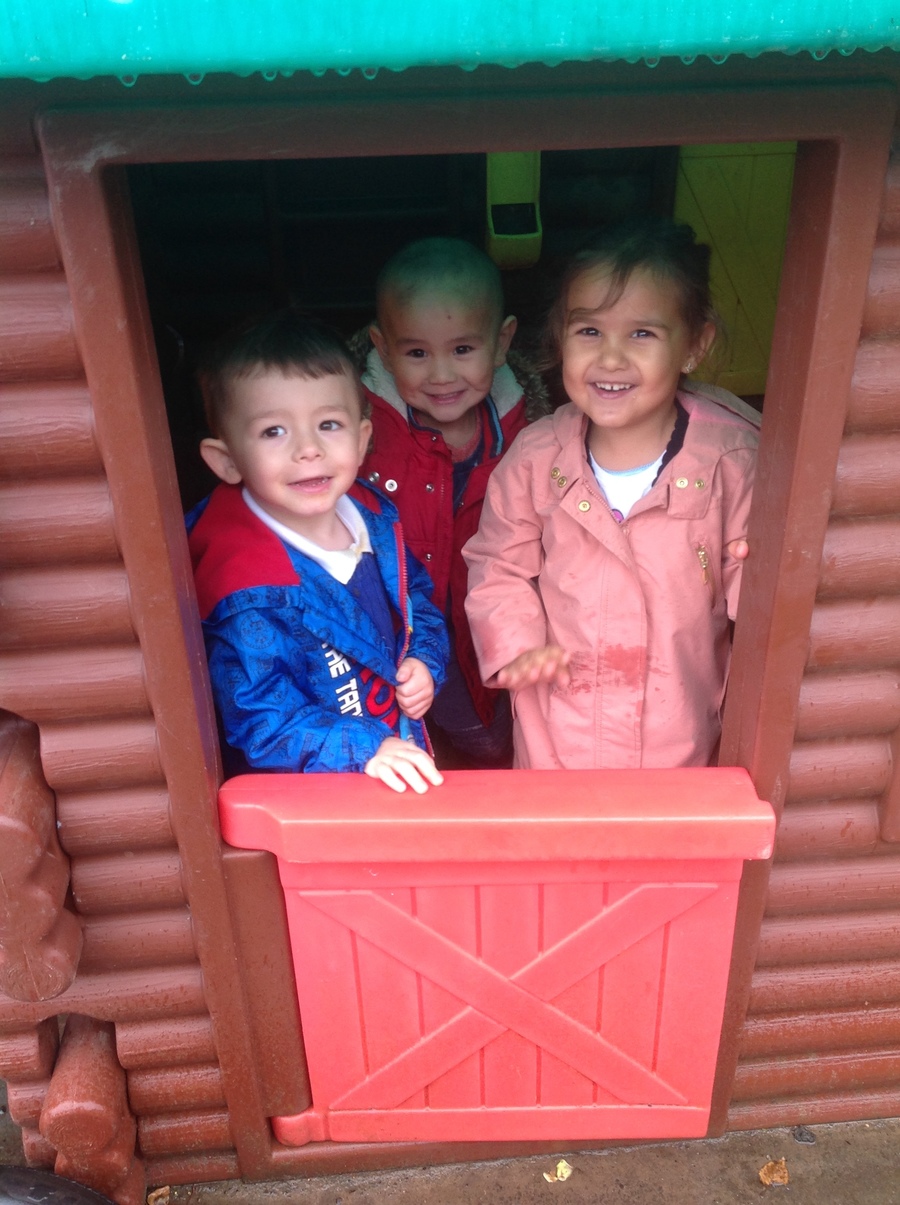 Hello everyone!
The children play in the outdoor log cabin, making grass tea and mud pies from their mud kitchen.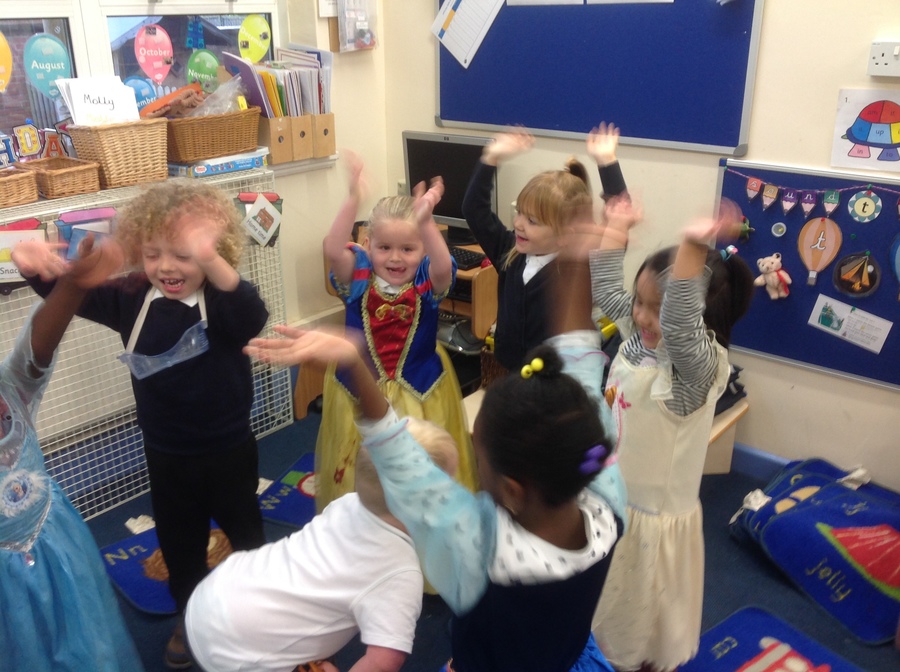 'Let it go! Let it go!'
Here the children's interests are embedded in their play as they sing and dance along to their favourite song. They also dress up and act out the characters roles from Frozen.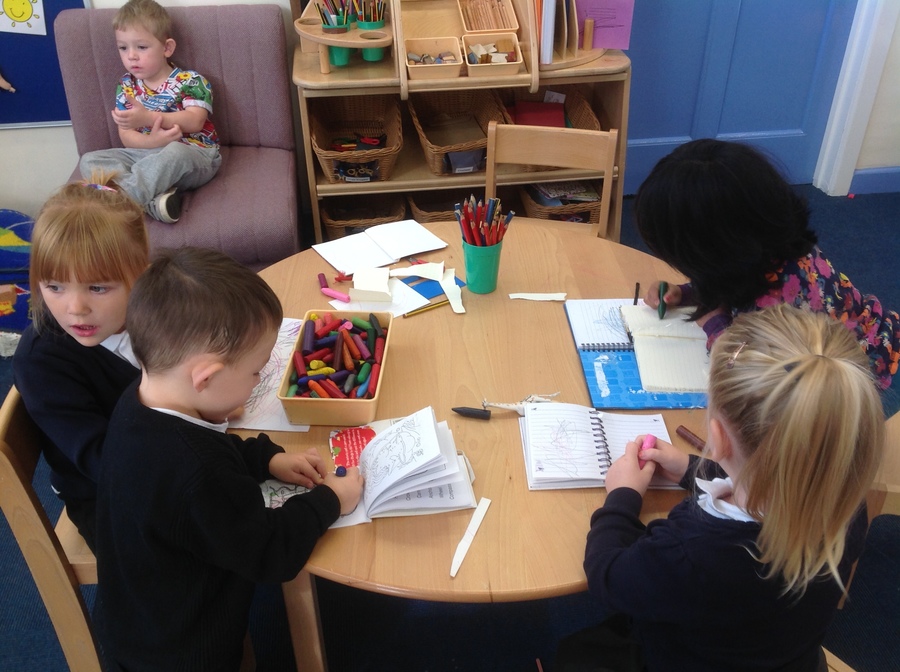 Mark Making Time!
The children are engrossed in making marks of all kinds, whilst also practicing writing letter formation.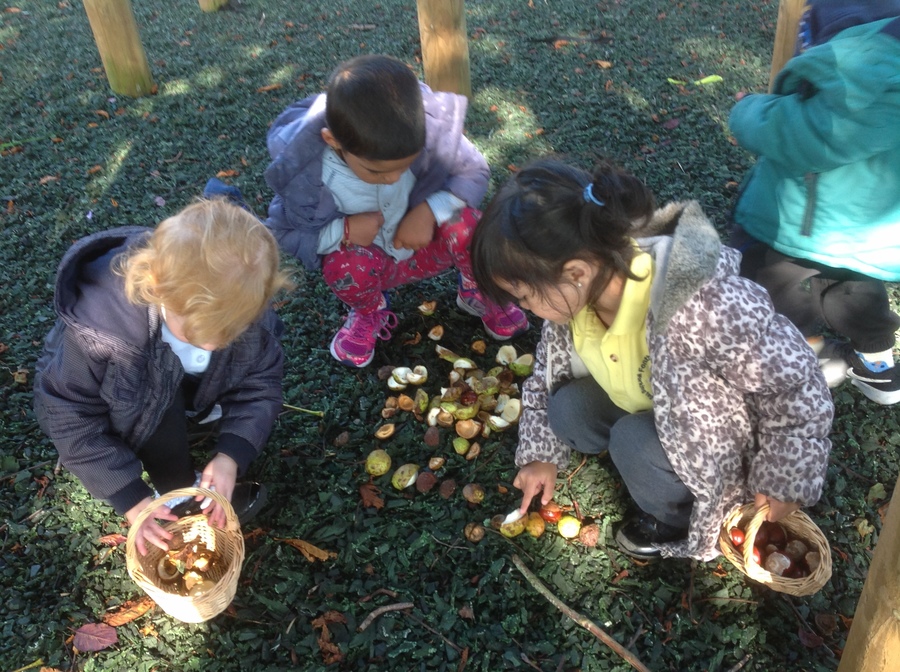 As its autumn time our children like to go on conker hunts under our chestnut tree.
They have a go at opening the conker shells in lots of different ways.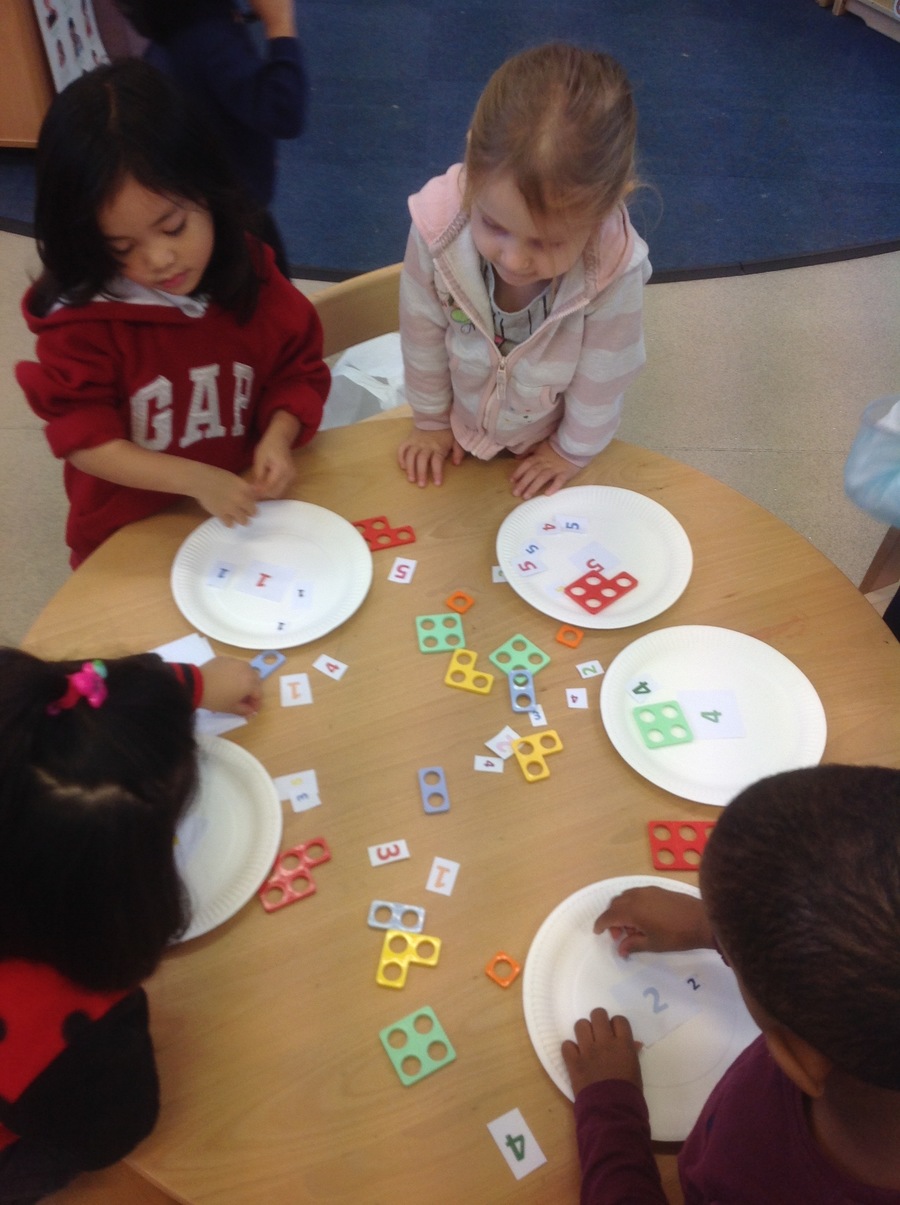 Numicon!
The children have been working hard on their early counting skills by using Numcion shapes. They have been using the shapes to help them count accurately, order to 10 and identify numbers.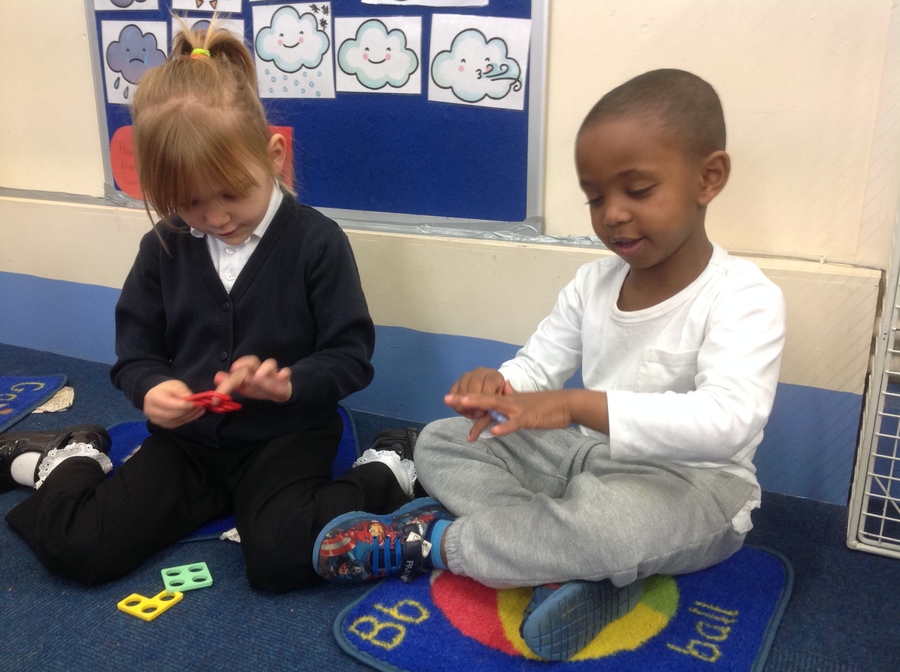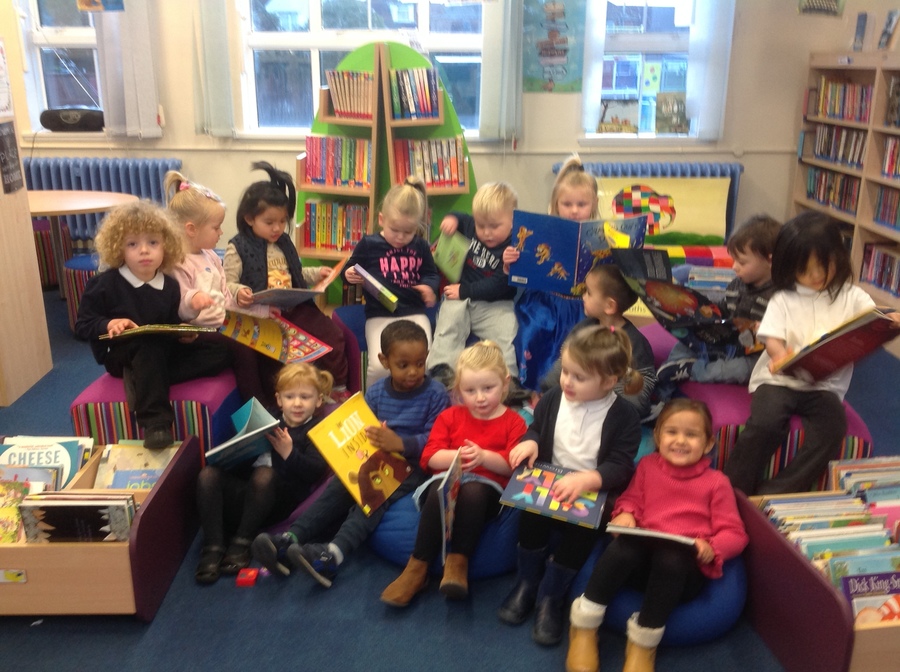 The school library allows the children to choose from a variety of books to read and look through. They love to visit and borrow books to read with their families.
It has been very exciting in our outdoor area recently. The children have been taking part in lots of high quality play, including making their own pretend bonfires, racing cars against Numicon tracks and building their own obstacle course!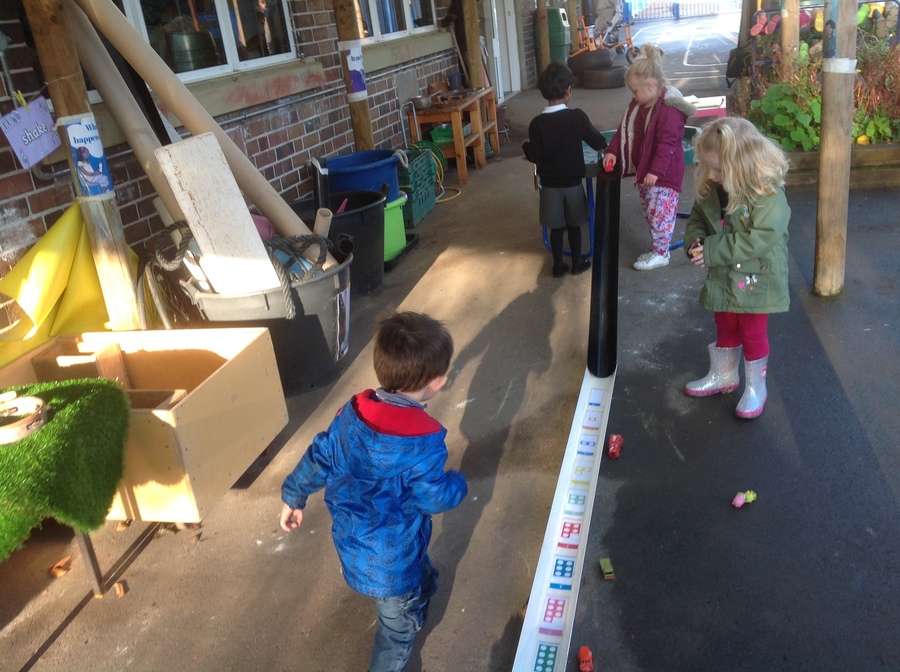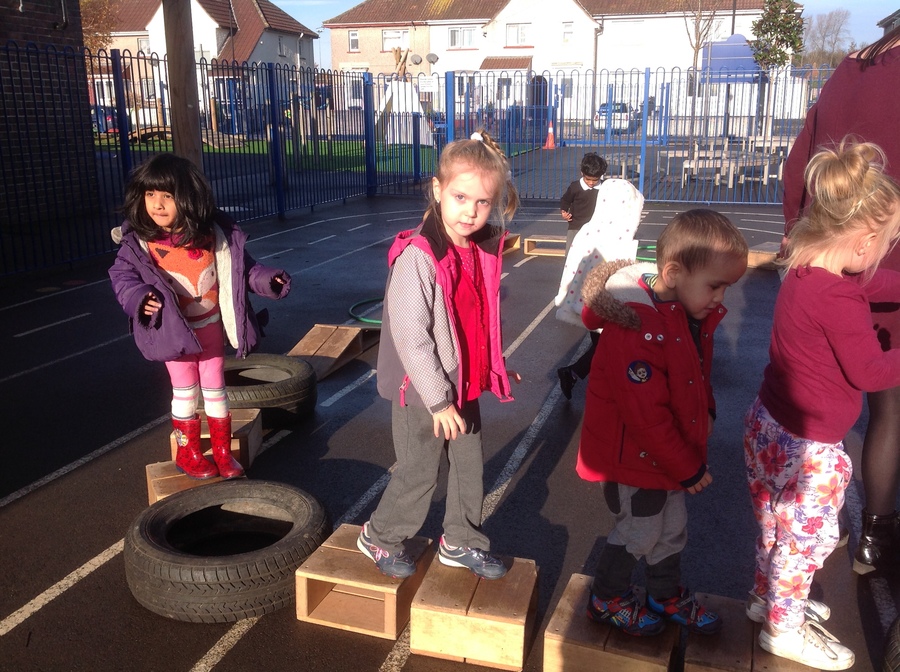 Here the children are playing board games, this one is called 'Incy Wincey Spider' and supported their number and shape skills.
We celebrated Children in need by having our faces painted, making spotty hats and spotty play dough. We spent ALL day counting the spots in the environment!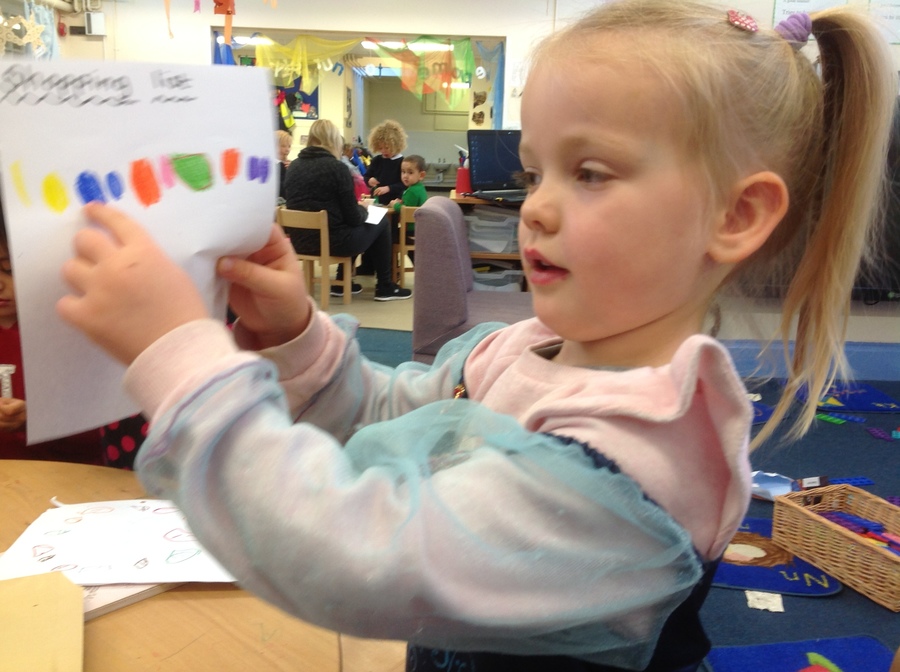 The children made shopping lists and Christmas lists. Lots of conversations were had around these subjects! Malwina commented 'I have apples, bananas and two blueberries.'
The Christmas performance this year was called 'The Innkeeper's Breakfast'. The children loved learning the words and actions to the songs and had fun dressing up in the costumes. They were all fantastic actors and singers!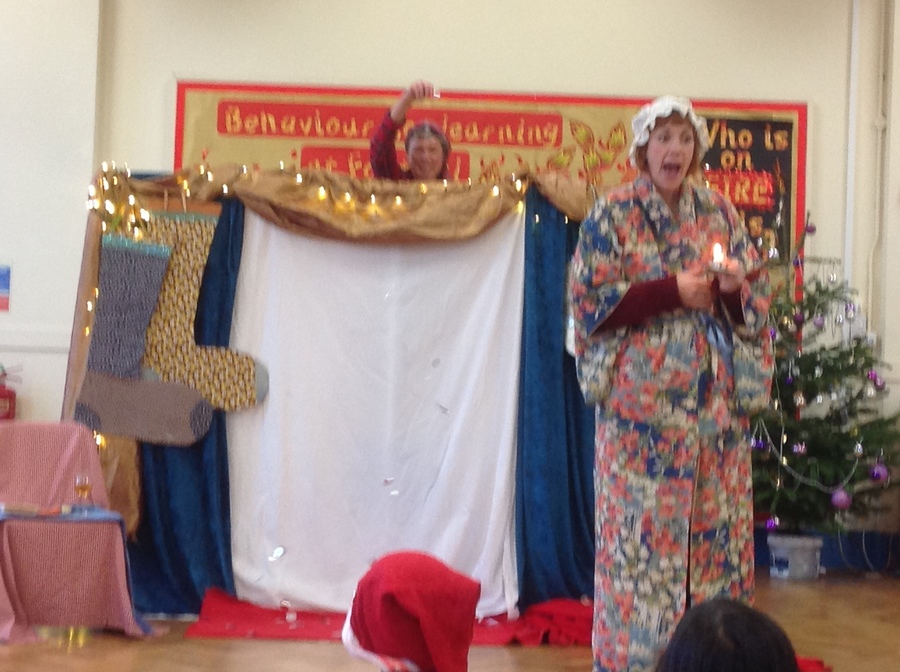 We invited the Dragon bird theatre into school to take part in their version of the play 'The Night Before Christmas'.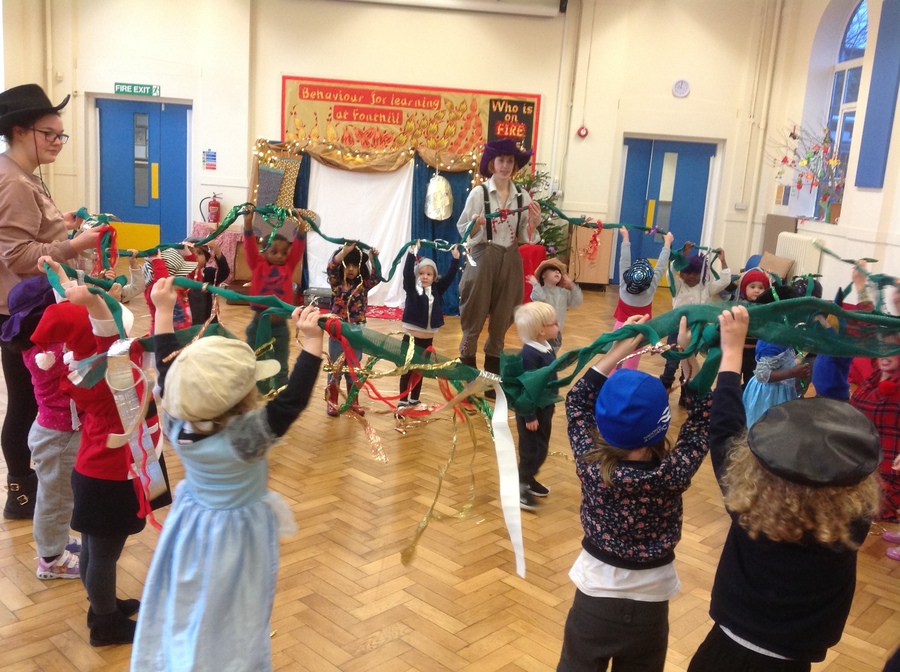 We had lots of excitement from the children when we rode on Santa's sleigh and made jingle bells.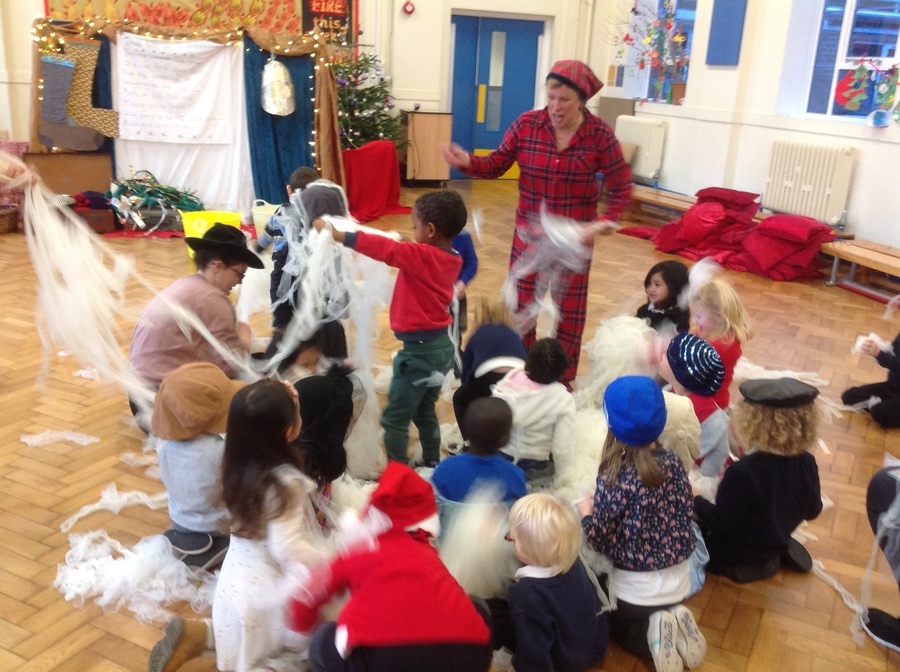 There was lots of energy used up when it started to snow and we dressed our teachers up as snowmen!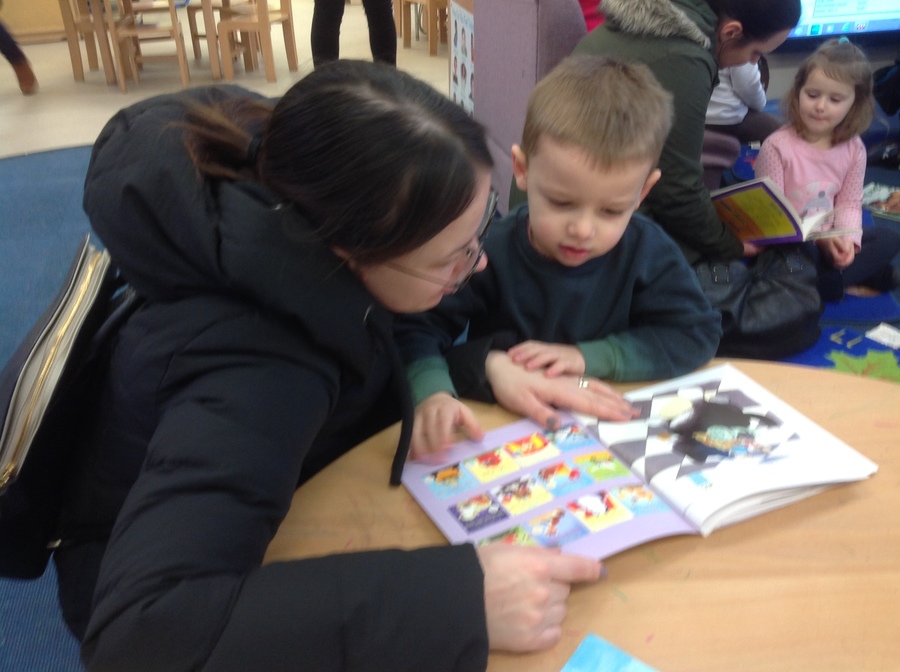 The Nursery parents came along to a 'stay and Read' session.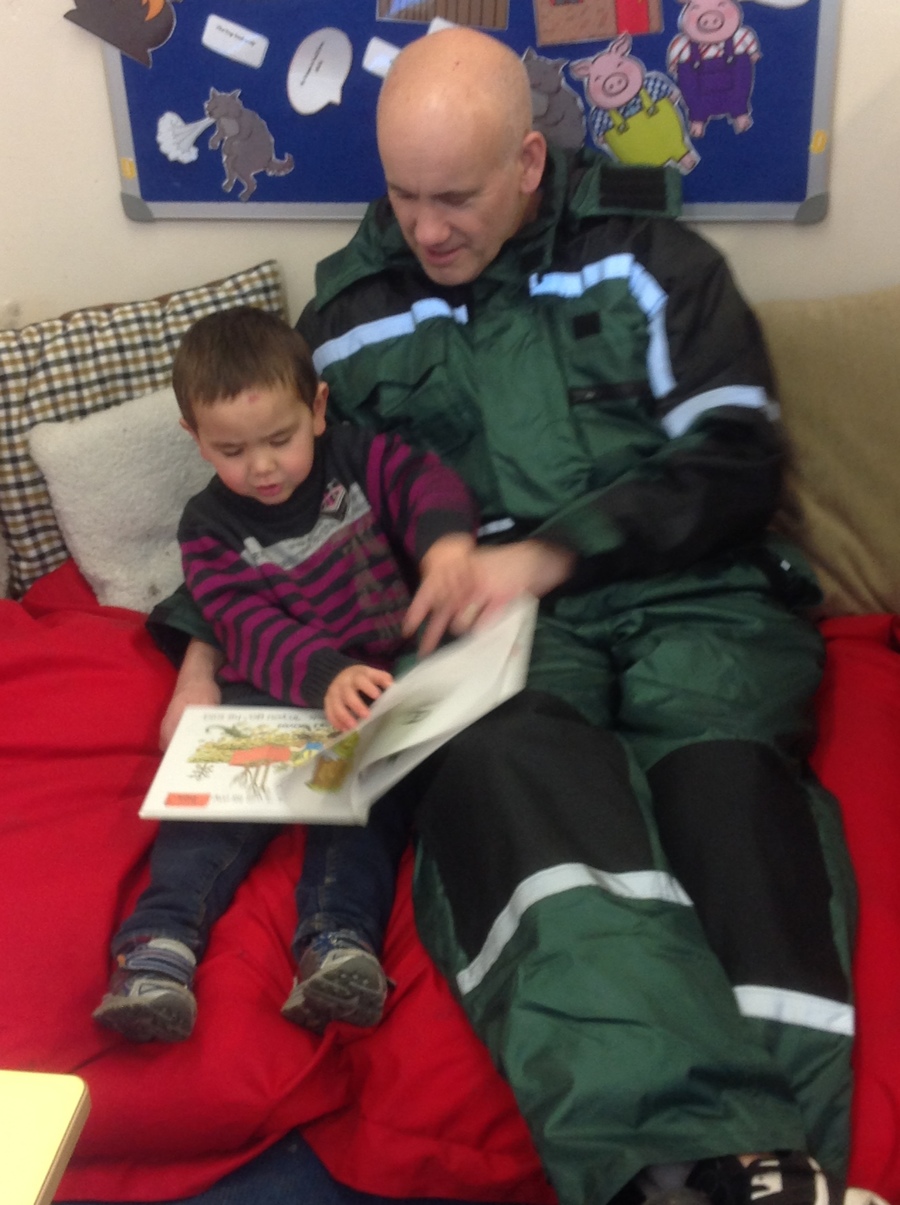 They use lots of book handling skills with the support of their Mum or Dad.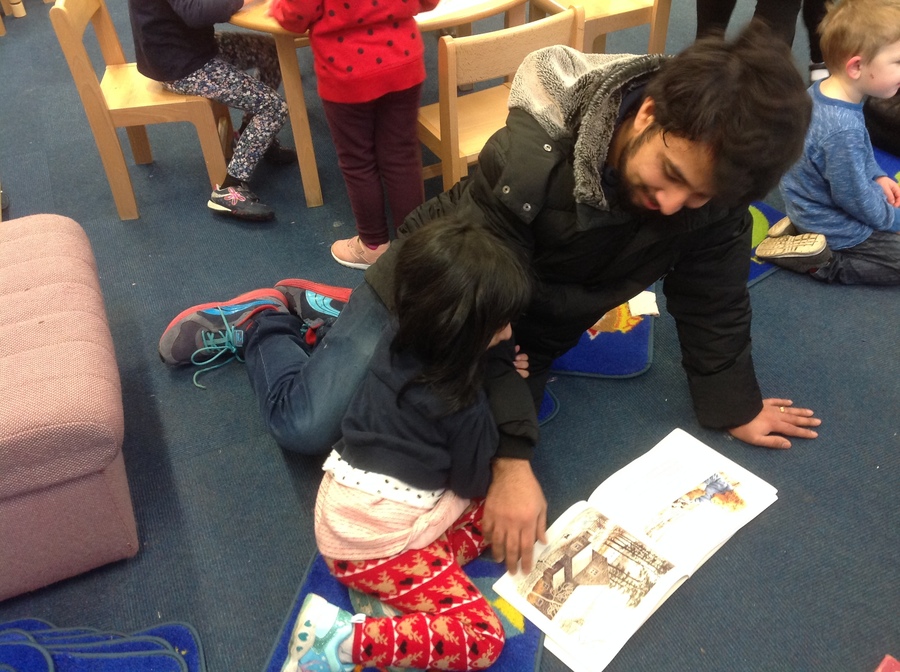 The children chose the books for their parents to read to them.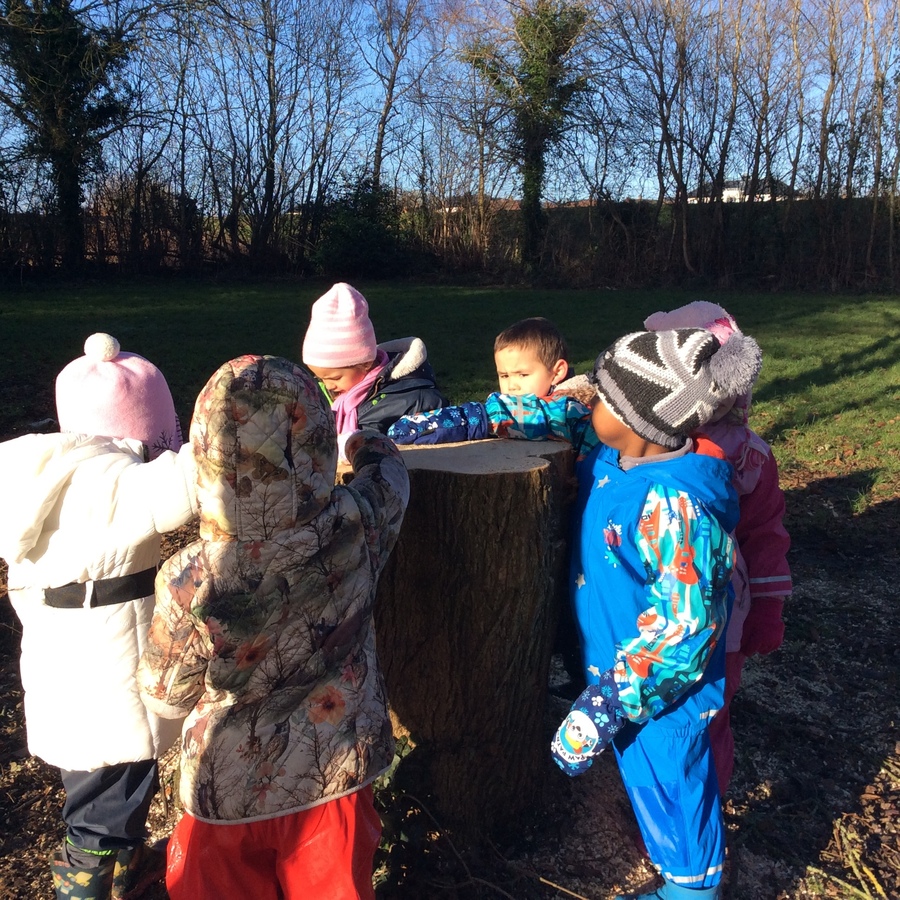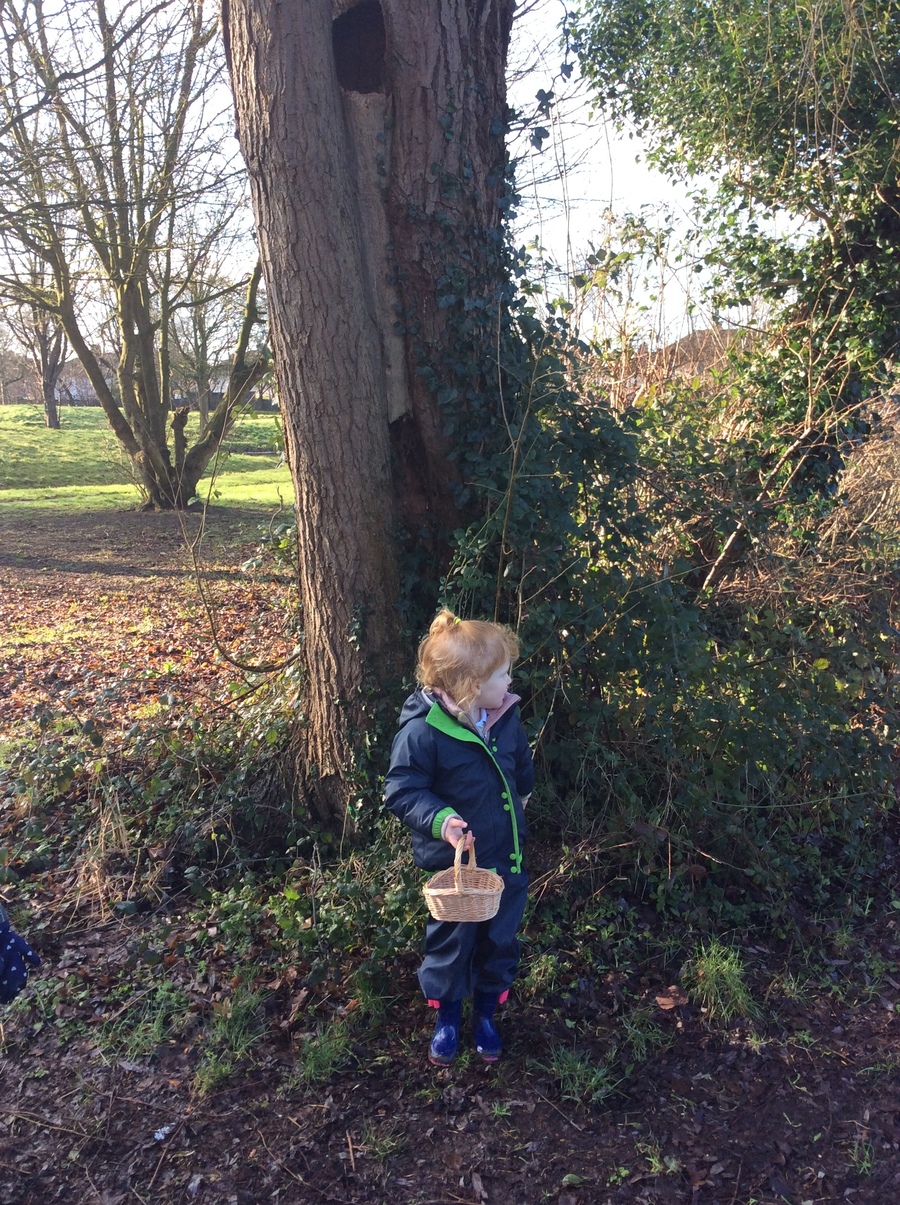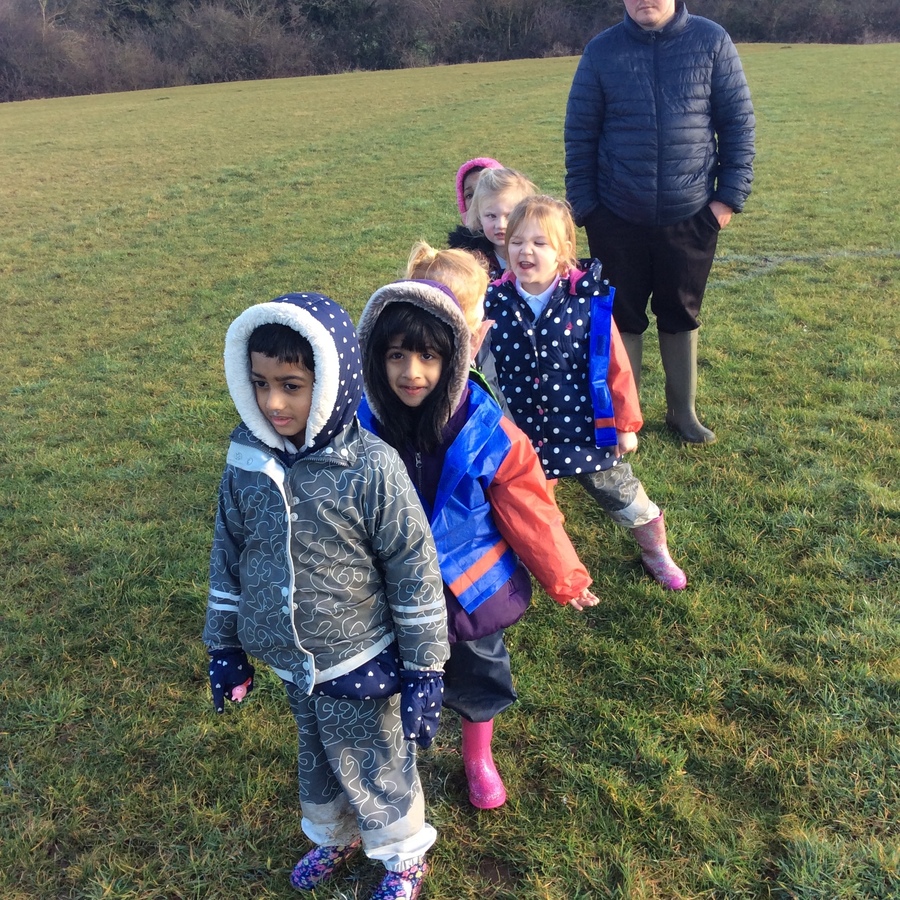 The children have had such an exciting time at Forest School recently!
They have seen the seasons naturally changing and how the woodland has been changed by people too.
Rules and boundaries help the children to use the forest safely so they can have as much fun as possible!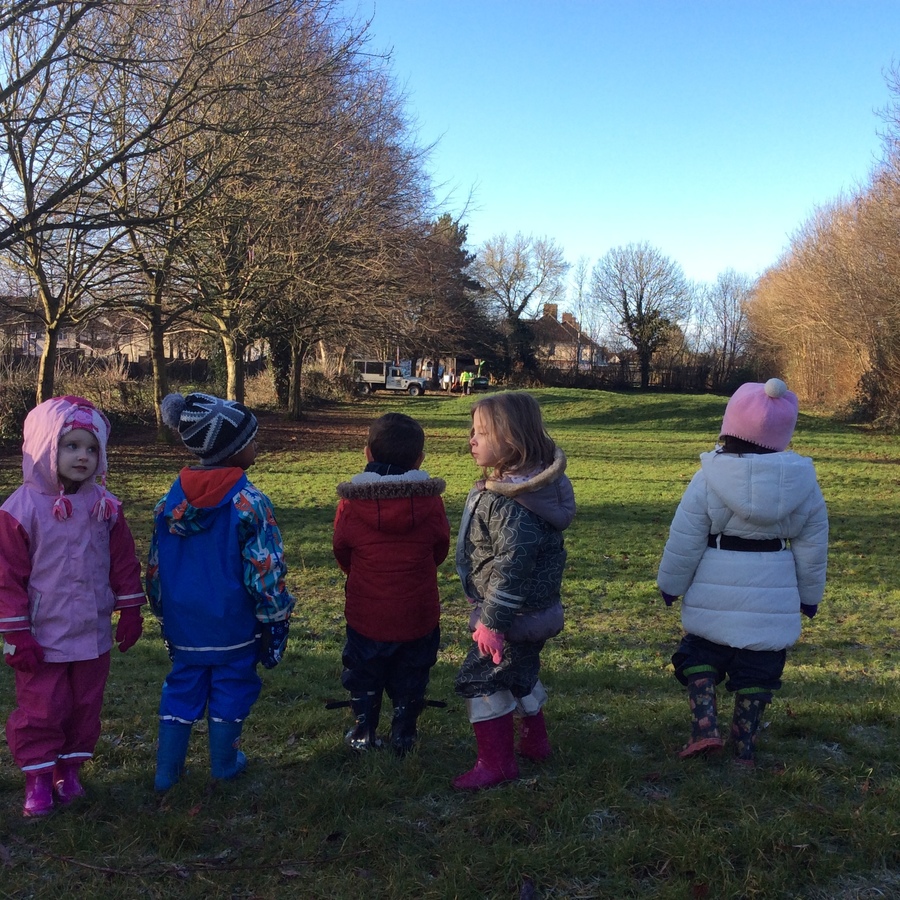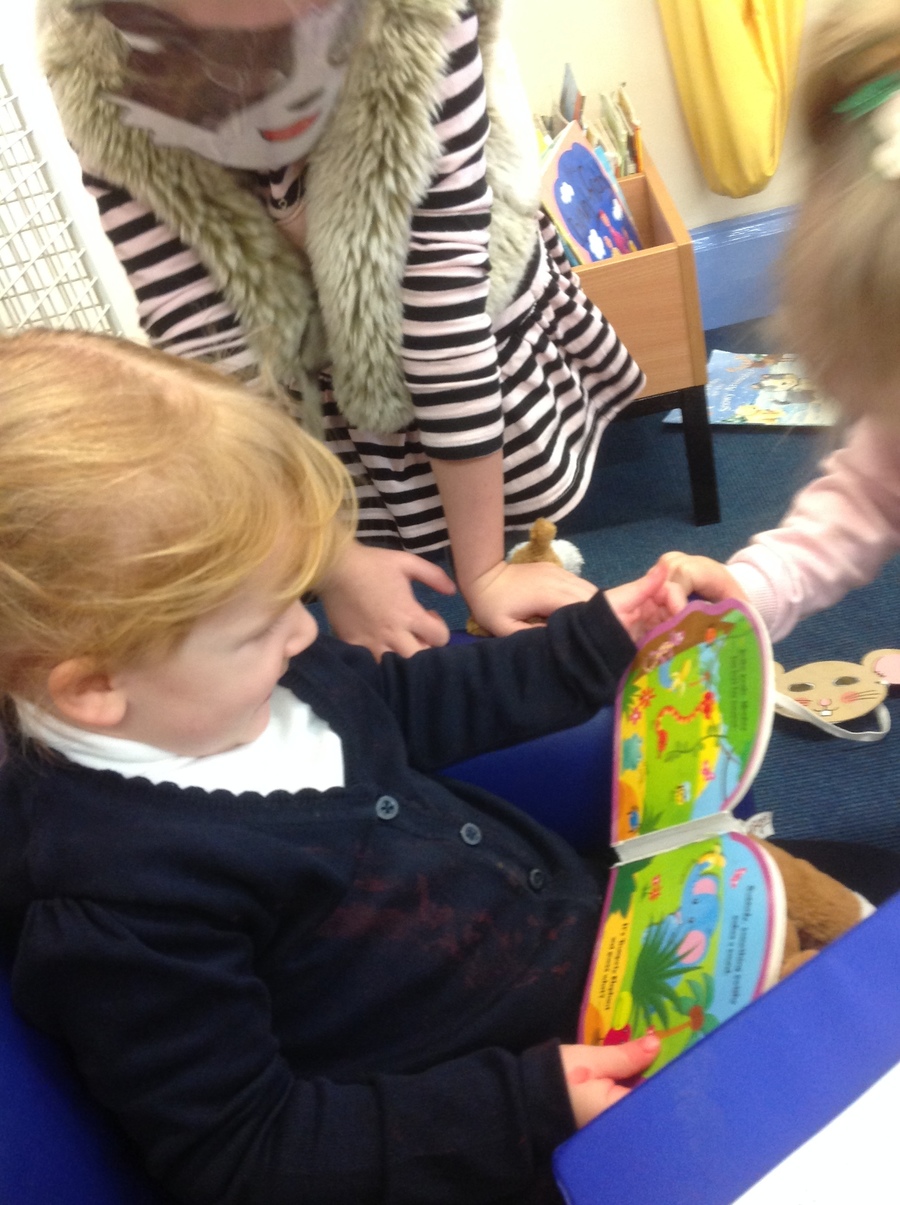 Reading stories with our friends has been a great experience.
As a whole class we have been focusing on the story 'The Enormous Turnip'.
The children have been retelling the story together by using character masks, they have all learnt the phrase...
'...and they pulled and they pulled and they pulled, but the enormous turnip would not budge!'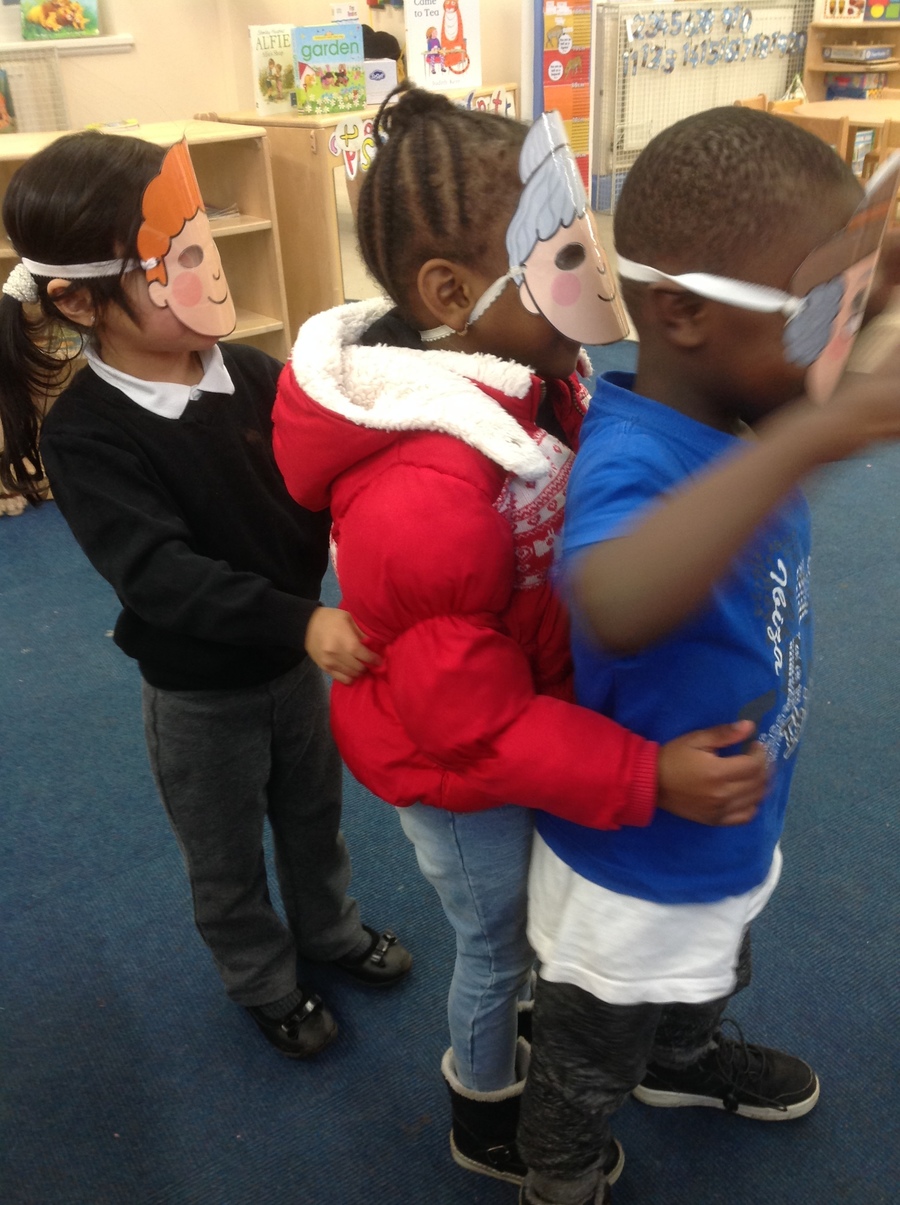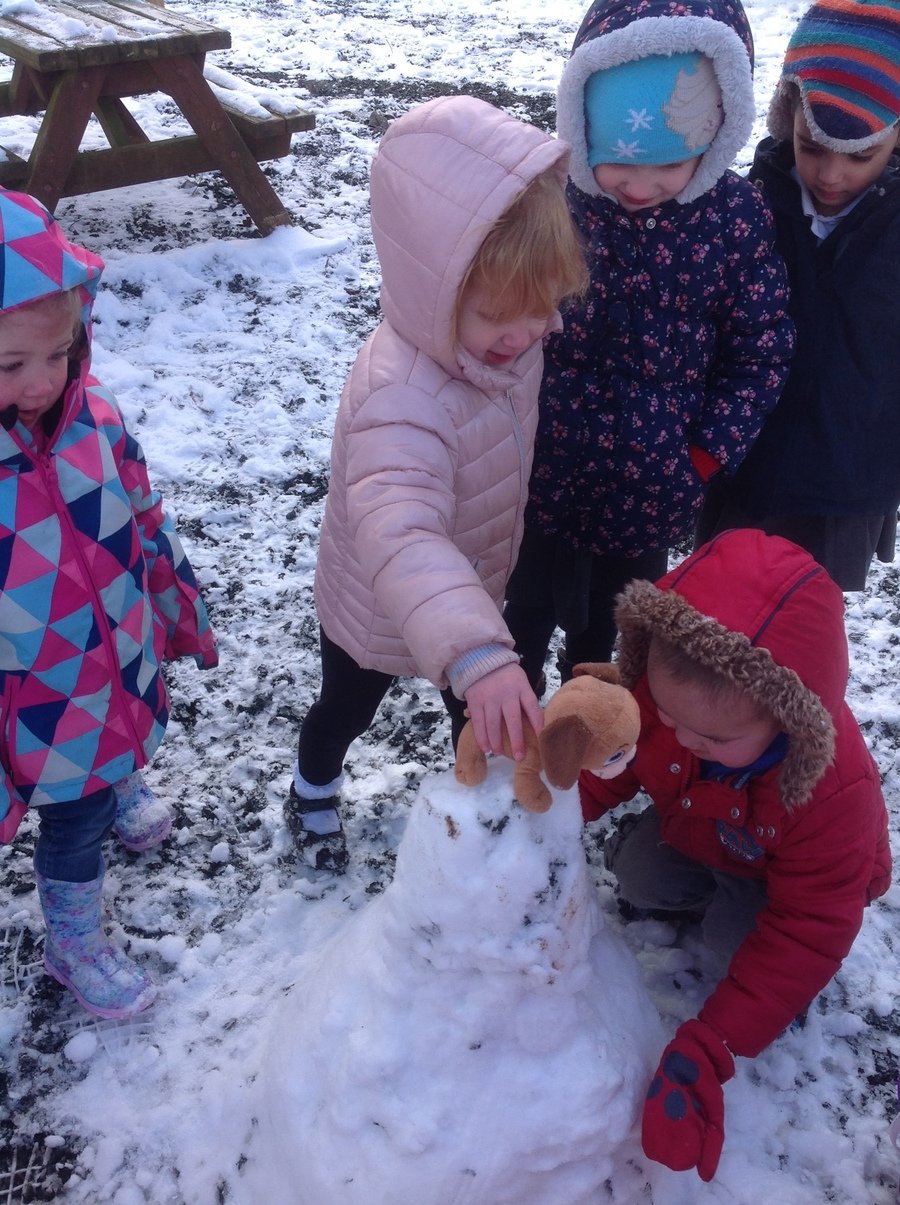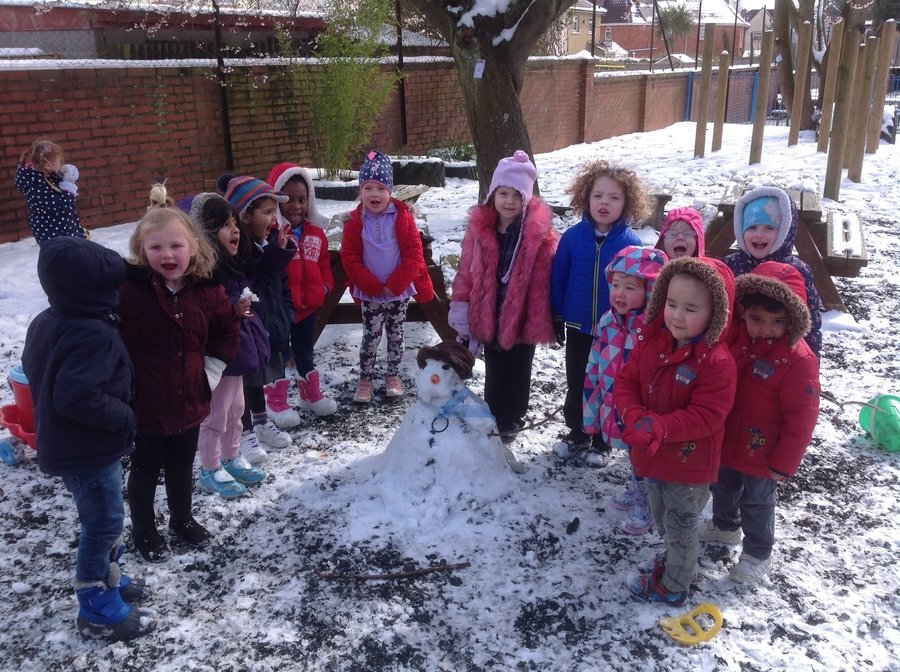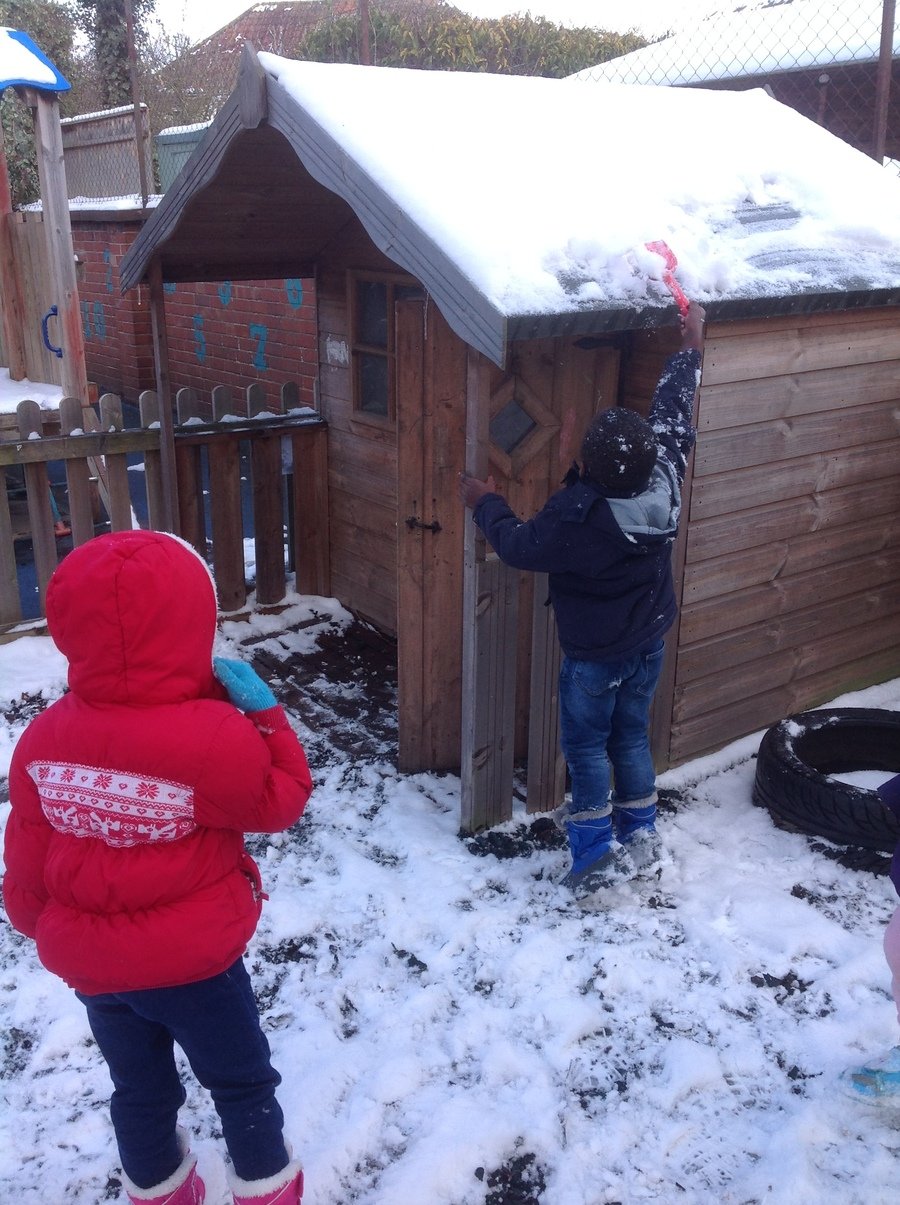 We had lots of fun in the snow! The children collected it from everywhere they could find to help build a snowman. They worked together as a team showing off their active learning skills and critical thinking skills by creating the snowman independently.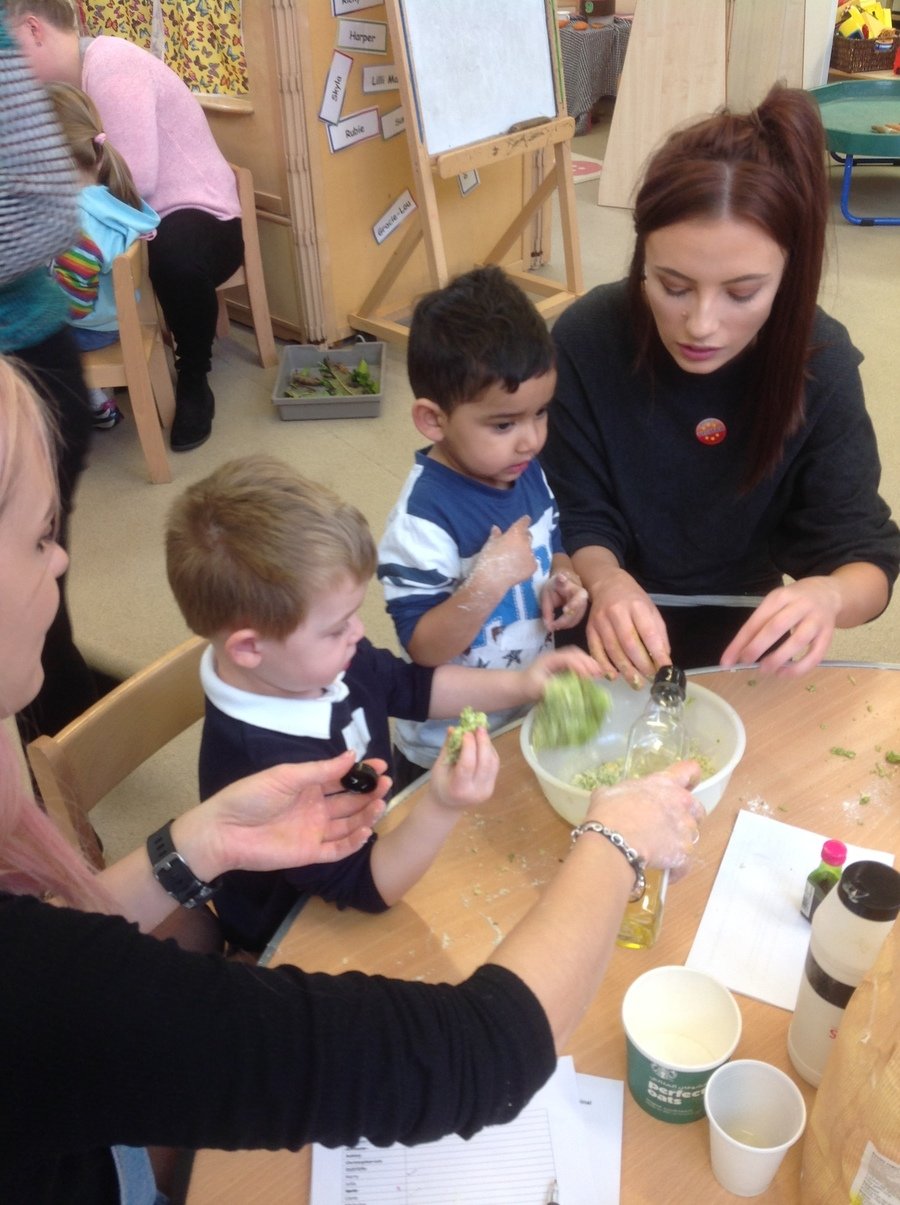 PGCE students from UWE visited our Early Years. They helped us with our topic about 'Changes'.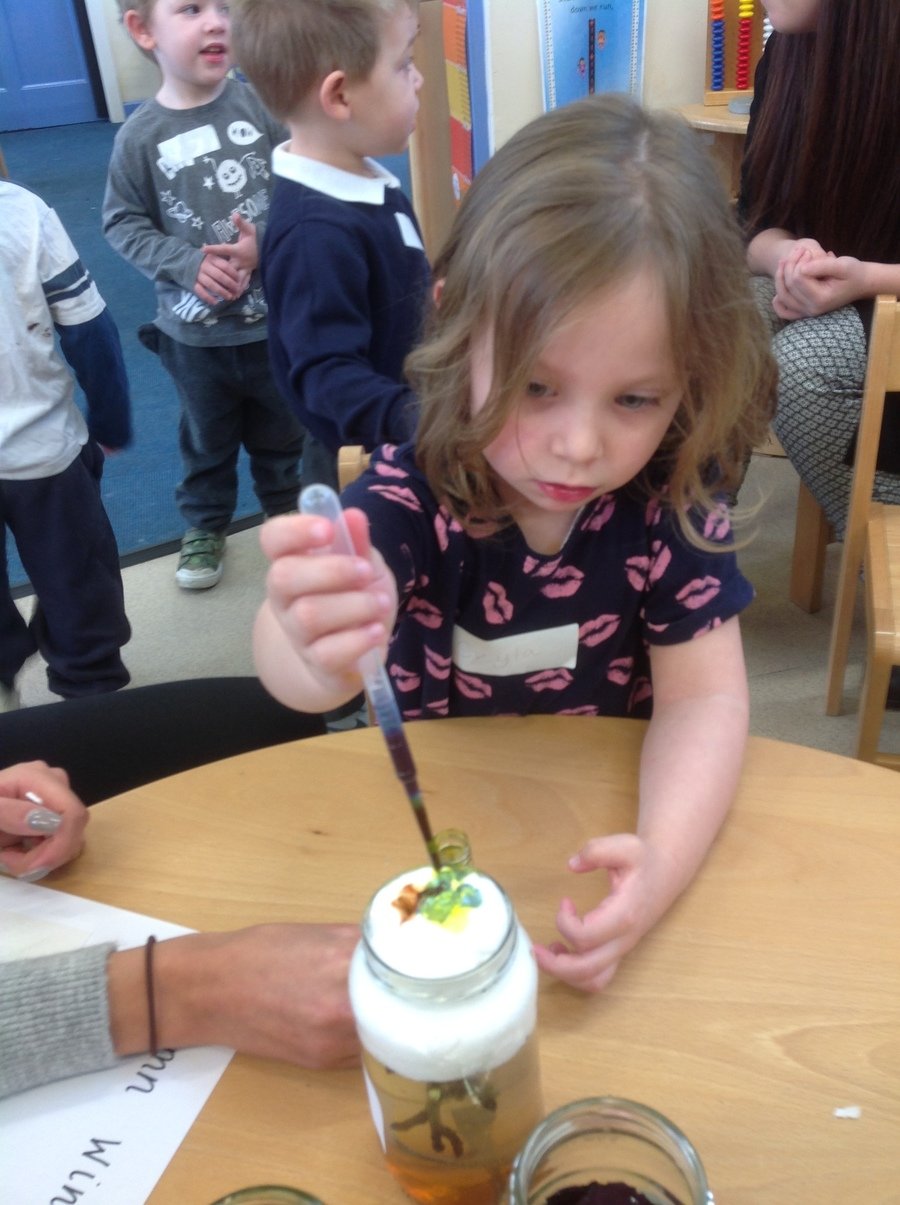 The children experimented with all types of resources, including foam, coloured dye and water.
They also had a go at mixing colours and making their own play dough!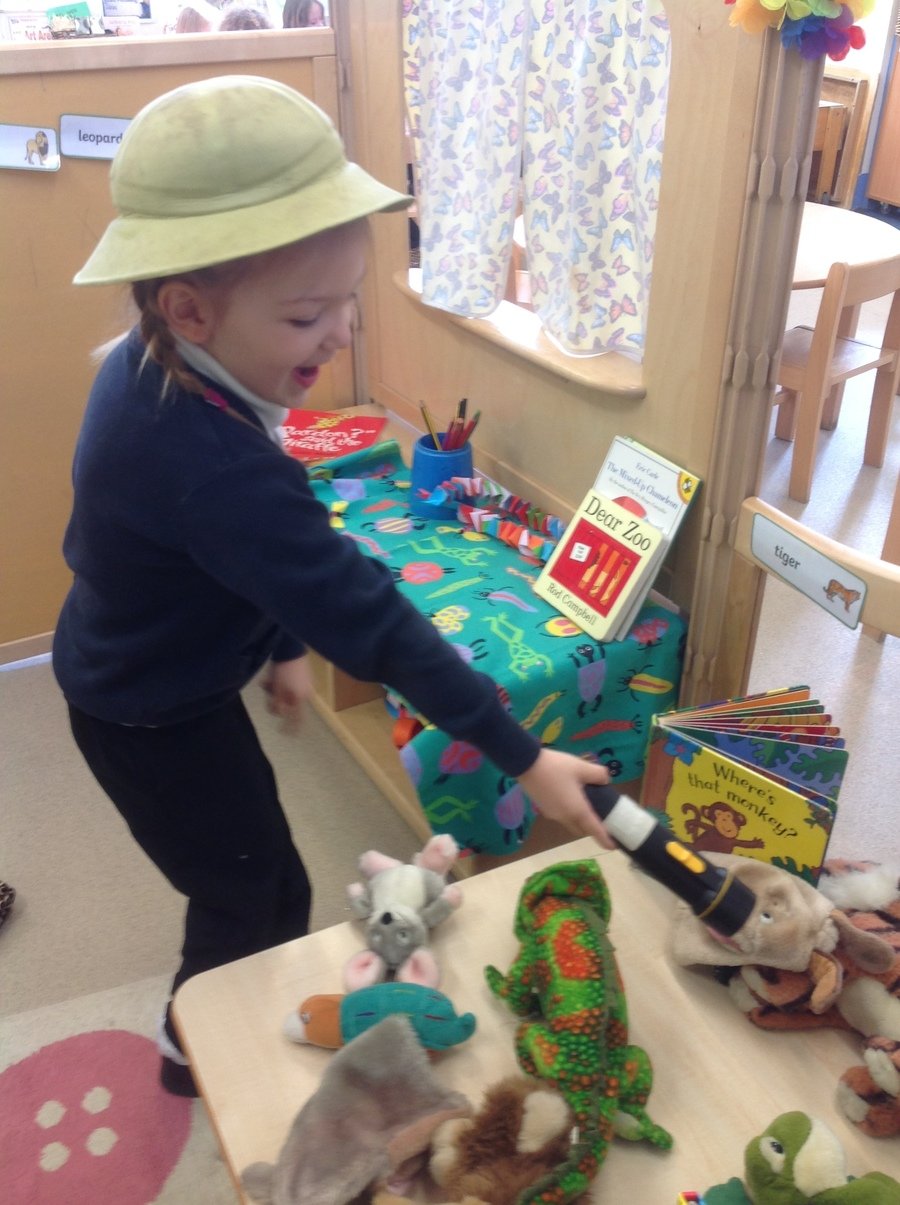 Learning about animals has been very interesting. The children have created their own 'Explorers Jungle' and can now retell the story of 'Walking through the Jungle'.
We even had a visit from Maria, a local vet who talked to us about her job, showing us pictures of x rays and how to help animals get better.