welcome to fonthill Nursery
Hello, my name is Mrs Welti and I am the Nursery class teacher. In our Nursery we also have Mrs Thompson, our nursery nurse, Miss Jones our teacher assistant and Miss Phillips, our apprentice TA. Between us all we aim to support our children in their play, learning and wellbeing.
Please enjoy looking at our information page and all of the high quality experiences we have here at Fonthill Nursery.
We are a Local Authority Nursery School in Bristol which takes children from the term of their 3rd birthday. We are staffed by qualified Nursery Teachers, Nursery Nurses and support staff, all of whom have extensive experience of working with young children.
The Nursery is open between 8.45am and 11.45am Monday to Friday
Fonthill is an inclusive school which welcomes all children from all communities.
All children over the age of 3 are entitled to 15 hours free early years education.
Drop in sessions: If you would like to come and have a look around our Nursery please call the office and let us know. We run sessions from 9.30am - 10.30am every Friday.
Prospectus: We are in the process of revising our prospectus if you would like to receive a copy please call the office.
We still have a few places available. If you would like to register your child for a place, ring the School on 0117 3772550
Take a look at what we have learning in Nursery by clicking on this link...
Take a quick look at what happens in our Nursery...
Welcome to a new year in Nursery. We have already started to make lots of friends and have settled into our morning routine.
The children are always smiling and chatting at Snack Time, especially when they get to sit on the Tidy Table!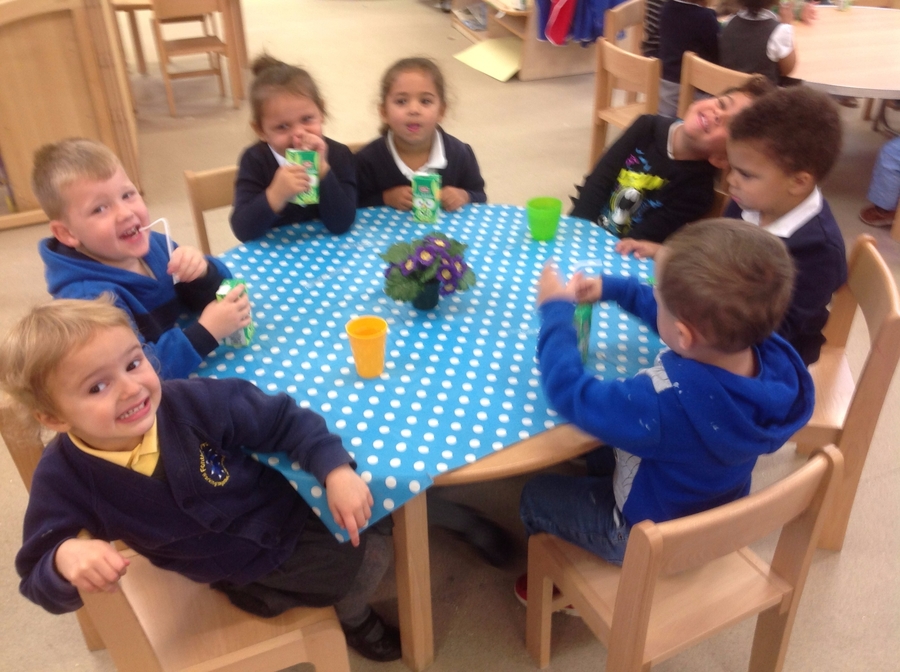 We enjoy exploring the indoors and outdoors of the nursery environment.
Leona likes the role play area best "I love playing hairdressers with my friends. It's funny when I put make up on them!"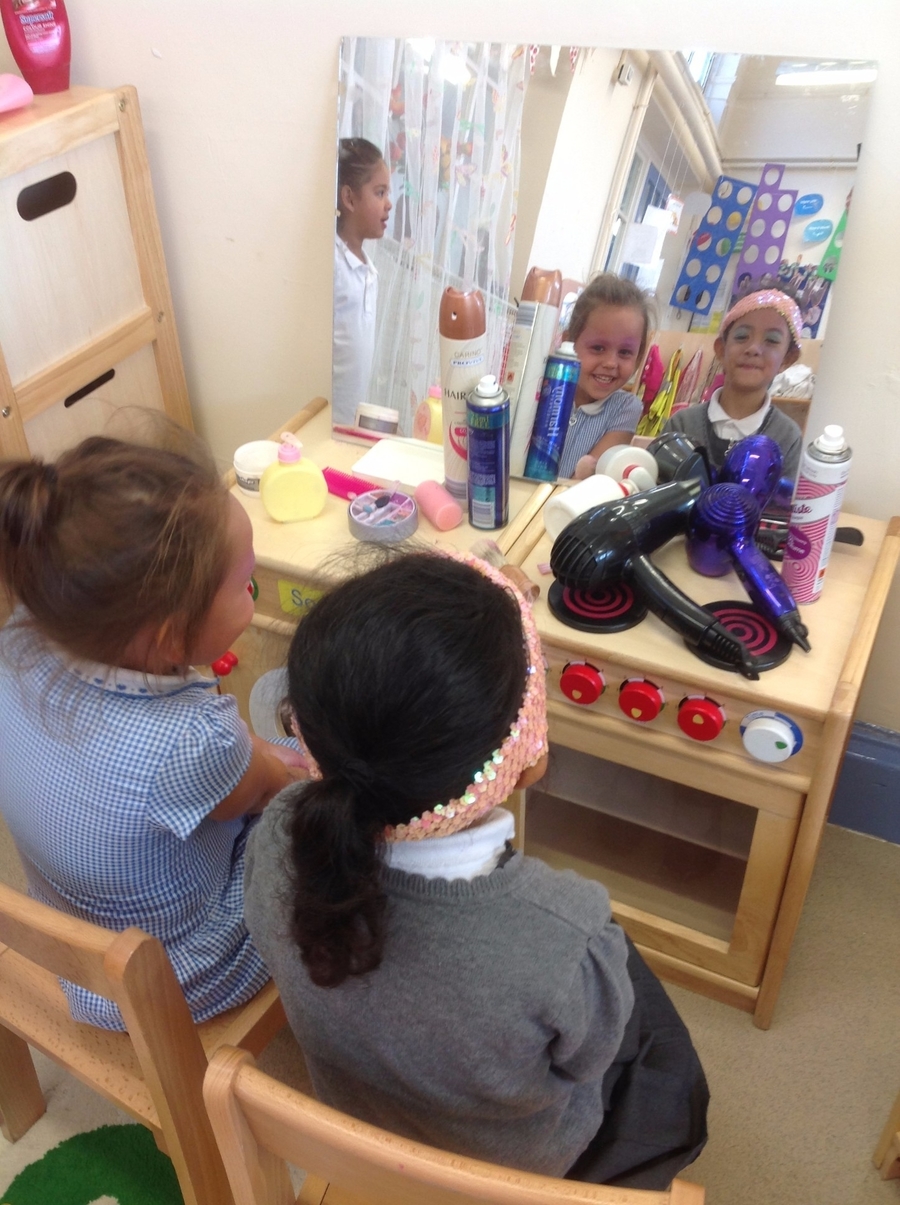 As we have been learning about the topic 'All about me' we have been painting our portraits. By looking at ourselves in the mirror we can see which colour paints to use for our skin, hair and eyes. "My hair is blonde and curly" Annabella tells Mrs Thompson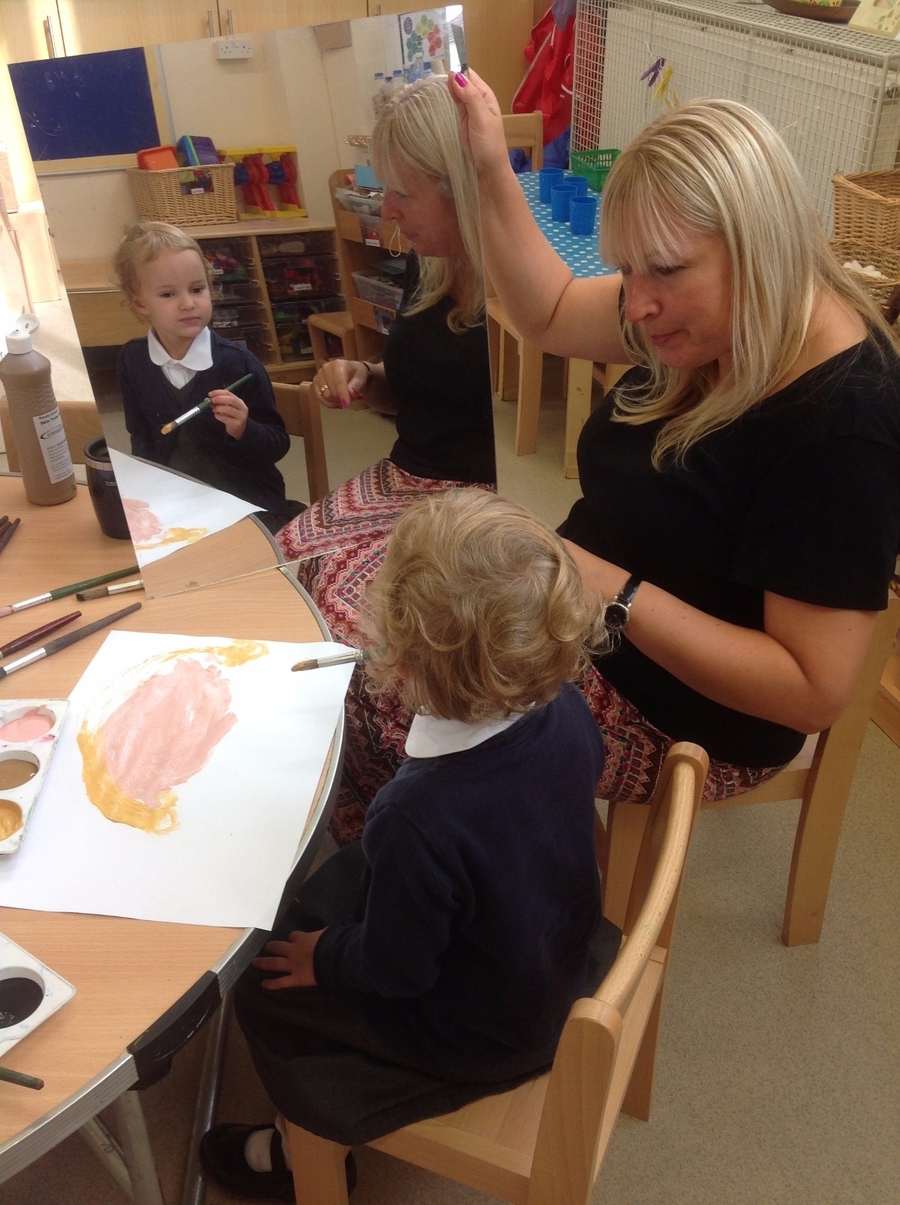 Our parents join in with Forest School and have lots of fun!
We use flags for boundaries and play hide and seek games to help keep us safe.
Archie tells his friends "I love to play running races and rolling down the hills on my tummy!"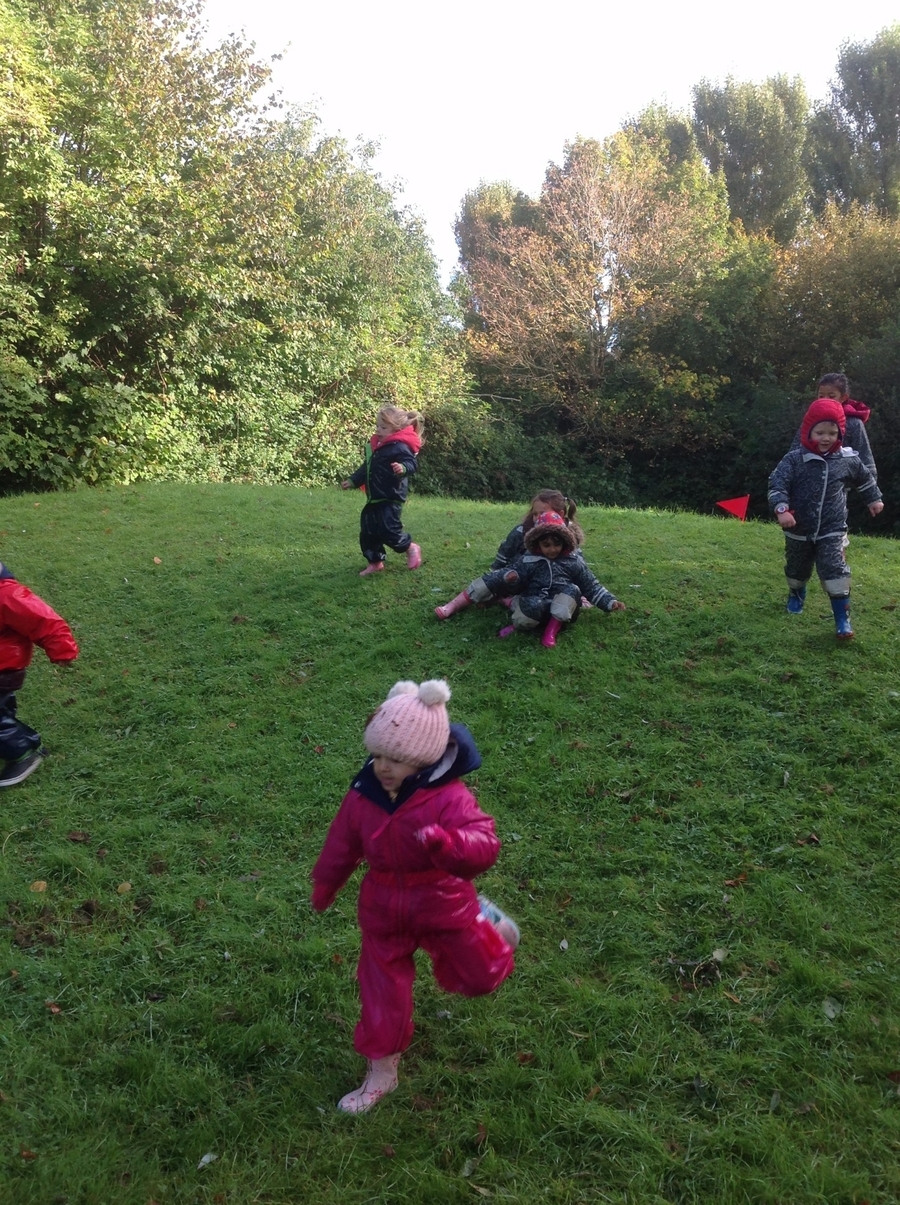 As autumn has come along we have been able to collect conkers from our chestnut tree in the forest garden and leaves from the forest floor. We use the leaves and conkers to do all sort of things like counting and measuring.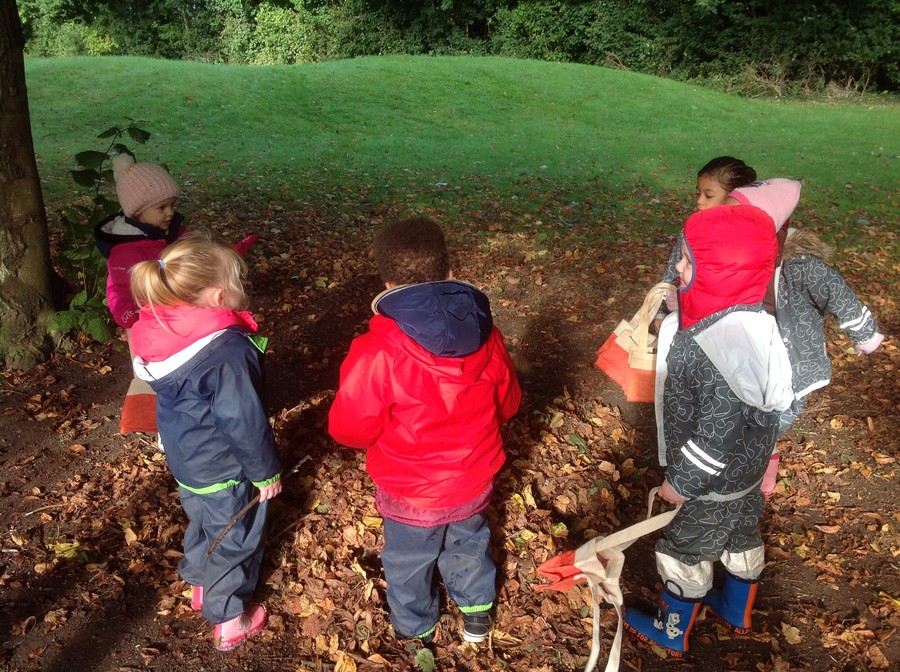 Hairdressers!
The children have been interested in role playing in the Hairdressers. We have even expanded and opened a make-up salon too!
Cali Rose asks her friends "What would you like done today?" as she sits her customer in front of the mirror.
We are learning about lots of celebrations this term, including Diwali, Bonfire night and Christmas. We also raised money for Children in Need by painting our faces spotty! Thank you to the PTA for helping out.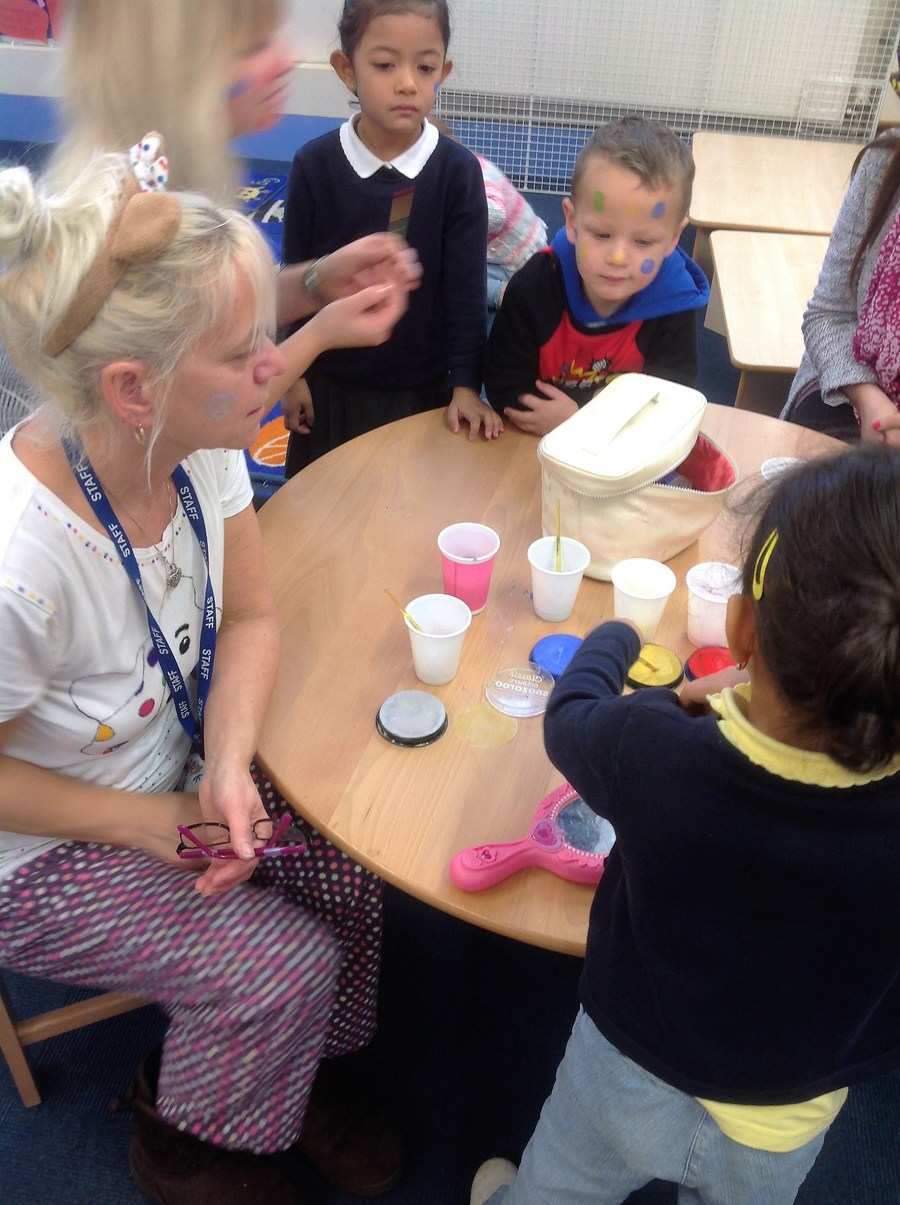 Lots of parents came to our Stay and Make session to help make our party hats ready for the end of term party. Here we are in our smart dancing clothes tucking into some party food!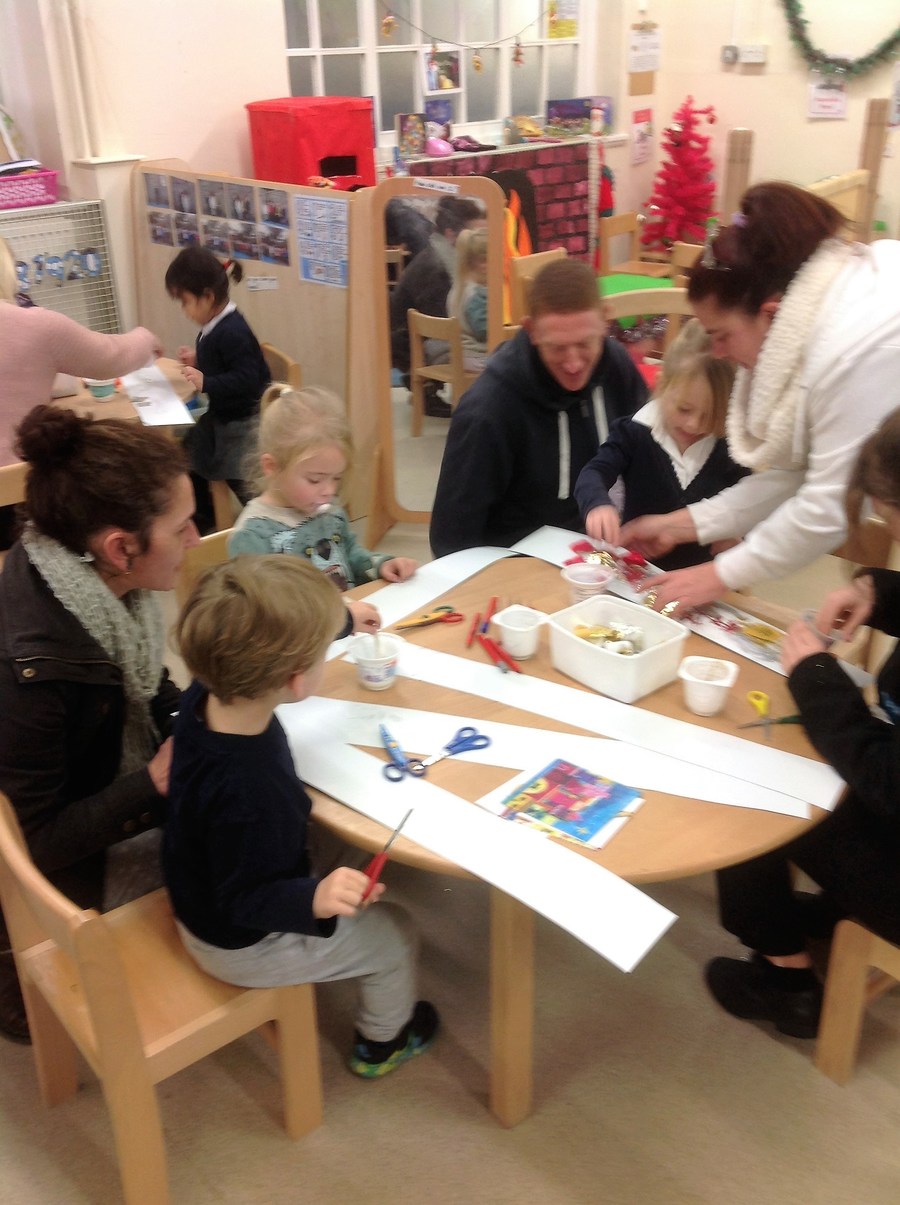 We worked as a team and used our fine motor skills to push pins into the pumpkin and wind elastics around them.
Junior told his friends "This pumpkin is a bit stinky!"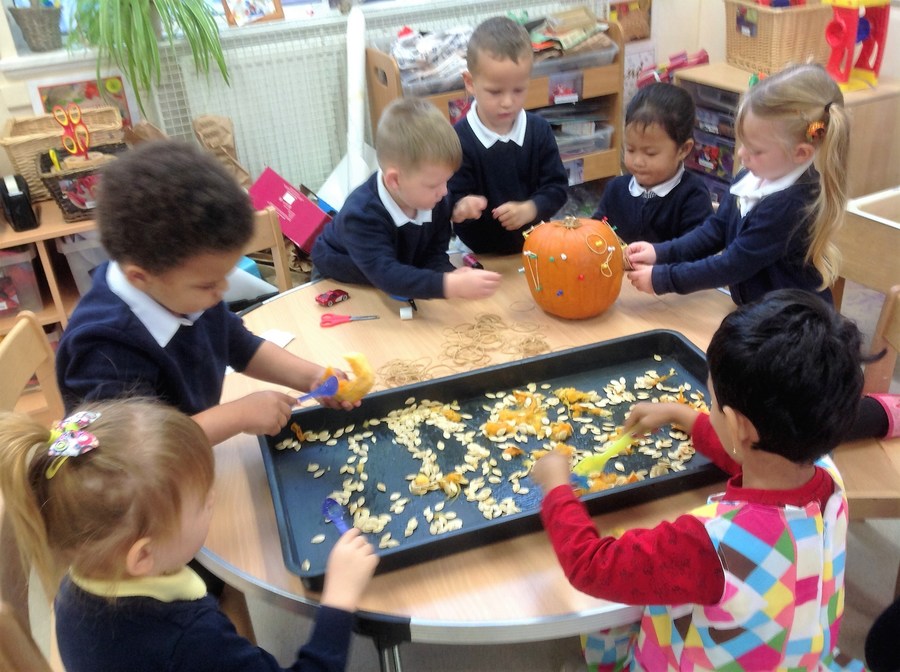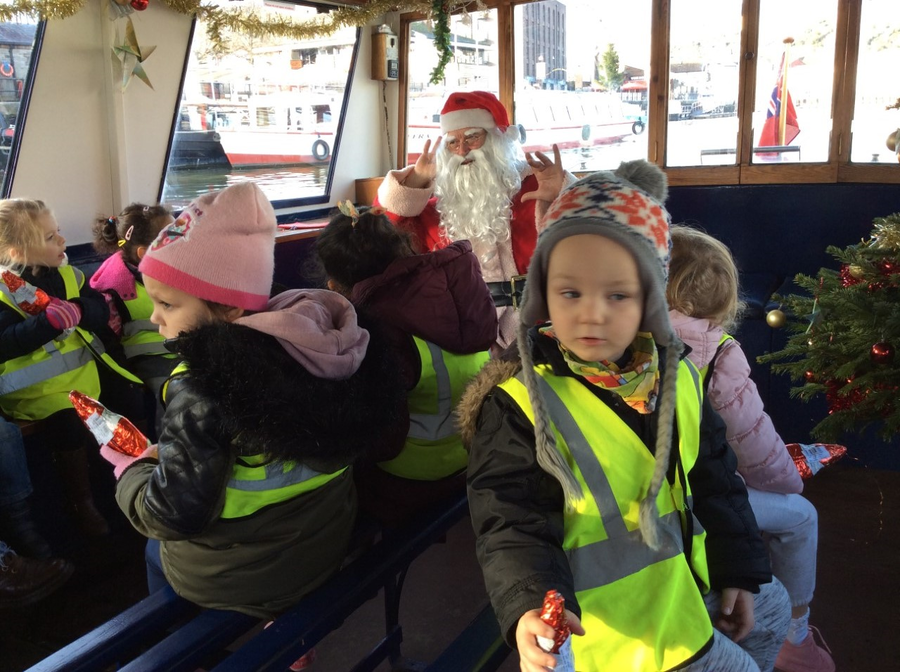 Friends and families joined us on a trip to the Bristol Harbourside to 'Sail with Santa'. We met his Elves, sung Christmas songs and even received a present from Santa at the end of the ride.
Karlo said "Thanks Santa, I would like a racing car that goes FAST!"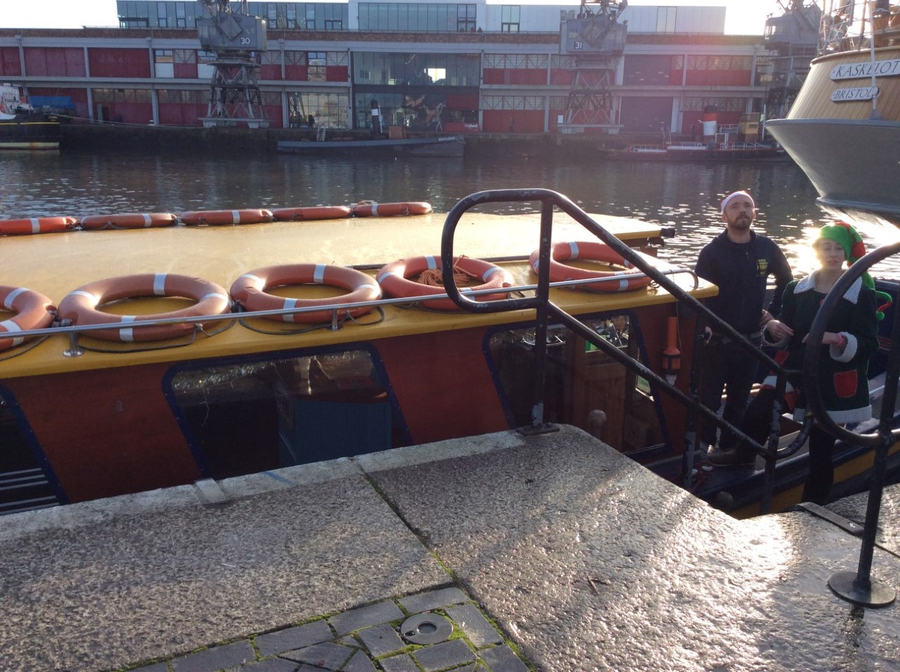 We have been learning about the people who help us in our local community.
Our local PCSO Jemima and her colleague Danielle came to visit us and speak to us about their jobs.
We even got to have a go at wearing a real police helmet.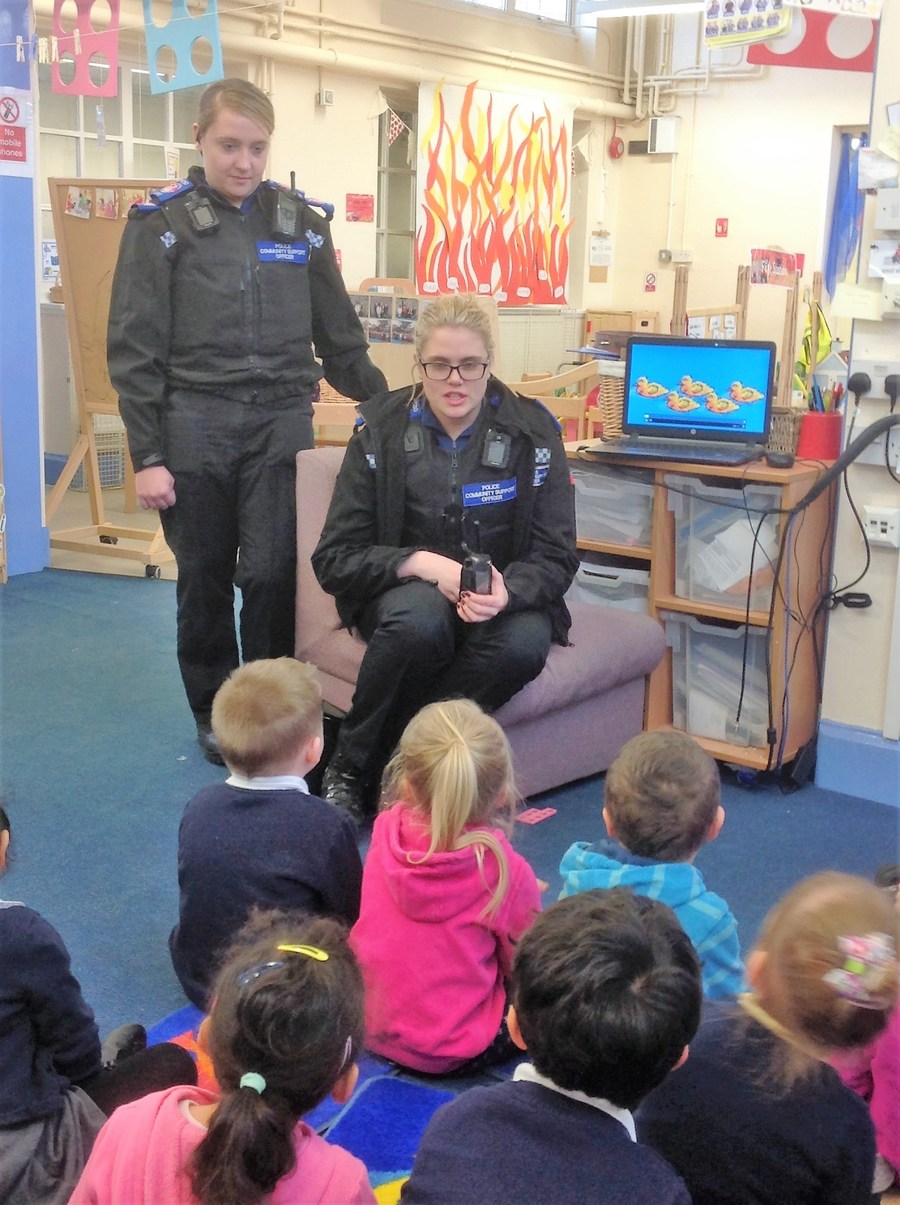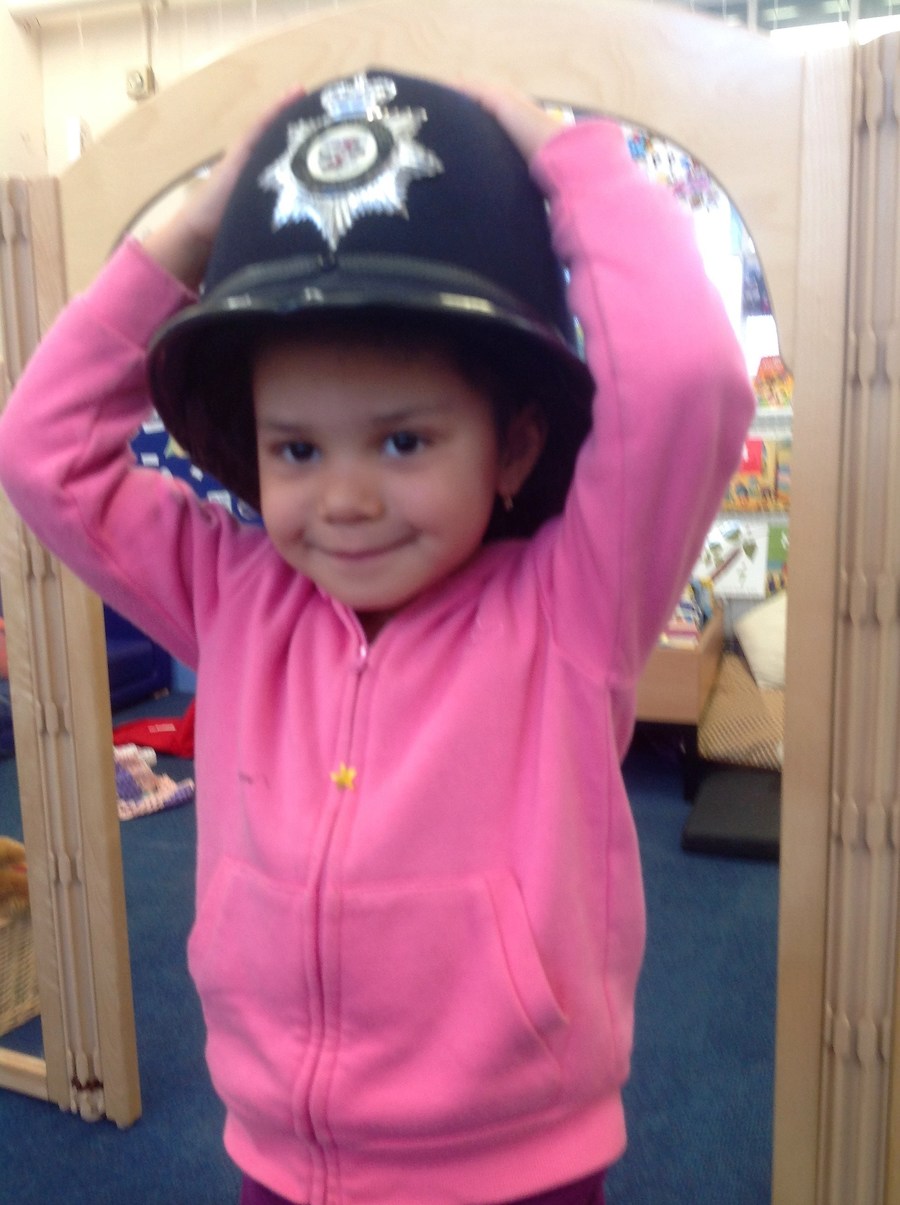 A lady from the Dog's Trust also came to visit us to talk about how we must be careful with dogs that we don't know and how to approach them. She taught us how to 'smell my hand' by clenching your fist and putting it by the dog's nose. That way the dog will know we are safe too.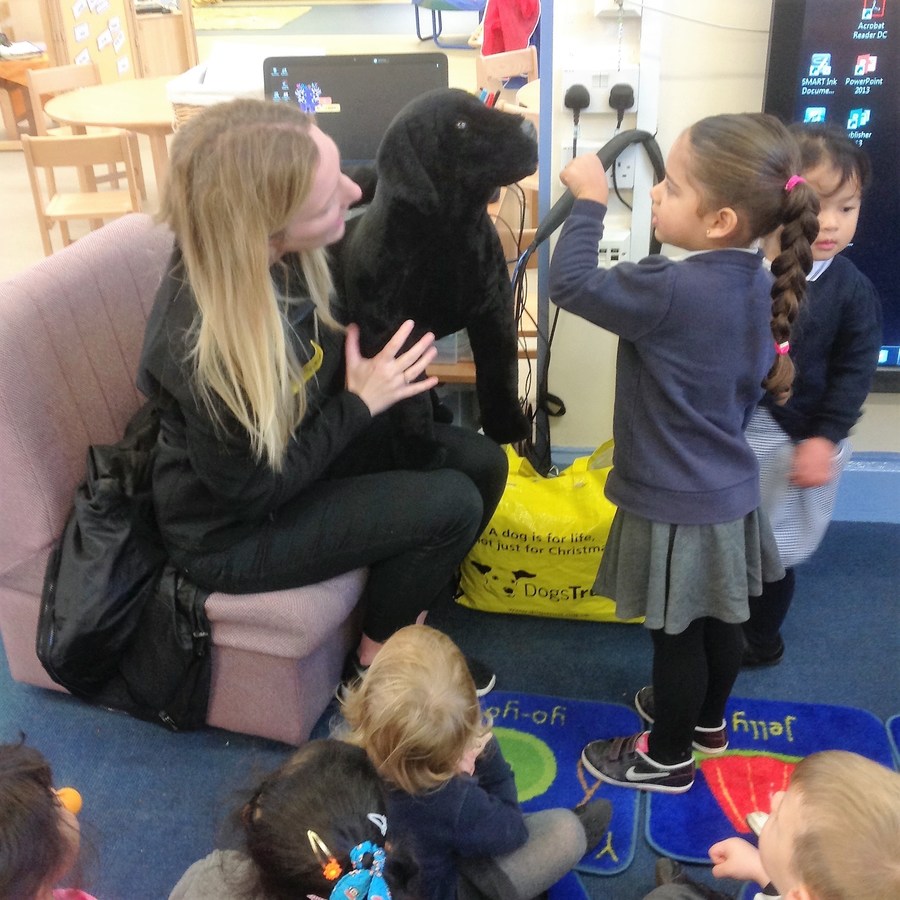 We were lucky enough to borrow some little fire fighter outfits and resources from ELFS Bristol.
The children role played being fire fighters and putting fires out in the classroom.
We had lots of fun outside when it snowed, writing our names, sounds and patterns in the snow. Some of us had never experienced it before, what a real treat!
Archie told the teachers "its freezing when I touch it!"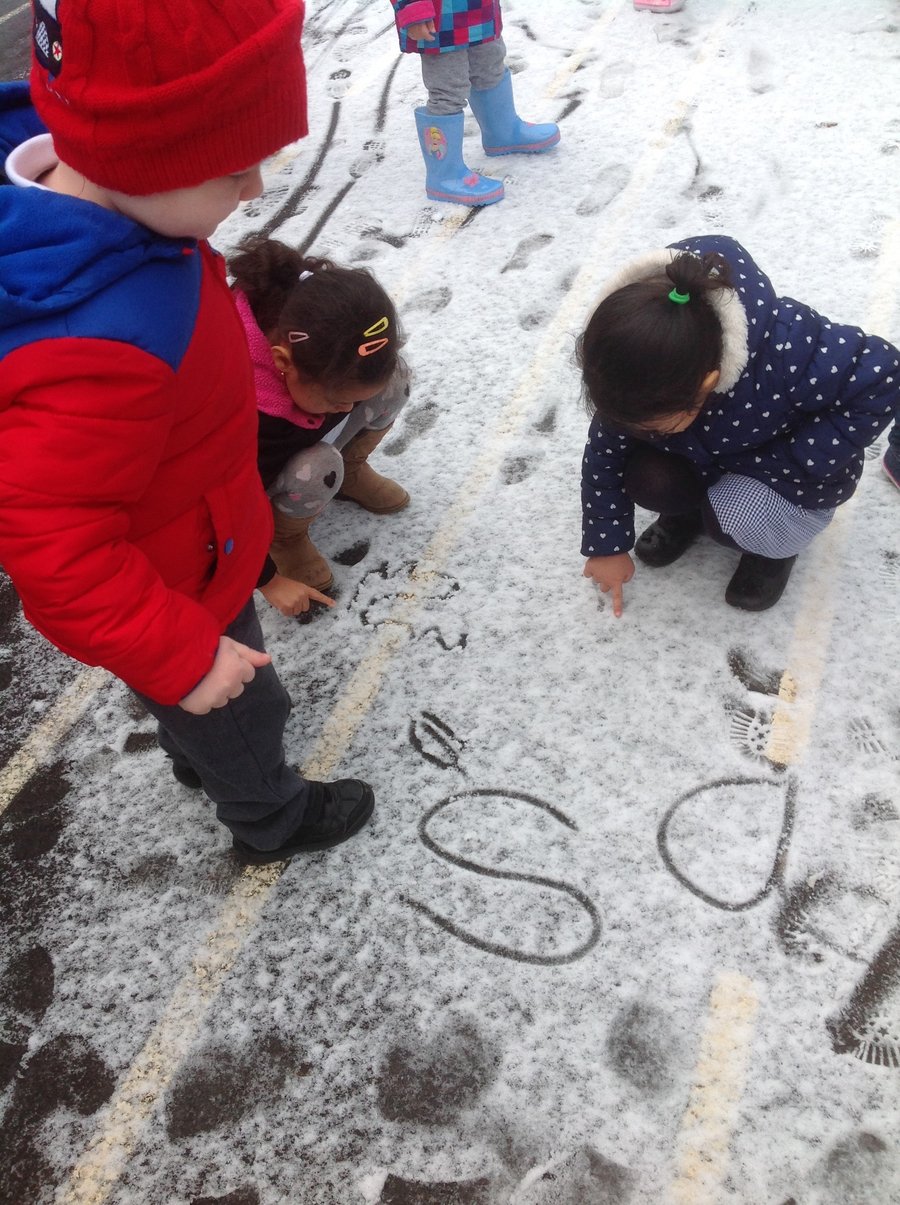 At Forest School the children were challenged to climb trees and use carefully use tools.
They were confident and willing to have a go at everything! Well done everyone.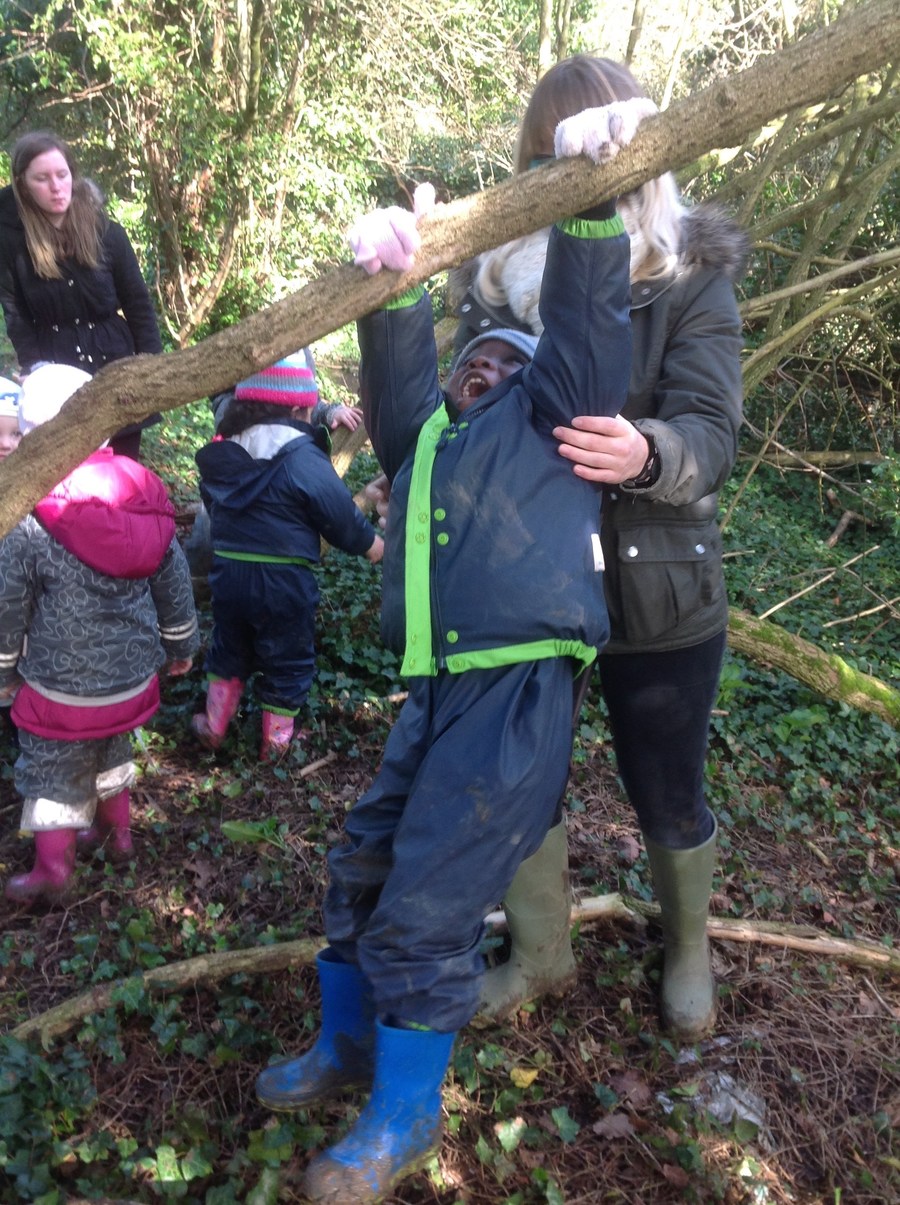 We have been playing with small natural materials. Here Ivee is creating a piece of artwork. "This is for my friend" She tells an adult.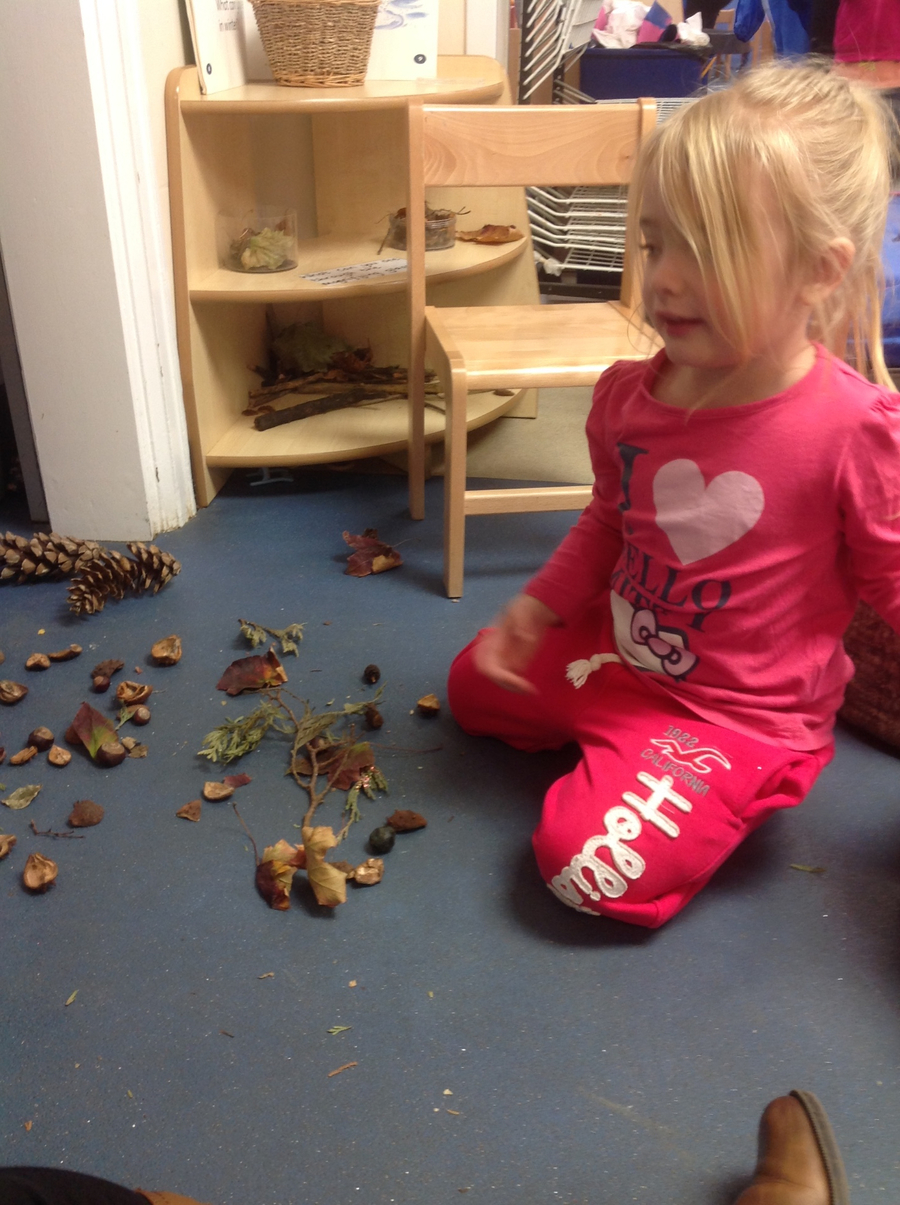 We have some budding artists in Nursery! Here the children use whiteboards and pens to create their pictures. This is another new experience of the children using mark making materials.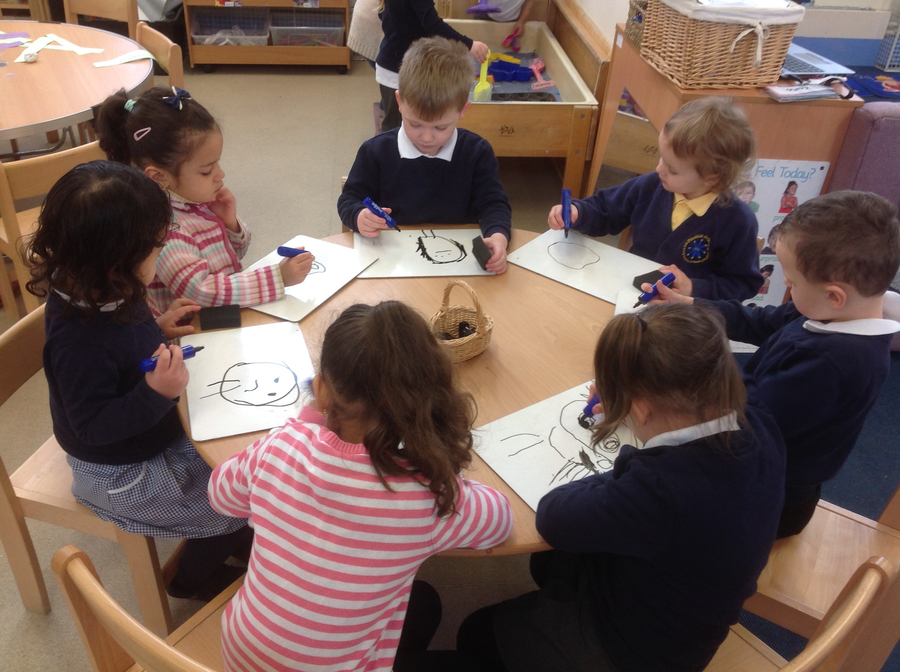 Here the children chose to mark make in the book corner. They have selected their own materials and clipboards and chat away to their friends as they draw. Grace tells her friends "I'm making the astronaut a shiny colour"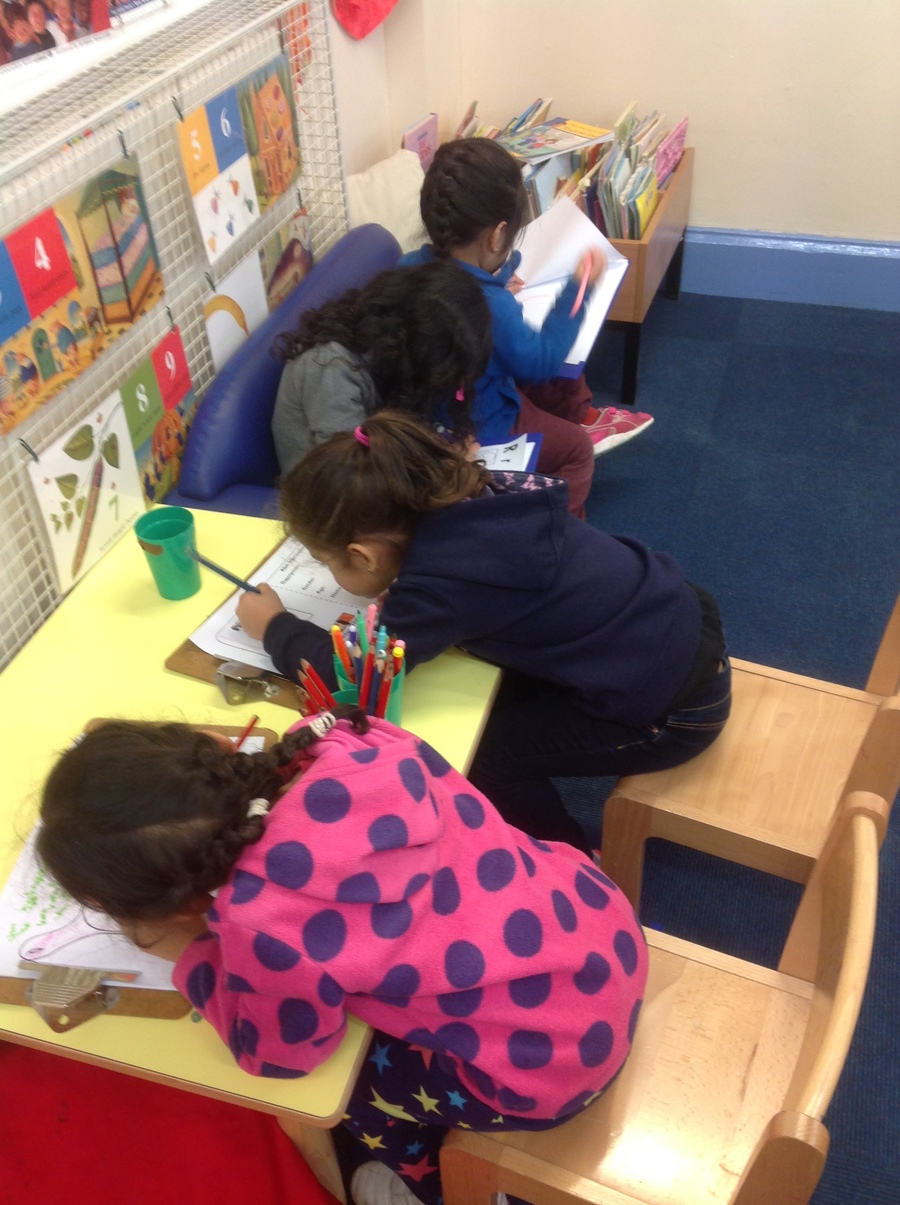 We have been looking at flying into space! Here the children have a go at making popping noises [from the bubble wrap] as they pretend they are just about to blast off into space. "5,4,3,2,1...BLAST OFF!" They shout out together.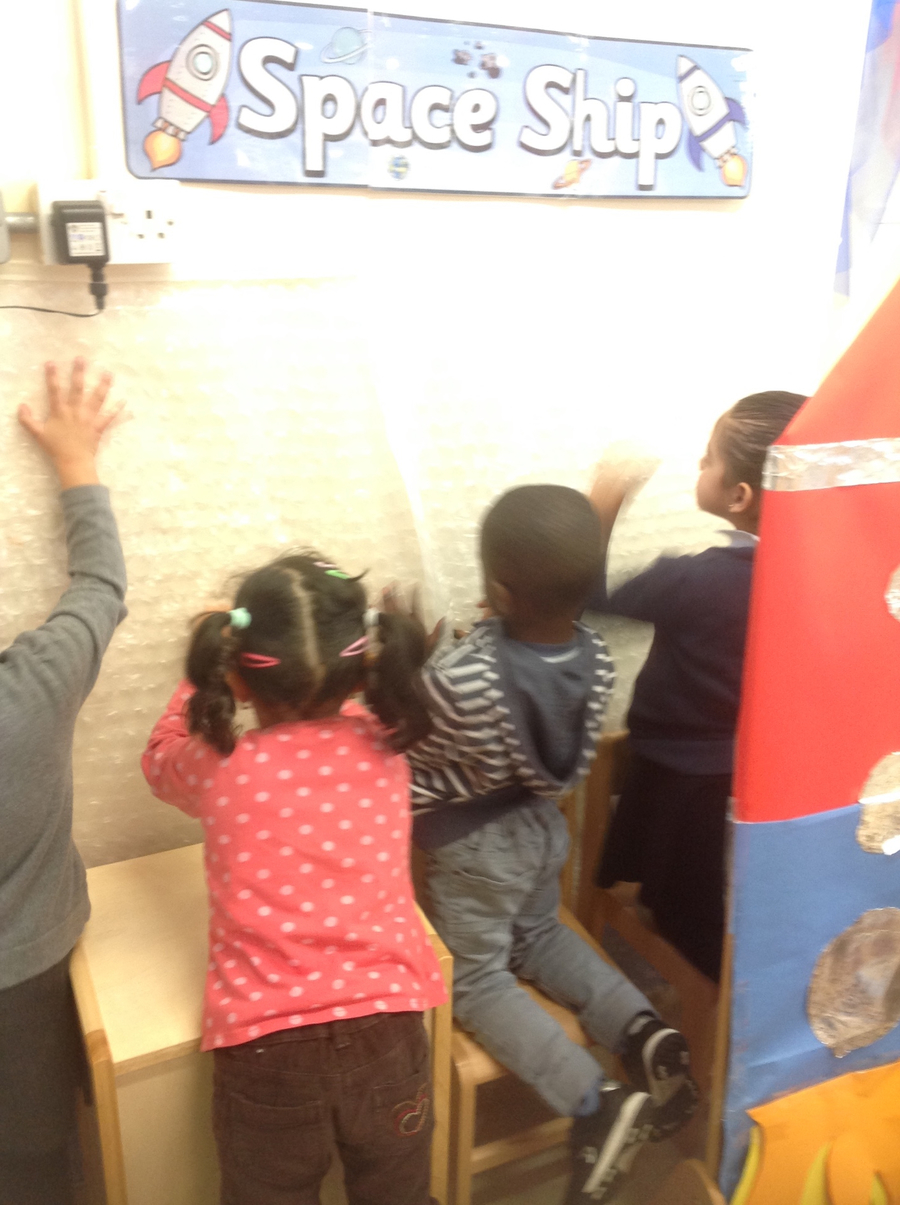 We created our own 'more or less aliens' from the large Numicon shapes. Annabella asks an adult "I want more legs please...less hair [when given a pile of silver tape], I've got 2 more hands than him" she points to another alien being made of the floor next to her. Great mathematical language!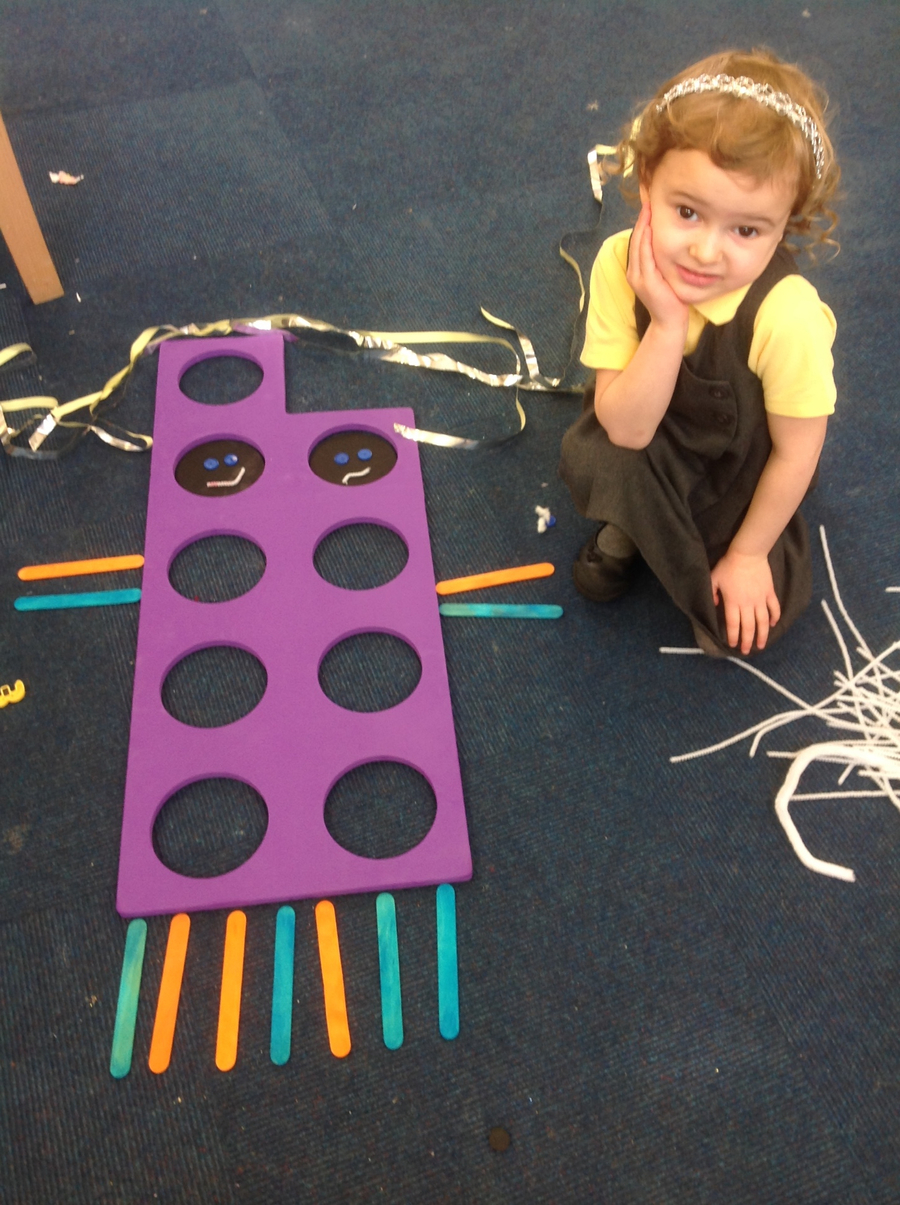 "5 little monkeys jumping on the bed..." The children enjoying singing some number songs in Forest School. There's lots of number language to be found in the woods...